Ecluse Wines: winery information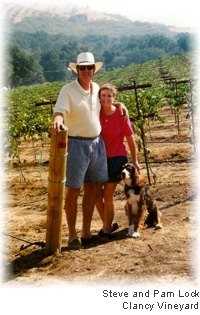 Winemaker: Steve Lock
Steve Lock began his career in the wine industry as a grower. He planted thirty acres on the Westside of Paso Robles in 1998. Believing that great wines come from great vineyards Lock Vineyard developed a stellar reputation for fine fruit with sales to Linne Calodo, Villa Creek, SummerWood, Four Vines, Chateau Margene and Tally to name a few. Over the course of several years Steve had the opportunity to interact with winemakers such as Matt Trevisan, Mike Mooney and Scott Hawley so when the decision was made to expand the Lock Vineyard operation to include making wine the knowledge had been laid and the friends became consultants. Steve Lock handles all the winemaking duties with frequent consulting from Scott Hawley. Steve and Scott worked closely in the blending of our wonderful "Rendition" and "Improv" blends.
Annual Production: 2,000 cases
Estate Vineyard Acreage
Our adventure as a small boutique winery and vineyard began in 1997 when we purchased 30 beautiful acres of gently rolling hillside terrain on the desired Westside of the Paso Robles AVA. Our philosophy from the beginning is that great fruit makes great wine. We were excited at the prospect of planting a vineyard that could take advantage of our special location, microclimate and exposure to the northeast, the southeast and south. Because the soils in our vineyard are quite varied ranging from calcareous limestone on the hill tops to areas with clay and loam near the bottoms of the gentle hills we were able to take advantage of the subtleties of the soils by choosing the optimum varietals to plant. Thus Lock Vineyard came to life in 1998 with the planting of Cabernet Sauvignon, Syrah and Zinfandel. In the past year we have decided to add blending varietals to the vineyard. We are planting very small blocks (1/2 acre to 1 acre) of Mourvedre, Grenache, Petit Verdot, Roussanne , Malbec, and Cinsault to increase our blending options.
Grape Varieties Planted