Myriad Cellars: winery information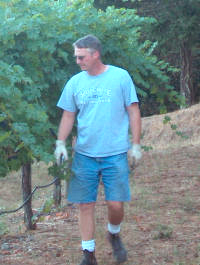 Winemaker: Mike Smith
"Sometimes success is as simple as hearing your inner voice."

Mike started his winemaking career under the direction of Thomas Brown in 2001. Traveling from Portland Oregon, Mike worked each crush "free of charge" to learn his craft. Following his 3rd harvest, Mike accepted a full-time assistant position from Thomas and moved his family to St. Helena. Today, Mike continues to work with Thomas on several labels (i.e. Schrader, Rivers-Marie, Maybach & Nicholson Ranch.) The Myriad wines are custom crushed along side these greats... showcasing Mike's talents and stylistic "purist" approach to winemaking. Look for Mike's name on a new project – Quivet Cellars – as well.
Annual Production: 400 cases
Futures
Our 2006 wines are scheduled to be released in October, 2008. All allocations are on a first come, first serve basis. We like to reward our mailing list customers, so sign up today to ensure you are on the list.
Estate Vineyard Acreage
Spring Mountain District-Napa Valley ~ Cabernet Sauvignon
The opportunity to purchase fruit from the prestigious Spring Mountain District gave birth to Myriad Cellars. Resting 600 feet above the Napa Valley and replanted in 1990, this historic vineyard is home to Clone 8 Cabernet Sauvignon vines. Sandstone and volcanic rock comprise the sedimentary-type soils, where vines are planted on steep, hand-carved terraces. The vineyard has thirty-percent slopes which face north-to-northeast so the vines are sun-drenched until mid-day, then able to enjoy the afternoon heat without direct sun exposure. This produces an even ripening pattern with no risk of sunburn or dehydration during the late hot summer heat. Yields have averaged 1.5 tons per acre during the last two years. Smaller yields are anticipated for 2007 due to slight winter and spring rains.

Wines produced from this vineyard express intense and concentrated flavors coupled with polished mountain tannins. Dark, firm, rich and structured. While accessible in their youth, the wines will age gracefully, producing more overall complexity & balance.

Las Madres Vineyard, Sonoma Valley ~ Syrah
We first worked with Las Madres in 2004 with Thomas Brown. Immediately we knew our Syrah would come from this vineyard. The terroir, location and personality of the fruit are unmatchable. Located a mile (as the crow flies) from Sonoma, the vineyard enjoys cool breezes from San Pablo Bay while nestled in a protected bowl where it captures the intense California sun. The vineyard has two clones, planted East to West in two blocks - Esther and Hulda. The fruit for our Syrah comes from both blocks, allowing us to create complexity from the day it is picked.

Las Madres Vineyard produces a notably rich and healthy wine, deep in color, yet elegant and vibrant. The finished wine reveals well-focused layers of black figs finishing with a classic Syrah 'meatiness' and white pepper overtones.

Dr. Crane – Beckstoffer Vineyard, St. Helena ~ Cabernet Sauvignon
We are extremely excited to add this vineyard to our portfolio with the 2007 harvest. The Dr.Crane Vineyard, known for producing some Napa Valley "greats", was first harvested in 1858. It sits on a deep alluvial fan produced by Sulfur Springs Creek. Its profile allows excellent drainage combined with the slow, even-ripening patterns enjoyed by premium vineyards. The current vineyard was replanted in 1998 by Andy Beckstoffer. A large cache of prestigious wineries produce wine from its fruit. We have selected seven rows of Clone 337 Cabernet Sauvignon where we have ability to control the crop management and picking brix.

We look forward to working with this vineyard. Its heady, valley-floor fruit components will nicely complement our Spring Mountain lot.
Grape Varieties Planted