One Acre: winery information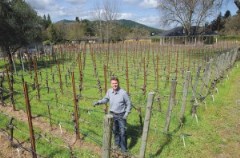 Winemaker: Dave Becker
The use of two different Cabernet Sauvignon clones in the vineyard, # 337 and # 191, provide our wine with a multi-dimensional layering of both flavor and aroma. Divided nearly evenly through out, both clones originate in the Bordeaux region of France. The lighter clusters of the # 191 produce berries that ripen almost as individual pieces of fruit, contributing greatly to the level of anthocyanins in the wine. These colored forms of tannins in the skin of the grapes, are responsible for the deep ruby almost black color of the wine, as well as other intriguing features. From the somewhat heavier clusters of the # 337, are extracted the inviting aromas and lively acidity that complements the concentrated fruit and soft chewy tannins. Both clones produce a superior sugar content and a well balanced, well bodied wine with keeping qualities. Our vinification process is gentle and straight forward, allowing all the characteristics of our One Acre to come through. The fruit is hand picked and hand sorted prior to de-steming, crushing, and maceration. The sugar, acid and pH levels of the must each year are were almost classic textbook numbers, requiring no additions or adjustments.
Annual Production: 200 cases
Estate Vineyard Acreage
Sitting atop the alluvial fan of near by Dry Creek has created a soil strata that is just ideal for growing Cabernet Sauvignon grapes. It is evident from what lie just below the surface of the vineyard, that at one time, perhaps centuries ago, the creek actually ran through the vineyard. Just below the 30 to 36 of rich Napa Valley Loam, flecked with obsidian and volcanic debris, lies a subterranean layer of river gravel, consisting of smooth and rounded stones of varying shape and sizes. The result of this soil layering creates one of the finest environments for Cabernet vines to grow in. The upper layer of soil remains fertile yet well drained, while allowing the vine roots easy access to the gravely layer below. The thickness of the soil layers also has a positive effect on the soil temperatures which also contributes to the quality of the fruit. Because of the volcanic parent material of the soil, the natural pH level allows for an ideal uptake of the essential nutrients to the vines that are so important for their health and the consistent quality of the fruit. All these unique aspects of our One Acre vineyard, combined with pure well water pulled from the creeks aquifer 300 below, and the Napa Valleys renowned climate, results in the pristine fruit that we share with you in every bottle of our wine.
Grape Varieties Planted