Pacheco Ranch Winery: winery information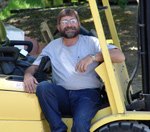 Winemaker: Jamie Meves
Our Cabernets are complex in flavor and carry distinct attributes that vary from vintage to vintage. The terroir is largely responsible for the extraordinary quality and balance of Pacheco Ranch wines. The vineyards that climb the slopes surrounding the historic Pacheco home were revived in 1970 and have been expanded since. They are planted solely to Cabernet Sauvignon vines which are "dry-farmed."

PRW wines are uniquely hand crafted through a process that has taken over 25 years to perfect. After a full growing season, the grapes are harvested and arrive up at the winery within 20 minutes of picking. Each bunch is thoroughly inspected as the grapes are gently separated from the stems. A basket press, a rarity in today's industry, is then used to extract the juices from the ripe skins. The wine is aged in French and American Oak barrels for 18 months before estate bottling of the wine takes place. This entire process is overseen by our family, including head winemaker, Jamie Meves. Jamie has 25 years experience and is an award winning winemaker and judge. After graduating Magna Cum Laude from U.C. Davis (Fermentation Science), his first paying job as a winemaker was to establish Pat Paulson Winery. Even before Jamie graduated, he made our first Estate Bottled Cabernet Sauvignon 1979, taking a Silver Medal at the San Francisco Wine Competition and Bronze at the Orange County Fair Wine Competition. Over the span of his career, Jamie has made award winning wines for some of the most prestigious wineries in California and Washington, including our own. He is definitely a "hands on" winemaker, and is constantly striving to continue our heritage of excellence

Annual Production: 500 cases

Estate Vineyard Acreage

Ignacio Pacheco, one of California's early pioneers,
settled in what is now Marin County in 1840. He is believed to have been the first to plant grape vines in the region and his influence can still be seen in the names of places throughout the area. Ignacio received a Land Grant for his services to the Mexican Government as the head of the customs house in Monterey, California. He was originally given the Agua Caliente Rancho grant in Sonoma, which he deemed "unsuitable for agriculture" and later exchanged it for the Rancho San Jose grant which consisted of 6,680 acres in what is now Marin County. Today, Pacheco Ranch is comprised of roughly 70 acres of the original Rancho San Jose Land Grant. The vineyards on the property were planted by Ignacio's decedents and winery partners in 1970. The initial block of vines was expanded over the following ten years and vines now cover 5 acres of the South East facing slopes of Pacheco Ranch. Many of the vines are over 25 years old and a living testament to the rich history of Pacheco Ranch. The historical elegance of the property has been carefully preserved over the years and can be seen in the structures and in the beauty of the surrounding land. Perhaps the most striking feature of this historic vineyard and winery is the stately, white, two-story Italianate home built by Gumesindo Pacheco in 1876 and where his great grandson and his wife reside today. Even the winery itself has historic significance as it is the former carriage house, used by generations of Pacheco's. Herb Rowland is Ignacio Pacheco's great-great-grandson and the manager of the vineyard. Herb's wife Debbie also plays an important role in the business as the head of finance and distribution. In addition, Herb's sister, Ann Meves, and her husband, Jamie Meves, play crucial roles in Pacheco Ranch Winery's vitality. Jamie is Pacheco Ranch Winery's award winning winemaker. The land has been in the family for over a century and a half and to this day the business has remained very much a family affair, shared by close friends Fritz and Jan Schulte, John and Jeanie O'Neill and the next generation of entrepreneurs, Herb M. Rowland III, Cassandra Rowland, Patrick Meves, Nicholas Schulte and Victoria O'Neill. Pacheco Ranch Winery represents one of the most unique endeavors in California's fabled wine country. "A heritage of excellence" has become the slogan of Pacheco Ranch Winery because of the rich family history that can be appreciated in every aspect of the estate bottled wine. Situated in eastern Marin County, the winery site was originally part of an 1840 Mexican land grant to Ignacio Pacheco and since then, has been continually occupied by his descendents. The neatly terraced vineyards and historic winery are located on 70 acres in the North Coast Viticultural Area of California's famed wine country. As such, the vineyards of Pacheco Ranch enjoy ideal climatic conditions, influenced by the San Francisco Bay and are similar to the Carneros District of Napa Valley. Pacheco Ranch annually creates approximately 800 cases of hand crafted wines in their small, modern winery.
Grape Varieties Planted