Pearmund Cellars: winery information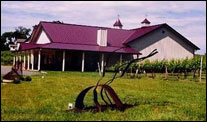 Winemaker: Chris Pearmund
Winemaker for several Virginia wineries, receiving many fine wine honors including Virginia Governor's Gold Medals. Previously, consulted for The Country Vintner distributor, managed wine sales for Total Beverage, and started the first mobile bottling truck for East Coast wineries. His industry leadership positions have included: Chairman of the Board for the Virginia Wine and Food Society, President of the Virginia Vineyards Association, Publisher of "The Grape Press," founding member of the Blue Ridge Wine Way, and nationally certified wine judge/instructor for the American Wine Society.
Annual Production: 5,000 cases
Futures
Futures of all wines in oak barrels and stainless-steel tanks are available in March and early April. Contact the winery at 540-347-3475 for details.
Estate Vineyard Acreage
25 acres
Grape Varieties Planted