River's Edge Winery: winery information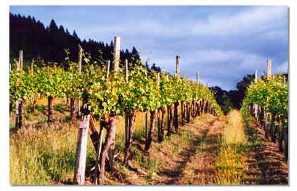 We seek to take advantage of our superior sources of grapes, and traditional methods made possible by our limited production, to make wines of great varietal character, intensity and complexity.
After hand harvesting the pinot noir grapes, further selection at the winery is a crucial step to remove any unripe or damaged clusters. Next, the clusters are gently de-stemmed so that most of the grapes remain as whole berries which allows a slow fermentation process. Primary fermentation takes place in lots of 1.5 tons or less, so that small, special blocks of the vineyards can be vinified separately. We allow at least two days of "cold" maceration before inoculating with either wild or cultured yeast. As the fermentation takes off and the temperature rises to 90 degrees, the grapes begin to slowly break down and color and flavor is extracted from the skins.
Each year we use about 30 % new oak cooperage in the barrel-aging process. Several sources provide barrels made from French, American (mid-west and Oregon), and Hungarian oak. Each type of oak brings unique characteristics to the wines aged in these barrels which gives us considerable scope to create distinctive wines. Our best single vineyard and barrel-selected wines may be aged in up to 60% new oak. We never employ tanks for aging wines.
Annual Production: 2,000 cases
Estate Vineyard Acreage
We believe that the most critical component in making fine wine is the quality of the grapes used to make that wine. As a source for our grapes we have sought out vineyards which are naturally restricted in production as a consequence of shallow soils and scarce water and which are further managed to yield small numbers of clusters with concentrated flavors. Another requirement is maturity, as we think that well established, older vineyards produce the highest quality grapes.
Elkton Vineyard: One of our two estate vineyards, it was planted in 1972 and is one of the oldest in Oregon. It is located on a steep hillside with a Western exposure at an elevation of 250-300 feet and has soils of moderate (3 feet) depth. Pinot noir (Wadenswil and Pommard clones) and Gewürztraminer are grown here.
Black Oak Vineyard: Named for the massive oak tree growing at its center, this is the second of our estate vineyards and also was planted in 1972. Situated lower on the same hillside as Elkton Vineyard, it has a gentler slope and is at 200-250 feet elevation. Soil depth ranges from 3 feet at the higher portion to as little as 1 foot in some sections. This vineyard produces the Pommard, Dijon 115 and Wadenswil clones of pinot noir. Bradley Vineyard: Located less than a mile from our estate vineyards and on the same hillside, this vineyard was planted in 1983 with the Wadenswil clone of pinot noir. The terrain is moderately sloped with soil depths ranging from 1.5 to 3 feet. Pace Family Vineyard: Adjacent to our estate vineyards are twelve acres of vineyard owned by Rod and Nina Pace. It produces pinot noir, pinot gris, riesling and gewurztraminer. Half of the vineyard was planted in 1983, and the remainder in 1998. Like our estate vineyards, it is on a West-facing gentle hillside, is never irrigated, is own-rooted, and is farmed sustainably. Myron's Vineyard:The newest Elkton-area vineyard to come into production, this vineyard has nine acres of pinot noir vines. It was planted in 2003 and 2004 on a gentle west-facing hillside, situated between Bradley Vineyard and our estate vineyards. The first grapes were harvested in 2007.
Grape Varieties Planted