Spangler Vineyards: winery information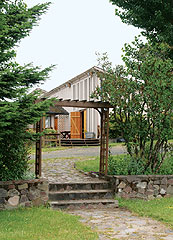 Winemaker: Patrick M. Spangler
Annual Production: 3,000 cases
Estate Vineyard Acreage
3 acres of own-rooted, dry-farmed old vine Cabernet Sauvignon.

The indefatigable Pat Spangler and wife Loree Spangler bought an existing winery in the Umpqua Valley back in 2004. The purchase included some estate vineyards, including old-vine cabernet sauvignon. That particular vineyard used to produce what was considered Oregon's best cabernet (back in the '90s) but that in retrospect was often green and overcropped. The Spangler's revamped the vineyard and assiduously cut yields and introduced other vineyard practices to improve grape ripening. Then, they took contracts with other vineyards and insisted on the same quality practices for their leased vines, too. The result is a lineup of big reds that are intense and that have great depth of flavor, that are ripe and balanced, and that showcase the Southern Oregon climate in a particularly delicious fashion.
Grape Varieties Planted