Stoller Vineyards: winery information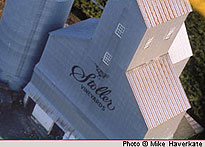 Winemaker: Melissa Burr
Melissa was raised in the Willamette Valley, and hasn't strayed far during her lifetime (aside from a few years at higher elevations). She had designs on a career in naturopathic medicine, but had a change of heart after completing her BS degree. She and her husband, viticulturist Simon Burr, were seeking a means of supporting themselves while living outside the boundaries of urban growth. Being passionate about wine, they decided to focus their efforts on respective careers in viticulture and oenology. Melissa studied winemaking at Chemeketa, and moved on to OSU for studies in fermentation science. After a few stints as a harvest hand at local wineries, Melissa worked as the production winemaker at Cooper Mountain for three harvests.

In her own words, Melissa "greatly enjoys the creative and natural process of winemaking." She adds that "It is always challenging, every season being a unique experience." Melissa also appreciates the fact that the Oregon wine industry is constantly evolving, pushing her to learn more about her craft. She says it doesn't hurt that she is a big fan of the finished product, either.
Annual Production: 6,000 cases
Estate Vineyard Acreage
To date, there are 146 acres under vine, the majority of which is planted to Pinot Noir. The vineyards are tightly spaced, with a minimum density of 1,250 vines per acre (5'x7' spacing) up to a maximum of 2,600 vines per acre (3'x5' spacing).
Grape Varieties Planted