VIE Winery: winery information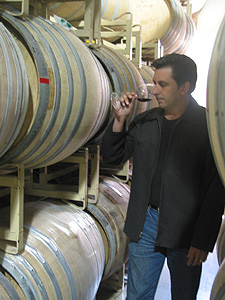 Winemaker: Bryan Kane & Todd Seaver
Bryan Kane – Winemaker:
Bryan has been a wine enthusiast and collector for years. While his first exposure to the wine industry was as a consumer, his passion for distinct and interesting wine lead him to become immersed in the wine industry – first as a collector and then as a home winemaker. With limited access to unique Rhone varietals and limited allocations from top California producers like Sine Qua Non, Bryan found himself focusing on making wines from Rhone varietals, sometime blending in a little Zinfandel – another grape of great interest to Bryan.

Through attending classes at UC Davis and learning as much as he could from the winemakers he respected, Bryan honed his winemaking skills. But, after years of begging top vineyards for "seconds" (grapes left on the vine by the purchasing winery) or commercial winemakers for a couple of hundred pounds of grapes for his home winemaking, it was time to take the next step. In 2004, Bryan was convinced by a friend (and fellow home winemaker) to begin making wine commercially at his crush facility. In a pursuit to share his passion for great Zinfandel and Rhone based wines with others, Bryan formed VIE.

Outside of his studies at UC Davis and learning through fellow winemakers, Bryan has worked harvest along side of several established winemakers. First, Bryan worked two harvests along side of Scott Shapley who worked as Assistant Winemaker at Siduri and Novy Cellars and currently heads up winemaking efforts at Roessler. Bryan continues to work along side of Scott as they both make their wines out of Copain's crush facility. In addition, Bryan worked with Kian Tavakoli of Clos du Val and Opus One and Mike Zitzlaff of Girard and Yarra Valley's Oakridge Estate in Australia. The experience working with Scott, Kian and Mike have been invaluable to the Bryan's transition from a home winemaker to his commercial efforts at VIE.

Todd Seaver – Assistant Winemaker:
Todd is a winemaker and wine lover. He began making wine with his family out of their garage in 1998, with a special focus on Zinfandel and Syrah. He brings a lifelong passion for wine and a belief that food and wine should make each other taste better. He joined Vie as an assistant winemaker in 2005.
Annual Production: 1,200 cases
Futures
Our wines are produced in small lots and in very limited quantities, and many wines sell out to those on our mailing list via our Pre-Release Futures Offering. We encourage you to sign up for our mailing list to receive an allocation of our wine.
Estate Vineyard Acreage
VIE currently does not have an estate vineyard, but does source grapes from many of the top vineyards in California including:

- Beatty Ranch, Napa Valley
- Las Madres Vineyard, Carneros
- Canihan Family Vineyard, Sonoma County
- Speedy Creek Vineyard, Sonoma County
- Tom Feeney Ranch, Russian River Valley
- Unti Vineyards, Dry Creek
- Round River Farm, Lake County
- Eaglepoint Ranch, Mendocino County
- Alder Springs, Mendocino County
- White Hawk Vineyard, Santa Barabara
- Thompson Vineyard, Santa Barbara
- Alta Mesa Vineyard, Santa Barbara
- Stolpman Vineyard, Santa Barbara

Grape Varieties Planted