Vin Roc Wine Caves: winery information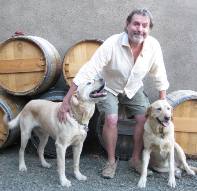 Currently no information available.
Estate Vineyard Acreage
A Micro-Crafted Cabernet Sauvignon: Micro-Climate -Located on the eastern slope of Napa Valley at an elevation of 1600 feet, our vineyards are above the fog line and experience sunny days and cool nights. -Our vines struggle through the volcanic rock & red soil, producing low yields of highly complex & intense fruit. Micro-Harvest -We pick one ton at a time, and harvest only those clusters which are at the peak of ripeness . -The grapes are carried into our adjacent wine cave in small picking boxes, rather then dumped into large harvest bins, and are immediately hand sorted and de-stemmed. Micro-Vinification -Our winery is completely self-contained within our cave which was specially designed with custom European equipment for a low volume, high quality boutique operation. -Each ton harvested is separately fermented and barreled for two years in French Oak, which allows us to track individual batches from the vineyard and throughout the winemaking process until blended.
Grape Varieties Planted