Willamette Valley Vineyards: winery information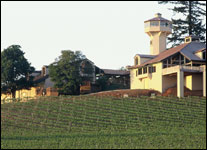 Winemaker: Forrest Klaffke
Forrest Klaffke has over 30 years of experience in the wine industry. His first job was screening grapes at Bonded Winery #7 near Sacramento. He continued on to work in the cellars of both Mondavi and Sebastiani where he ran a crew compliment of 40.

Forrest longed to make small batch wines and in the early 90's he moved to Oregon at the request of Willamette Valley Vineyards Winemaker, Dean Cox -- serving as his assistant winemaker until Dean's untimely death in 1995. Forrest was promoted to winemaker in late 2001 when Joe Dobbes, the winemaker who took over after Dean, left to start his own winery.

The key to great wine for Forrest is plant nutrition and attention given to every detail in the vineyard. He is narrowing the winery's focus by increasing plantings at Tualatin Estate and concentrating his personal attention to those vines and soil. Forrest believes that a sharper focus on soil conditions and vine health will increase the aging potential of our wines. To that end, he continues the winery's tradition of making fruit forward, viscous wines that express their origin – Oregon's Willamette Valley.

In the little time that Forrest does spend away from the winery he enjoys spending time with his family, cooking and skiing.
Estate Vineyard Acreage
The Estate Vineyard is approximately 50 acres.
Tualatin Estate is approximately 220 acres.
Grape Varieties Planted