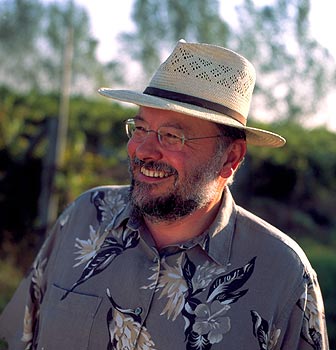 Sparkling Decisions at L. Mawby
"In the early 1980s, I was one of only a few winemakers on the Leelanau Peninsula trying to attract consumers with a variety of tastes. Today there are 20 wineries in this region, which means I can specialize."

~ Larry Mawby
by Eleanor & Ray Heald
July 20, 2006
---
<!>
Ray & Eleanor Heald (REH):
Why did you choose to become a winegrower on the Leelanau Peninsula?
Larry Mawby (LM):
My family were fruit growers for generations. When I graduated from college in 1972 with a degree in English, I was interested in agriculture on a small scale. It seemed that the possibility for growing grapes and making wine in what is now the
Leelanau Peninsula AVA
was viable. At that time Bernie Rink of
Boskydel Vineyard
was the only one growing grapes on the Leelanau Peninsula but had not gone commercial yet. I looked at upstate
New York
and
Oregon
but I knew this area because I live here and those states didn't have any advantages that we don't have.
REH:
How do you describe yourself?
LM:
I'm a farmer, a winegrower, a vintner who grows and hand harvests his fruit to make small lots of handcrafted sparkling wines while paying close attention to every detail.
REH:
We remember when Mawby decided to imitate French Beaujolais Nouveau in 1982. You called the wine Turkey Red and it was made from Marechal Foch. What are some other varieties you grew at the beginning?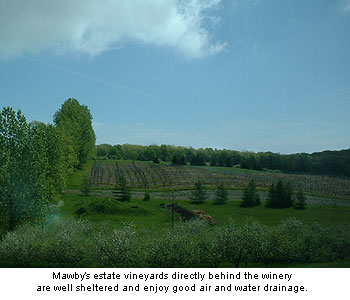 LM:
DeChaunac
,
Chelois
,
Aurora
, and at least 20 other unnamed but numbered French Hybrids.
In the early 1980s, I was one of just a few winemakers on the Leelanau Peninsula trying to attract consumers with a variety of tastes. Today there are 20 wineries in this region, which means I can specialize. Consumers come to see me if they like sparkling wines because they know that's all I do. If they don't care for sparkling wines, there are 19 other wineries glad to have them visit.
REH:
What grapes are you growing on the estate now?
LM:
I have 12 acres of vineyards planted, four of which are to direct producer varieties
Vignoles
and
Seyval
. Vinifera varieties are
Pinot Noir
,
Pinot Gris
,
Chardonnay
and
Pinot Meunier
. In Spring 2006, I planted just under an acre of Pinot Noir, California Clone 31 (Entav 236). Champagne Roederer brought in this clone from Champagne when they started
Roederer
USA. I have plans for additional Pinot Noir plantings for sparkling wine production as the vine material becomes available, probably Spring 2007.
REH:
What training and spacing are you using?
LM:
Double trunk cane pruned. It's a system I've developed and it works for me. Vines are spaced 1.4 x 2.2 metres.
REH:
Do you irrigate your vineyards?
LM:
No, they are all dry farmed. I carry water to my little vines.
REH:
What are your sparkling winemaking goals?
LM:
Each of my wines expresses the character of the soil and climate in which they are grown. I believe that our wines are living things and when raised with care, give voice to our
joie de vivre.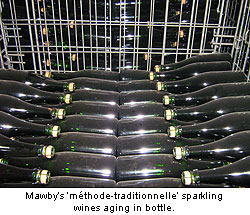 We make principally traditional method (
méthode-traditionnelle
, a term replacing
méthode champenoise
following a recent agreement between the U.S. and the European Economic Community) and cuve close method sparkling wines. Many wines are from our estate vineyards. However, we are producing some wines from grapes purchased from other neighboring growers including Steele's Crossing Vineyard, Victoria Creek Vineyard, Telford Farms, Price Vineyard, Isador's Choice and Black and Red.
All wines labeled L. Mawby are made using méthode-traditionnelle and are aged in the bottle before disgorging. Many cuvées are given three or more years of tirage aging. These wines, made exclusively from Leelanau Peninsula-grown grapes are marketed under the names Cremant, Talismøn, Mille, Blanc de Blanc, Conservancy and Consort.
Wines labeled M. Lawrence sparkling wines (US, Sex, Fizz, Redd and Sandpiper) are produced in the cuve close method, are given less aging, and are less costly than the méthode-traditionnelle sparkling wines and do not use Leelanau Peninsula fruit exclusively.
REH:
How are each of the varieties used in the production of L. Mawby, Leelanau Peninsula sparkling wines?
LM:
Cremant is 100 percent Vignoles, a hardy, distinctively-flavored variety. Vignoles is also part of the Talismøn Brut vineyard blend. The basis for Sandpiper is Seyval and it's often included in Fizz.
The classic champagne varieties, Chardonnay, Pinot Noir and Pinot Meunier, are used in varying percentages in all L. Mawby sparkling wines. Pinot Gris was grown in the Champagne region at one time. We grow it because it offers flavor roundness that complements Chardonnay in our blend.
REH:
What methods do you use in sparkling wine production?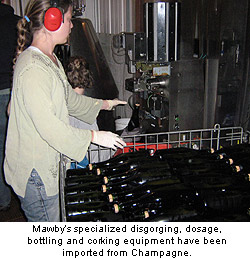 LM:
Since 1998 in order to specialize in traditional method production, I've added winery space and purchased new equipment. I whole-cluster press hand-harvested grapes using a Bucher tank press. Riddling is done by a computer-controlled
gyropalette
manufactured in the Champagne region. From suppliers in Epernay, I've bought disgorging, dosaging, corking, and bottle washing equipment. Therefore, since these tools are designed to use standard champagne bottles, I import these from Rheims.
REH:
What is your annual sparkling wine production?
LM:
In 2004, I began making sparkling wines by the cuve close (tank fermented) method. These wines are marketed under the brand M. Lawrence. Thi