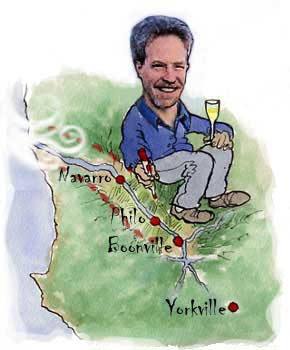 Pacific Echo winemaker Tex Sawyer makes his mark on the
Anderson Valley AVA
'I hope that, in the future, the government will review all the AVAs and draw up more meaningful guidelines, similar to the Appellation Contrôlée system, in order to give more quality related meaning to our AVAs.'
by Adam Dial
October 3, 2003
---
AA:
The EU (European Union) has well established Appellation of Origin systems with strict laws for wine production. How do American regulations measure up to such standards?
TS: For our (American) AVAs to be meaningful, quality regulations must be imposed, related to limitations on the varieties grown, and where grown; as well as how, and how much, wine can be produced per ton for each area. This is not currently the case.
AA:
The appellation movement in the United States is barely a quarter-century old. Do you think there were mistakes made in the beginning?
TS: My point of view is that when the (AVA) system was first instituted, it was basically government-sponsored support of whatever appellation parameters any special wine interest group put together, in order to give the impression that we have European-style controlled appellations here, as well. Unfortunately, there were and are no legislative specifics to the appellation delineations based on soil types, thermo clines, varietal limits or crop and production volume (i.e. quality) controls.
AA:
Has the American AVA system progressed since its early days?
TS: More recently, due to grower and producer education, there has been some growth in the direction of appellation delineations based on temperature zones, watersheds, elevations, varietal and clonal choice etc., which have more meaning than some of the earlier AVAs that were based on county lines or gerrymandering to include an interested party's vineyard.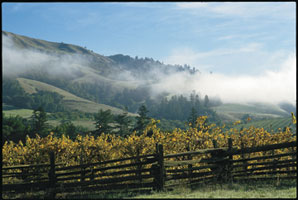 AA:
In light of your comments, are there features of the Anderson Valley 'terroir' that justify its distinct appellation (AVA) status?
TS: As you stated so well in your opening paragraph (the Anderson Valley thumbnail description), we are one of the coolest grape growing regions in California because of the marine influence from the Pacific Ocean and the cold California current. This rewards us with well-balanced base wines for sparkling wine, with the same acids and pHs as are found in Champagne. This gives (our wines) the same structure and aging potentials as the best Champagnes.
AA:
Champagne is certainly the region that the Anderson Valley is most often compared to. One of the most distinctive features of the Champagne region of France is the tremendous vintage variation it experiences. That is so much the case that 'chef de caves' (winemakers) regularly blend various vintages to achieve a consistent house style. The result is that most Champagnes are non-vintage blends. Is vintage variation as significant in Anderson Valley, compared to Champagne?
TS: Due to the moderating effect of the Pacific Ocean on our weather patterns, vintage differences are not as major as they are in Europe. There are noticeable vintage variations based on length of time (grapes remain) on the vine, which is affected by seasonal temperature variations; but every year in the Anderson Valley is a vintage year. We have good years and better years.
AA:
This year's growing season in California has been marked by unusual weather patterns affecting many regions in the state. What quality levels can we expect from this Anderson Valley vintage?
TS: This year we had a period of cool weather that caused a plateau in ripening, and then a series of warmer days that caused everything to ripen all at once, resulting in a scramble for producers of both still and sparkling wines to get everything off at their optimums. The grapes came in excellent physical condition, with good development of character and balance, just all at once.
AA:
Will this 'sudden death' harvest result in changes in the cellar?
TS: Long processing hours, but no significant changes from previous vintages.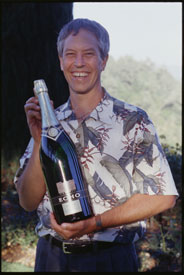 AA:
Pacific Echo labels all of its wines with the Anderson Valley appellation of origin, demonstrating a strong sense of Appellation consciousness. What measures do you take in the vineyard to emphasize the distinctive Anderson Valley style?
TS: Pacific Echo's philosophy is to let the fruit of the Anderson Valley express itself in our wines. We try to grow the grapes to achieve the optimum expression of this fruit by keeping all things in balance; i.e. canopy management, regular irrigation, balanced nutrients, and by practicing sustainable farming.
AA:
What do you do in the cellar to maintain this "optimum expression" of the (this) fruit?
TS: In the winery we follow the guidelines developed in Champagne for the production of sparkling wine. I chose a yeast for the primary and secondary fermentations that allows the fruit to express itself and to act as an enhancement, rather than as an overwhelming component.
AA:
Considering your strong views on appellation, which grape varieties do you consider to be the best suited to the Anderson Valley's unique climate?
TS: Obviously Pinot Noir and Chardonnay for sparkling wine are good choices.
AA:
How about for still wine production?
TS: Due to our long, cool ripening season, we will eventually become known for world-class red Pinot Noir. Gewurztraminer, White Riesling and Pinot Gris do quite well here. Sauvignon Blanc is also grown in some of the warmer pockets in the valley.
AA:
Have advances in clonal selection changed what specific varieties or clones you grow?
TS: For the sparkling wines, no. But for our red Pinot Noir we have done research into clones and are happy with 667, 777, 115 and UCD4.
AA:
Do you think that the demarcation of the Anderson Valley is suitable as it stands now, or would further delineation be warranted?
TS: I think that the Anderson Valley appellation should be redrawn to the watershed of the Navarro River, up to (and including) the crests of the surrounding ridges, all the way to the Pacific Ocean.
AA:
This sounds like a broadening of the current boundaries in favor of cooler areas closer to the ocean, further down the valley. Do your lines intend to limit the warmer, less fog-influenced regions further up the valley?
TS: I feel that the warmer area past Beebe Creek and Rancheria Creek, toward Yorkville, should be a separate appellation from the Anderson Valley appellation.
AA: