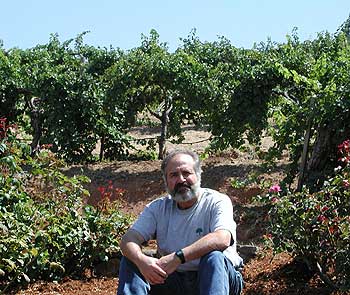 Diamond Mountain District ~ Napa Valley (AVA)
Phil Steinschriber: Changing the style of Diamond Creek
"It's going to be a little more strict...We're going to move forward and try to make even better wines."
by Alan Goldfarb
September 14, 2006
---
<!>
Alan Goldfarb (AG):
You began working at Diamond Creek in 1991. What were the circumstances under which you came to the winery?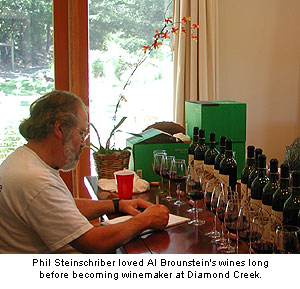 Phil Steinschriber (PS):
I always admired Al. Diamond Creek was one of my benchmarks.
AG:
How so?
PS:
I enjoyed the '74s and '78s. I always loved the fruit complexity and the mouth feel. I just loved Al's wine.
AG:
What is life at Diamond Creek going to be like without Al Brounstein?
PS:
It's going to be a little more strict. We're not going to be as loose. We're going to move forward and try to make even better wines. To do that, you need to have a little more strictness in procedure and methods. It's going to be less of a seat-of-your- pants operation.
I'll be stricter on myself. I want to see this place really shine before I leave it.
We've done the preliminary work. We're mapping out what it will look like in the future, including how the vineyards will look.
AG:
What have you come up with?
PS:
We've been replanting, putting in new vineyards in the modern method. We're using different rootstocks (1103, St. George, 420-A, 10114, 3309) in different areas.
In Volcanic, we've added virgin ground, and kept 2 ½ acres of the old portion.


Red Rock is 75 percent replanted.


Gravelly Meadow is in the planning stages.


Changes to Lake are not in the plans until it increases in the quantity of fruit it produces.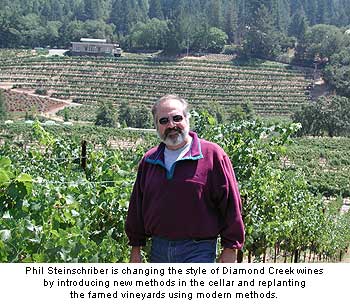 We're also using 100 percent new oak (instead of a portion in used wood). The fermentation regime is refined. We're dropping more fruit than we used to. There's a plan.
AG:
What do you mean by "seat-of-your-pants"? Was Al that kind of guy?
PS:
He was originally. He was fermenting in wooden tanks in the middle of the vineyards in the beginning. Now, there's a lot more control. Everything (became) much more controlled four and five years ago.
AG:
Was Al resistant to change?
PS:
He became less resistant. He liked to see the wines move forward, too.
AG:
What was it really like to work with him?
PS:
If one's an employee, you have to do what the employer wants, even if it goes against the grain. But he was an easy man to work with. We would sit down and talk. It was a pleasure.
AG:
So, what are we to expect from Diamond Creek wines now?
PS:
My vision would be to make concentrated wines. We have more lots to choose from now, and we're culling those lots. The wines will have a sweet feel with sweet characteristics - vanilla, oak, toasty. I like (heavy) toast. Hopefully, we'll produce something that is big enough that it will stick around and still be accessible.
I personally like my wines young. I like to drink them in the first six years, but I do like older wines, too.
AG:
Aren't those types of wines anathema to Al's philosophy?
PS:
Yeah, in a sense. He wanted big wines. That's just the way things were done in the
Napa Valley
in the 70s - extract what you can, and hope for the best.
AG:
But will the wines still be big wines?
PS:
They'll still be big, but they will be more concentrated. There will still be lots of tannin, but the higher concentration will result in a wine that appears to be sweeter. But we're not making more tannic wines.
AG:
Don't you think this will mask the terroir character of the wine?
PS:
I think it adds to it. It's my salt and pepper.
AG:
Will there still be terroir expression from the four vineyards?
PS:
I think so. You can taste all four. They're all different, even though the methods are the same.
AG:
Could you explain the differences?
PS:
There's a blueberry vein in the Red Rock, and slight cranberry, if it's a colder year. In Gravelly, you might say there's a plum vein. Volcanic has more cassis and black fruit character. In a hot year (which is when I usually use the fruit to make a vineyard labeled wine), Lake can express a lot of different things. It surprises me. It's deep and rich in warm years, but not so in colder years. Overall it's more plum and black cherry in character than the others.
AG:
What about Diamond Mountain's characteristics in general?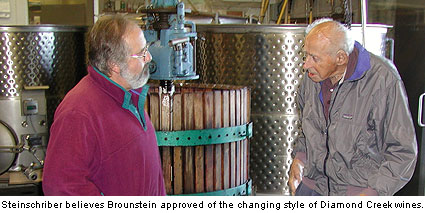 PS:
We vary in elevation (400-to-1,800 feet). We're small in the amount of acres (approximately 500). Blueberry (flavors) run through most of the reds. We make tannic stuff, so we have to control what's happening in our vineyards. There's exposed fruit (canopy management) so that we can bring the grapes more to their sweet nature.
AG:
Do you think Al would approve of these new wines in the subsequent years?
PS:
I think so. He was moving in that direction.
AG:
And, that's the real challenge for Diamond Mountain and Phil Steinschriber at Diamond Creek – to live up to the very-large legacy of Al Brounstein, and also push forward in a new direction.
~ Alan Goldfarb, Regional Correspondent – Napa Valley
To comment on Alan Goldfarb's writings and thoughts, contact him at
a.goldfarb@appellationamerica.com