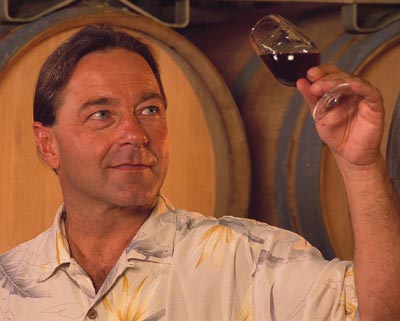 CedarCreek's Tom DiBello on Pinot Noir, and its place in the Okanagan...Interview with John Schreiner
BC Regional Correspondent, John Schreiner, speaks with the 'winery of the year' winemaker about his mastery of Pinot Noir
by John Schreiner
February 19, 2005
---
AA:
Where did you make Pinot Noir prior to coming to the Okanagan?
DiBello: I didn't do a lot of Pinot Noirs. I did a couple in Washington with Oregon grapes, and I made some in Arizona, of all places. The way I learned Pinot was just by liking it -- I have always had a taste for it – and by picking everyone's brain on how they make it, and then trying all of those things. Really, it is just plain brain picking.
      I've been through most of the Oregon wineries and most of the California ones and a whole lot in Australia and elsewhere. Winemakers tend to like to talk to me because I have good info to give back, and I am pretty open. I basically have been able to pick everyone's brain.
AA:
Where did you get Pinot Noir grapes in Arizona?
DiBello: The
Sonoita AVA
, which is at 4,987 feet. A high elevation and it has soils which are virtually identical to Burgundy. It's red soil and about two feet under that is limestone. It is a little bit warm. But some of the Pinot Noirs were actually pretty decent. It was there and we had to use it, so I made a lot of Pinot. There were certainly some that were respectable.
AA:
What winery were you working for?
DiBello: Paradise Valley Vineyards. They are gone. I think someone bought the brand name.
AA:
Is CedarCreek's Pinot Noir all from estate vineyards?
DiBello: For all practical purposes, 99% is from those two vineyards. It is mostly from the CedarCreek vineyard -- about two-thirds, maybe three-quarters -- with a little bit of Greata. I get one tiny bit from Naramata. One of my growers has it. He grows some dynamite Pinot but I am lucky to get two tons of it. We've increased the planting at the CedarCreek vineyard, which is now mostly Pinot Noir.
AA:
What clones are grown?
DiBello: We have mostly 115; and then 667 and 777 and a tiny bit – about an acre – of 114.
AA:
And you would like to get some more clones?
DiBello: Yes. There are a couple I would like to get my hands on but I don't think we would like to replant anything right now.
AA:
I understand that 115 is the major clone grown in the Okanagan?
DiBello: That is probably my favourite clone. If I had to make Pinot with one clone, I would probably use that. But the other two are really important too.
AA:
Do you vinify them separately?
DiBello: I used to. It kind of depends on how things are ripening. A lot of time I will put them together, especially now that I know the vineyard better and I know what I am getting from these blocks. I do more blending with them right at the start – I will co-ferment them now, because I kind of know what I am going to do anyway. I think wines turn out better if they are co-fermented, if the grapes are ripe at the same time.
      It's a bit of both. In 2000, all of them were totally separate, clone-wise and block-wise and vineyard-wise. As time goes on, I kind of know what I want to blend. Sometimes, logistically, you have to do it.
      I generally have a fairly good idea what I am going to put together and what will be what before we harvest.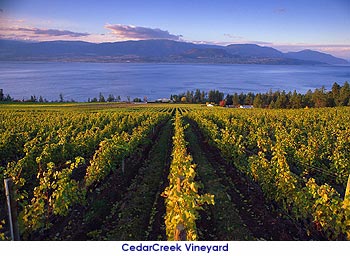 AA:
What are the differences between CedarCreek and Greata Ranch vineyard Pinot Noirs?
DiBello: I think they are both very much black fruit. CedarCreek is a more typical Pinot, where you have a lot of black cherry aromas. Greata tends to have more strawberry and raspberry aromas than black cherry. They both produce dark and big wines. It is a little more typical here at CedarCreek of what you expect from a Pinot Noir. I am not necessarily saying that's better. It is just a little different.
AA:
Do you keep the fruit from the two vineyards separate?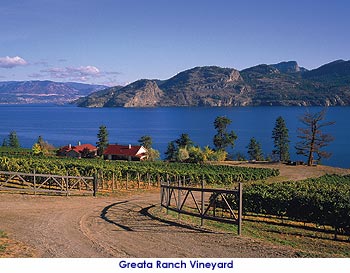 DiBello: They are usually separate. Sometimes, I do a little co-fermenting there too, if they happen to be ripe at the same time. Sometimes I like some of that Greata in with the CedarCreek in the ferment. They generally do get blended together in the end, although I am making a strictly Greata Ranch one for Greata.
AA:
CedarCreek has two tiers of Pinot Noir: 'Platinum Reserve' and 'Estate Select'. Formerly, there also was a 'Classic' tier, wasn't there?
DiBello: We quit making Classic [from purchased grapes] after the 2003 vintage. Now we have
Greata Ranch Estate, CedarCreek Estate
, and the
Platinum
.
AA:
Why was the classic dropped?
DiBello: I had to take grapes from a south Okanagan vineyard to get some other varieties. It wasn't bad Pinot. It just wasn't great Pinot. The Pinot up here [north Okanagan] is better than the Pinot from the south Okanagan.
AA:
One recent Pinot Noir from a south Okanagan producer was so big that I asked the producer if Syrah was in the blend, because the varieties blend easily. He denied it.
DiBello: I definitely have noted a few people doing that in the valley. I know people put in Merlot, too, and I can usually tell. It doesn't take much Merlot to change the whole character of the wine. The same with Syrah – not as bad with Syrah as with Merlot, but I just think it is cheating.
      I want my Pinot Noir to be Pinot Noir. All of our Pinot is 100% Pinot. We don't even top up with anything else.
AA:
How much more fussy is Pinot Noir compared with everything else you work with?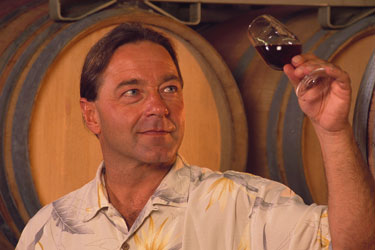 DiBello: How about five times more fussy than anything? Maybe even ten! It is just tricky stuff. You cannot screw up.
      It wants to ferment too fast, for one. It is really hard to get the colour to be stable. If your pH goes out of range at any point in its life, all your colour drops out.
      You have to grow it in just the right area. And it is more sensitive than any variety in terms of yield. If you have too much on the vines, you get no concentration