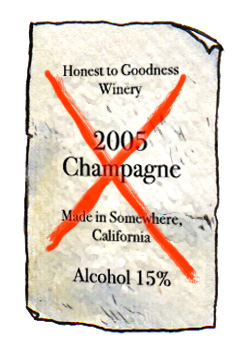 Truth in Labeling: New poll shows wine consumers want regional names protected
"Consumers clearly demand and deserve truthful wine labels which correctly identify location no matter what country they come from. Without addressing this issue, Wine Accords will fall substantially short of protecting consumer interests."
--Shannon Hunt, Center for Wine Origins Director
by Eleanor & Ray Heald
December 14, 2006
---
<!>On December 7 and 8 of 2006, a second round of Wine Accord talks between U.S. and E.U. negotiators had some weighty feedback from American wine consumers to evaluate.
Results of a November 2006 survey of 500 American wine consumers in the largest U.S. wine markets, (conducted by California-based Fairbank, Maslin & Associates and announced December 5, 2006), indicate an overwhelming 80 percent majority desire that policymakers correct the problem of misleading wine labels.
The national poll was sponsored by the
Center for Wine Origins
and the
Office of Champagne, USA
.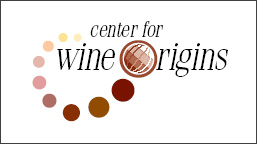 Poll findings indicate specifically that 85 percent of consumers feel that the region or location where a wine comes from is an important factor in their decision to buy a particular bottle of wine.
Eighty-one percent agree that wineries should only be allowed to use a specific geographic location on labels if the wines are actually made in that location.
Additionally, 78 percent agree that the region or location from which wine comes is extremely important in determining its quality.
"These findings," said Shannon Hunt, director of the Center for Wine Origins, "are clear and Wine Accord negotiators should take heed. Place names on wine labels assure consumers of unique attributes and qualities associated with specific locations."
"Consumers clearly demand and deserve truthful wine labels which correctly identify location, no matter what country they come from. Without addressing this issue, Wine Accords will fall substantially short of protecting consumer interests."
Formed in 2005, the
Center for Wine Origins
is an active advocate group with the mission of place names protection. Although many countries around the world protect against the misuse of geographic location in wine labeling, most areas of the U.S. do not. As a result, American consumers are at a greater risk of being misled or deceived.
As the popularity of wine has escalated in the U.S., Napa Valley, Washington State and Oregon have become increasingly involved in the Center for Wine Origins.
Clarity in wine labels should leave no room for misinterpretation. On that issue, nearly 70 percent of consumers polled said that they would support a U.S. law requiring that wines which refer to a specific winemaking region on their label must actually be produced in those regions. .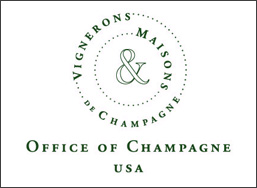 The notion of Wisconsin cheese from New Mexico would seem ludicrous, and yet, "California Champagne" continues to be used by three U.S. sparkling wine producers. Then, there are California Ports. Ports originate from Oporto (a place name) in Portugal. Suggesting California Port-like for the product does not cut it either.
Globally, wine producers agree that wine excellence begins in the vineyard with the grapes grown. Without a superlative raw product, no producer makes a great wine. Yet, certain locations are better-suited for vineyards and specific grape varieties than others. Specifics such a maritime influence, rocky well-drained soil, limestone subsoil, reduced disease pressures and abundant sunshine all impact high quality wines. Additionally, aromas, flavors and wine style are all based on grape origin.
The French use the word terroir (a combination of region, climate and soil) to describe the impact of location on wine produced. In English, you could refer to it as site personality. Each wine location around the globe needs to discover its site personality and express it to consumers -- not trade on a name made famous elsewhere.
The Wine Place & Origins online petition can be found at
www.protectplace.com
and is available for signatures.
Sharon J. Castillo, Office of Champagne USA Director, addresses the concept another way. "A bottle's label is like a return address in a letter. The place name indicates the origin. Without exception, any other use of a winemaking region's name on a label is just disingenuous and misleading."
In the first phase of Wine Accord, signed in March 2005, negotiators agreed that there was a problem with place names protection and, to remedy this, the Accord included a ban on the introduction of new, misleading labels. This included protection for 17 specific place names, such as Champagne, Port and Sherry in the U.S. market. Unfortunately, the Accord fell short on correcting existing problems -- something it still needs to address.
~ Eleanor & Ray Heald, Regional Correspondents
To comment on the Healds' writings and thoughts, contact them at
heald@appellationamerica.com