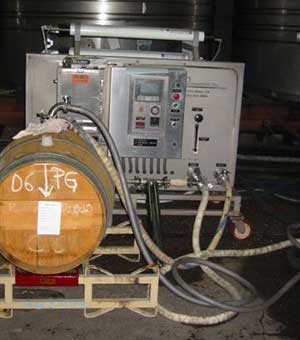 Cutting the Alcohol in Wine: What Wineries Don't Want You to Know
The people who remove the alcohol insist that the flavors of the wine remain intact. The winemakers who send their wine to be dealcoholized, say that the procedure – one which is being utilized by a vast majority of California wineries – is just another tool to help them make better wine.
by Alan Goldfarb
January 30, 2007
---
Large, gritty tanker trucks seem to pull up to the gray, nondescript warehouse all day long. The building, which resembles a chemical plant, is hunkered down inside a fenced-off area at the end of a cul-de-sac in an industrial wasteland. Perhaps most astonishing, this bleak location is smack in the middle of the otherwise bucolic Russian River Valley of Sonoma County. It is here, behind closed doors, without a wine label in sight, that , millions of gallons of anonymous wine are pumped through machines that, in another guise, can be used to extricate salt from seawater. What happens here, every day, is one of the wine industry's dirty little secrets.