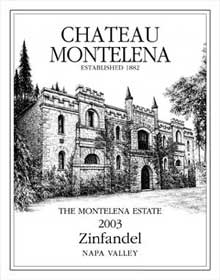 Zinfandel In Napa
Say Napa Valley and Zinfandel does not come to mind but it is still a strong player where Cab is king.
by Alan Goldfarb
January 18, 2007
---
In 1976, I had my own epiphanic moment with a bottle of
Chateau Montelena
wine. Instead of the Paris Tasting -- in which a 1973 Montelena was chosen by French oenophiles as the best Chardonnay, thus signaling the most important moment in California wine history – we'll call my experience the Glen Park Tasting after the sleepy San Francisco neighborhood where my little flash of understanding took place. On that momentous occasion, I tasted a 1974 Chateau Montelena Zinfandel, which was the greatest California wine I had yet put into my mouth. The memory lingers.