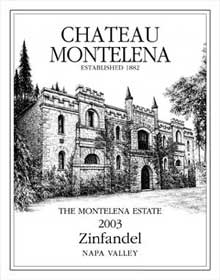 Zinfandel In Napa
Say Napa Valley and Zinfandel does not come to mind but it is still a strong player where Cab is king.
by Alan Goldfarb
January 18, 2007
---
In 1976, I had my own epiphanic moment with a bottle of
Chateau Montelena
wine. Instead of the Paris Tasting -- in which a 1973 Montelena was chosen by French oenophiles as the best Chardonnay, thus signaling the most important moment in California wine history – we'll call my experience the Glen Park Tasting after the sleepy San Francisco neighborhood where my little flash of understanding took place. On that momentous occasion, I tasted a 1974 Chateau Montelena Zinfandel, which was the greatest California wine I had yet put into my mouth. The memory lingers.
In the days before
Zinfandel
became the populist monster it is today, this wine was soft and lovely, and every bit as wonderful as the much-heralded Napa Valley
Cabernet Sauvignon
s from that same 1974 vintage. It wasn't until years later that I realized that that Zin was made in the "claret" style. That is to say, it was definitely not high in alcohol, certainly not in the 15-16 percent range, as is common with today's Zinfandels. And it was soft with tannins good for drinking then and for the next five or six years. It decidedly was not the bruiser which we've come to expect 30 years on in the California evolution of this variety.
All this is a way of saying that Napa Valley Zinfandels are generally still made in this fashion, although the big brawlers do exist, especially those made from hillside fruit. The irony is that whenever most of us think of Napa Valley, Zinfandel rarely comes into our ken. In a region where Cabernet is king, Zinfandel hardly weighs in.
No, Zinfandel is the fourth most planted and produced red grape in the Napa Valley and the fifth overall. Cab, as one would expect, leads by far with 69,000 tons crushed in 2005. Chardonnay is second with half as much, while Merlot (32,000) and Pinot Noir (10,000) follow.
The Zinfandel tonnage in '05 totaled a mere 5,350, which represents less than 2 percent of the entirety of Napa Valley's planted acreage. More than 50 producers make Zinfandel in the region, but that is only a blip on the radar.
Nonetheless, those that do make Napa Valley Zinfandel are exuberant about it. The first person I ask, quite naturally, was Bo Barrett, whose father Jim made the very same '74 Zin for Chateau Montelena, whose virtues I extol above.
We Make It Because We Like It
Why do you make Zinfandel, I query, when your Cabernets are world-renowned?
"Because we like to drink it," comes the simple answer, which is about what you'd expect from the oft-sanguine and iconoclastic Barrett. "Through all the Cabernet years and Chardonnay years, we always kept 10 acres of Zinfandel."
Montelena's vineyards are in Calistoga from whence much of the valley's Zins derive. In the hottest part of the valley and from some of the oldest Zin vines in the region, these Zins often come in at below 15 percent alcohol levels.
Is Calistoga a good spot to grow Zinfandel?
"It's cold enough at night so it doesn't tend to raisin so badly," says Barrett. "You can dry farm here. Zin likes to be dry-farmed. It doesn't make the monster wines like
Dry Creek Valley
(Sonoma County). I don't think it's a good spot for port-y super-alcoholic Zinfandels."
But Barrett and others agree that Zinfandel in the Napa Valley should not be grown below the Rutherford appellations. But there are a few anomalies. For instance, you won't find a Napa Valley Zinfandel like the ones made at
Truchard
in the coolest climate in the valley (and the polar opposite of Calistoga), the Carneros.
Zin in Pinot Land
Sal De Ianni is the winemaker at Truchard, who explains that his Zinfandel is planted in what is probably the warmest sliver of the
Carneros
, where it has perhaps the only chance in that region to get ripe.
"It's (planted) in the (northwest) high hills. A couple of years, it gets over 25 Brix (measure of sugar)," he says. Nonetheless, Truchard is making what is the most distinct Zin in the Napa Valley.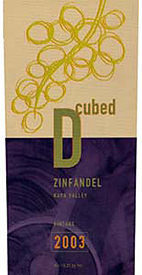 De Ianni offers, "It's lots spicier and the fruit is more red fruit -- cranberries, rhubarb. It has black pepper but not typical pepper. We refer to it as a more refined Zin, Bordeaux-like. We're rarely over 14 percent (alcohol). You can line up 200 Zins and you can pick it out."
But De Ianni cautions, "If you plant it in Carneros, you're taking a chance. You're going to have trouble competing, if you want that big, ripe style."
That style is often found on the steep hillsides on
Howell Mountain
. It's there that Duane Dappen makes one of four Zinfandels for his
D-Cubed
brand. He is one of the few producers in the Napa Valley who is devoted only to the variety. His Howell Mountain entry, he says, is his most complex.
"They have a good structure but they are not massive, tannic monsters. But they have layers of complexity which Zins from other areas don't have," he notes. "There's dark fruit, raspberry, blackberry, spicy characteristics and pepper. But there are also layers of earthy textures -- mushrooms, and little bits of leather. It's the soil and little, interesting weather patterns which produce wines that aren't as intensely fruity as the rest of the valley, but have more layers."
Dappen also makes Zins from
Chiles Valley
and from St. Helena. He describes the former as having "various weather patterns and similar daytime temperatures as St. Helena but it's significantly colder at night. The grapes maintain a little more acidity and brighter fruit characteristics."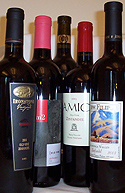 Explore the diversity of Zinfandel with Appellation America!

Regionally distinctive Zins from close to 20 different appellations now available in the Appellation America online wine store.
The St. Helena vineyards from which he gets his fruit are comprised of alluvial soils from the Napa River, which "make wines with bright, bright, intense fruit. Those are the wines I get the most body from."
Joel Peterson makes a lot of Zinfandels for
Ravenswood
, mostly from Sonoma County. But he holds a special place for one which he makes from St. Helena.
He uses the nearly 90-, 60-, and 20-year-old vines from the Dickerson Vineyard on Zinfandel Lane, for his single-vineyard Napa Zin.
"It's absolutely unique, with wonderful cedar and raspberry and it has lower pH, and it has a high spice level so it goes very well with food,"