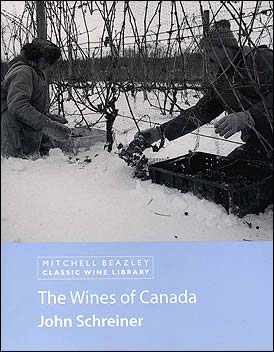 Just Released: John Schreiner's latest book, The Wines of Canada
AppellationAmerica's BC Regional Correspondent brings us up to date on the state of affairs in the Canadian wine industry.
by John Schreiner
June 12, 2005
---
The Wines of Canada, published by Mitchell Beazley of London under its Classic Wine Library series, is John Schreiner's ninth book on wines since his first in 1984, The World of Canadian Wine. All of his books chronicle the remarkable emergence of a fine wine industry in Canada during that period. He also has documented Canada's eminence in Icewine with his 2001 book, Icewine: The Complete Story, which covers Icewine globally and is the world's first thorough book on the wine.

The Wines of Canada ($39.95 hardcover) is a 307-page survey of Canadian wines, including fruit wines and ciders. Remarkably, there are land-based wineries in every province except Alberta. There are a rapidly growing number of vineyard-based wineries in Ontario, British Columbia, Québec and Nova Scotia. Schreiner provides thumbnail sketches, and often detailed profiles, of the majority of producers in Canada, with winery ratings for the grape wineries.

The book contains profiles of 97 grape wineries in British Columbia, 87 in Ontario, 37 in Québec and 12 in the Atlantic provinces. There also are profiles of 45 fruit wineries, 22 cideries and four mead houses, plus a list of additional cider and mead producers.

Schreiner anchors the profiles with a lively overview chapter on the general history of the industry and on the history of each wine region. He also provides a chapter on Icewine, the best known Canadian wine style internationally; and he has included a chapter-length profile of Vincor International Inc., the first Canadian wine company to acquire wineries in other major wine regions around the world.

Schreiner acknowledges the dubious beginnings of the Canadian wine industry. However, the profiles and the winery ratings provide plenty of evidence that today's industry ranks with its peers in the New World and is taken seriously in the Old World. For example, a leading Bordeaux producer is making superlative red wine in a joint venture in British Columbia called Osoyoos Larose while a leading Burgundy producer is making top Pinot Noir and Chardonnay at an Ontario joint venture called Le Clos Jordanne.

Other evidence of the rising status of Canadian wines include the industry's ability to recruit winemakers from established wine regions and to win awards at major international competitions.

Schreiner documents the passion that marks winemaking in Québec, where growers confront a climate hostile to vineyards with the world's most extensive plantings of winter-hardy vines developed at the Universities of Minnesota and Laval.

Schreiner also describes Canadian wines that are new and different. These include Ice Cider, a Québec beverage that rivals Icewine; and wines made with maple sap and maple syrup. Nothing is more uniquely Canadian.

Now available in book stores, The Wines of Canada is distributed in Canada by McArthur & Co. of Toronto. For more information, contact Janet Harron, Vice-president, Publicity, McArthur & Co. Telephone: 416-408-4007.