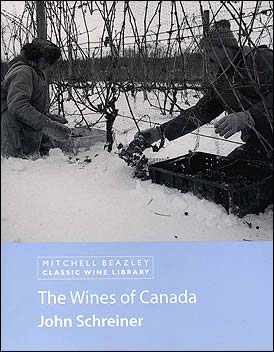 Just Released: John Schreiner's latest book, The Wines of Canada
AppellationAmerica's BC Regional Correspondent brings us up to date on the state of affairs in the Canadian wine industry.
by John Schreiner
June 12, 2005
---
The Wines of Canada
, published by Mitchell Beazley of London under its Classic Wine Library series, is John Schreiner's ninth book on wines since his first in 1984,
The World of Canadian Wine
. All of his books chronicle the remarkable emergence of a fine wine industry in Canada during that period. He also has documented Canada's eminence in Icewine with his 2001 book,
Icewine: The Complete Story
, which covers Icewine globally and is the world's first thorough book on the wine.