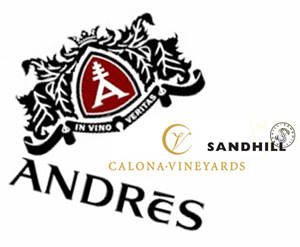 British Columbia's oldest winery now belongs to Andrés
For Andrés, Canada's second largest wine company, the purchase of Calona and sister winery, Sandhill, immediately boost's Andrés sales nationally by a quarter, to about $210 million a year.
by John Schreiner
July 14, 2005
---
In a changing of the guard,
Calona Vineyards
, British Columbia's oldest and arguably most colourful winery, has been acquired by Andrés Wines Ltd.
The biggest wine industry consolidation ever in the Okanagan, the deal was triggered by a bankruptcy in Switzerland. For Andrés, Canada's second largest wine company, the purchase of Calona and sister winery,
Sandhill
, immediately boost's Andrés sales nationally by a quarter, to about $210 million a year. It substantially raises Andrés profile in the West where both Calona Artist Series wines and Sandhill's premium single vineyard wines have been outperforming the Andrés
Peller Estates
wines.
Calona (founded in 1932) and Sandhill (founded in 1999) were both owned by Cascadia Brands Inc. of Vancouver. In turn, the controlling shareholder of Cascadia was a Swiss company, Uniivest Holding AG, which was forced into liquidation by financial problems unrelated to its major Canadian asset.
The liquidators asked for bids for Cascadia. The Vancouver company, which also includes Granville Island Brewing, Potters Distilling and Grady Wine Marketing (an agency for import wines), made a 2004 net profit of $1.9 million on net sales of $33.7 million. Cascadia also was profitable the year before and probably has been in the black throughout the past decade.
It appears that the only other serious bidder for Calona and Sandhill was Vincor International Inc., Canada's biggest wine group. My sources tell me that Vincor was surprised at what Andrés paid. Andrés often has ended second to Vincor as a consequence of shaving its bids too much. This time, Andrés put the money on the table that was required.
Its June 30, 2005 filings with securities regulators revealed that Andrés paid $41 million for Cascadia. In addition, Andrés also assumed $11 million of Cascadia's debts, effectively paying $52 million.
To put those figures into perspective, consider earlier transactions in the long history of Calona/Cascadia:
In 1971, the Capozzi family, one of the winery's founders, sold Calona for $17 million to Standard Brands of Montreal. That was a lot of money for a company that had neither the quality wines nor the reputation of today's Calona and Sandhill.
Calona was established at the instigation of an Italian winemaker named Guiseppe Ghezzi. When his group ran out of money, they enlisted other of Kelowna's Italians, notably a pot-bellied grocer named Cap Capozzi. Over the years, the Capozzi family acquired the majority of shares. In 1961, Ghezzi's son, Carlo, retired as general manager. He was succeeded by Capozzi's three sons.
Over the next decade, they turned the sleepy winery into the national success for which Standard Brands paid top dollar. The Capozzi strategy was brilliant: they just copied what the Gallo brothers were doing in California. In fact, they even tried to get the Gallo family to invest in Calona! They backed away when Gallo proposed taking Calona over, a proposal that could have had a profound impact on the British Columbia wine industry if it had proceeded.
The biggest product that came from the Standard Brands era was a wine called 'Schloss Laderheim', launched in 1977. Originally an off-dry blend of
Okanagan Riesling
,
Verdelet
and
Aurora
, it was a knock-off of the German whites then very popular (the Germans threatened to sue but didn't). For a few years, it was the top-selling domestic wine in Canada and it spawned numerous
me-too
brands, including 'Hochtaler' by Andrés.
One of the wines that Schloss Laderheim displaced as a Canadian best seller was Andrés 'Baby Duck', which had been launched in 1971. Both brands remain in the market and, of course, Andrés owns them both now.
The conglomerate successor of Standard Brands dumped Calona in 1988. The winery was taken over by a public company owned by Harry Moll, a notorious Vancouver stock promoter. His financial shenanigans included involving a Swiss merchant bank, a predecessor of Uniivest. When the Swiss woke up to the fun and games being played with Calona's treasury, they got rid of Moll in 1991 and took control of what became Cascadia.
In 1998, the Swiss (who owned 53% of Cascadia) bought out the minority shareholders. Their offer put a value of $25 million on Cascadia, or about half of what Andrés paid this year.
Until the recent filings by Andrés, there had been no disclosure of Cascadia's sales and profits since 1998. In that year, Cascadia had net sales of $36.6 million and a net profit of $1.8 million.
It was a bit of a surprise, then, to learn from the recent filings by Andrés that Cascadia has grown neither its sales nor its profits since then. However, the Cascadia that Andrés takes over clearly is a more valuable company than it was seven years earlier and it has more potential. These are the reasons:
The success of the Artist Series wines has erased Calona's Capozzi-era identification with plonk wine. The reputation was not deserved, since Calona wines in the 1960s and 1970s were no worse than other Canadian wines, and often were better. Still, the jokes took a long time dying out.
(Example of a classic story: One time when a panhandler asked Cap Capozzi for money, he supposedly replied: "How do I know you won't spend it on coffee?")

The reasonably-priced Artist Series of VQA wines – so named because the labels all use original art – have won awards all over the place. A few years ago, a $10.95 Artist Series Pinot Gris was best in its class at the Los Angeles County Fair. Calona makes close to 20,000 cases a year of these solid Artist Series wines.



The Sandhill label was launched in 1999 as part of a deal in which Cascadia invested in the Burrowing Owl Estate Winery. The initial Sandhill vintages sold largely on the coat tails of Burrowing Owl's success. Consumers figured that, since the grapes came from the same vineyard, Sandhill was a proxy for Burrowing Owl that cost $5 a bottle less.

For several years now, Sandhill wines have been holding their own against Burrowing Owl, with some even selling for comparable prices. The corporate relationship between the two wineries was unwound three years ago.



Cascadia came out of its Burrowing Owl investment very well, owning 170 acres of prime vineyard on the Okanagan's Black Sage Road and owning the valuable 20,000-case Sandhill label. In fact, Cascadia has spent the past year or so planning for a new boutique Sandhill winery on its vineyard. So far, there has been no word yet whether Andrés will go ahead with that.

Before doing that, Andrés no doubt will have to decide what to do with the various Cascadia assets not related to wine, including the spirits business, the brewery and the import wine agency.
There is speculation that Andrés will sell the Granville Island beer business, although it should be recalled that the late Andrew Peller, Andrés founder and grandfather of the current chief executive, was in the beer business in Onta