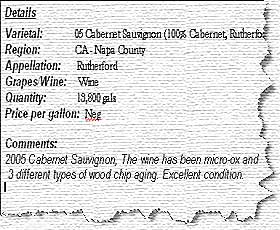 Goldfarb's Pressing Matters
Micro-Oxygenation and The New Wine for the 21st Century
by Alan Goldfarb
February 22, 2007
---
As evidence, one only has to navigate–for hours on end–the maze of contraptions, machines, computers and devices with their commensurate jumble of hoses, wires, and cords found at the recently concluded
Unified Wine & Grape Symposium
trade show. You are left with the unavoidable conclusion that there's something going on here. And many of you unassuming but faithful wine consumers don't quite know what it is.
By using these shiny stainless steel contraptions with their red and green diodes lighting the way, your wine and my wine, although it might taste good, may not be the wine you think it is.
By the use of de-alcing machines which extract several degrees of alcohol from your wine, and micro-oxygenating devices which pump small degrees of air into your fermenting wine sans oak barrels, twenty first century wine is certainly not your grandfather's, not your father's, and maybe not even your wine, any longer.
But what the hey. The wine is good, right? Or so the progenitors of The New Wine proclaim. And the wine sells, as the CFOs of The New Wine say. So, what's your problem, bub?
Is the Wine We Knew A Thing of the Past?
The problem is that, in the end, the marketers and the PR flacks may have it right. Terroir? That's so 20th century. Appellations? That's a good story. But what does it all mean? Americans are drinking more wine than ever before, which in turn means more wine is being sold than ever before. Raise a glass and adjourn to the counting house.
What you thought you were drinking may no longer be the hands-off, I-don't-touch-the-wine, natural agricultural product from Somewhere. So, if all you care about is that your wine tastes great, and you don't give a fig as to who did what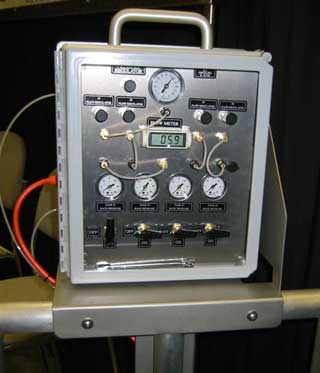 to it and/or where it came from, there's no need to read on. But if you still want to taste the origin of those grapes in your glass, you obsolete, provincial hick you, read on MacDuff.
They call it MOX, inside-wine speak for micro-oxygenation, and those in the know don't want
you
to know too much about it because they're afraid that
you
won't understand it. Worse yet, they're concerned that you'll think they're making Franken-wine.
First, the process is somewhat technical, but if you've learned what an oak barrel does, you can learn what MOX does. Second, they're not making monster wine. In fact, those that use micro-ox, firmly believe that what they're doing is actually making the wine better. And they may be right.
By MOXing the wine (mostly red, but increasingly whites), all the green or herb flavors which can be inherent to growing a fruit, but is anathema to many winemakers, can be eliminated. Color can be enhanced. Flavors can be heightened. The feeling in the mouth can be enchanting.
By MOXing, water usage can be cut by 30 percent. Labor costs can be reduced. Wines can come to market faster, which in turn reduces inventory, and speeds up cash-flow. Finally, the costs and collateral damage wrought by cutting down oak trees, can be reduced.
That's because MOX is mostly employed for wines which sell for under $25 and accordingly can eventually eliminate the use of expensive oak barrels. (Note: The use of MOX for wines over $25 is on the rise.) Micro-oxygenation is performed on wines in stainless steel tanks. Oak barrels, which have been used in part because of their porous property which allows a certain amount of air in – oxygenation as opposed to oxidation – are beginning to be phased out in some of the largest wineries which heretofore used them for their low-end products.
How To Make Barrel Aged Wines without the Barrel
To replicate the properties of the barrel, the procedure is used in conjunction with oak "products." That is, oak chips, oak blocks, oak staves, and even oak powder, can singularly or collectively be put into the hopper.
By carefully monitoring the dosage of oxygen, and by constantly tasting the progressing wine, a wine can be ready to go to market in from nine to 11 months. As opposed to from a year to 36 months in barrel, which has heretofore been the length of time it takes for a wine to be deemed ready. The result, of course, is the savings of millions of dollars for the cost and shipping of oak barrels.
French barrels go for around $800 each. But by installing French oak staves in a neutral barrel, the cost is about $95. A new American oak barrel costs between $300 to $400, while American oak staves are $85. A 5,900-gallon stainless tank will cost about $16,000. The French oak stave inserts for this tank would cost $6,000. American oak staves would be about $5,000.
Additionally, according to a survey by
Wine Business Monthly
, wood chips and blocks continue to be the most popular alternative to barrels. Staves, in either barrels or stainless tanks, remain the second most popular alternative. Oak powders, also known as "flour," are the third most popular alternative and are generally added during de-stemming and fermentation, aiding greatly in the extraction of color, particularly in Pinot Noir.
From a low of 8 percent of small wineries in 2002, the practice has grown to a current high of 16 percent of wineries which are now using micro-oxygenation. For mid-size wineries, the growth since '02 has jumped from 30 to nearly 50 percent, and currently 83 percent of all large wineries use this practice.
Large wineries seem to use it primarily for cost-cutting while small and mid-size wineries use it to improve quality. Speed to market is another consideration, with close to 25 percent of small and mid-size wineries, and 44 percent of large wineries taking advantage of the time-saving method.
One advocate of the use of micro-oxygenation is John McKay. He had been the director of winemaking at the Napa Wine Co. in Oakville in the Napa Valley from 1998 to 2004. Today, McKay is a consultant with three primary clients for whom he makes wine at NWC, which is one of the largest custom-crush facilities in the country. NWC, he said, has 25 tanks which micro-ox for its clients.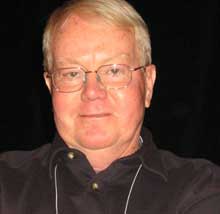 In his opening remarks as a member of the MOX panel in Sacramento at the grape seminar, McKay revealed that his introduction to the procedure was strictly pragmatic if not economic.
"The reason I got involved had to do with a lot of bulk wine which was on the herbal side. (Before MOX), the best offer we had (for the wine) was $12 a gallon. But after three months (with MOX), we sold it for $16. That sold me."
McKay has been using MOX since 2000 with the
Marilyn Merlot
brand for whom he consults. He employs the process on about 25 percent of the wine.
"You have to be aggressive with MOX, but not everybody pushes the wine as hard as I have done. Not everyone tastes every week. You can overdo MOX. You can cook a wine (by over-oxidizing) if you're not careful. But in coastal areas, wine can take a lot more oxygen."
Consultant Michel Rolland, who was depicted in the film, "Mondovino", as being a zealot of MOX, now has