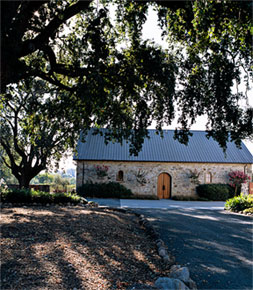 Spottswoode Estate: Keepers of the Terroir
While most of the wineries in Napa Valley seem to have abandoned the terroir which gives their wines uniqueness, Spottswoode has remained the terroir iconoclast. Thank you.
by Dan Berger
February 26, 2007
---
We define terroir as a function of how soil, micro- and macro-climate interact, and other subtle factors relating to the plant material on a piece of land, and how they help to create a unique wine. To that end, we seek verification of terroir's importance - evidence that it imparts both a form of uniqueness and a replicate-ability in the wines which result from the place.
In the vast panoply that is the
Napa Valley
, with its nearly 50,000 acres of vines, terroir seems to have been abandoned and is now seen in most houses as an earlier-era artifact. Dominant is the quest to make a "Statement," here capitalized to emphasize that even the imperative of varietal character isn't as inviolate as is the Statement.
And so it is that
Spottswoode Estate Vineyard & Winery
seems to be an anomaly in the early days of the 21st century. Unwaveringly for the last quarter century it has sought a sameness of what this remarkable site displays. The quest has been successful:
The wine shows terroir.
That is to say that, for reasons hard to fathom, a wine as truly pinpoint elegant and yet still as rich as this wine is - and has been from the start - remains one of the valley's strongest arguments in favor of terroir's existence, which in most other places is but a faded dream.
I have long believed that terroir is a choice. That is, if the viticultural people and the wine making people (and usually the owner people) all conspire to do so, they can easily wipe out any vestige of the regional characteristics of a wine by doing certain things which warp Mother Nature's inclinations. They can trellis in a way which accentuates the worst elements of summer sun. They can prune and irrigate and do all sorts of indignities and push the grape into a state in which it is all but unrecognizable.
In Alan Goldfarb's
homage to Spottswoode
, he rightly targets the use of vertical shoot positioned (VSP) trellising systems for much of the (intentional or not) loss of vital components in many other Napa
Cabernet Sauvignons
through sunburned grapes and desiccation resulting in higher alcohol levels and a consequent establishment of the raisin as the fruit of choice when making today's Cabs.
Spottswoode does nothing of the sort. It uses a trellis that protects terroir. In this ghetto of million-dollar homes and manicured landscaping, the heat in summer can be stifling. Hard against the Mayacamas, the land is far enough west as to avoid much of summer's cooling breezes (which, under a global warming scenario, are all too infrequent even further east). A VSP trellis here might be fine if the wine maker were to willingly accept the consequent raisins, prunes, and other dried fruit.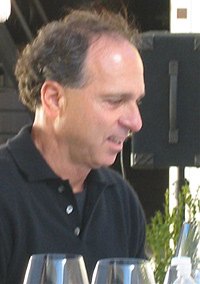 Red fruit is truly unlikely in Napa these days, notably from such a warm plot, yet with the blessing of viticulturist David Abreu, the site's endemic red-fruit charms have been preserved along with just enough black fruit to add gravitas. What you get is a wine that is more voluptuous than potent, yet has the mid-palate weight, depth and above all structure to last decades in the bottle.
By some odd coincidence, just hours after the 25-year vertical tasting of the Spottswoode
Cabernet Sauvignons
, a friend staged a broken vertical tasting of seven vintages of Chateau Mouton-Rothschild dating from 1970. With the Spottswoode wines still fresh on the palate, I was fascinated to see that the Napa wines had all held up better than any one of the Moutons, and did so with more of a sense of terroir than even vaunted Bordeaux.
Sitting as it does diagonally across the valley from such red fruit marvels (and age-worthy wines) as Stag's Leap Wine Cellars, Clos du Val, and Chimney Rock, Spottswoode delivers more than just a delicious glass of wine. It gives the added pleasure of a consistent regionality along with a potential for improvement which has been abandoned by many of the Novak family's comrades.
St. Helena
as an appellation has meaning in real-world terms. It's a small appellation that, as recently as 1990, had but three wineries within its boundaries. Today, it is emerging as a unique Cabernet-growing area, and is so esteemed that Abreu owns a now-famed parcel of Cabernet Sauvignon just up the street.
Among the area's claims to fame is Spottswoode, which deserves praise for sticking with what wasn't broke and for continuing to offer us a glimpse into a rarely seen treat: balance and structure from a Napa Cab.
~ Dan Berger, Editor-at-Large