Nova Scotia (Provincial Appellation)
In praise of L'Acadie Blanc
Another piece of evidence supporting L'Acadie Blanc as Nova Scotia's best varietal
by Mark DeWolf
February 28, 2004
---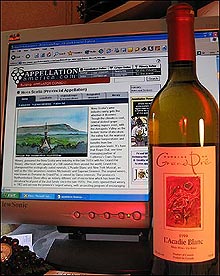 A comparison has often been made between Chardonnay and L'Acadie Blanc, and a recent tasting of Domaine de Grand Pre's inaugural release of L'Acadie Blanc, the superb 1999 vintage, does nothing to dissuade the comparison.
A well cellared bottle of the wine was shared recently, amongst the Appellation America editorial staff. The wine's pale gold color sparkled with green accents. Its nose showed a wonderful combination of almonds, munster cheese and mineral accents. The impressive impact of its bouquet leading to a cry of "it must be Chablis" coming from behind a desk and concurred by myself. The palate was clean, crisp and lively with a slightly bitter finish and only hints of oxidized character beginning to show after four years in bottle.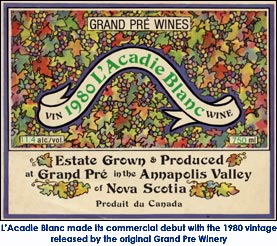 Although the palate lacked some of the complexity of great white Burgundy, this wine could easily pass for a top producer's entry level Chablis. At approximately $13 on release, its price to value ratio is excellent.
Another piece of evidence supporting L'Acadie Blanc as Nova Scotia's best varietal, and a signature of the region.