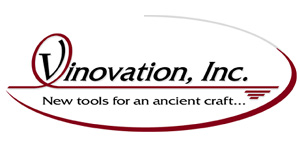 California (State Appellation)
Clark Smith is vilified
for changing the way wine is made.
For that he admits, 'I'm partly to blame'

Part 2 of a two-part interview with a man who has put a controversial technology into the wine bottle.
by Alan Goldfarb
April 19, 2007
---
Clark Smith doesn't exactly
sit
in his nothing-fancy office on a cul-de-sac in an industrial area of Sebastopol, Calif. In the space of a few moments, he turns to the laptop, to prove a point; he's up opening bottles of his wine, to prove a point; he reaches for a couple of posters,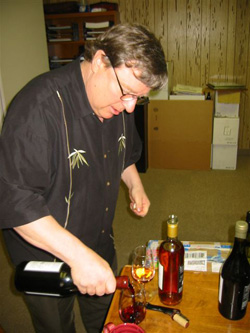 to prove a point; and he leads an inquisitor into a faux wood-paneled hallway where, just to prove a point, he gestures to framed articles by myriad writers who have taken shots at him for making "Frankenwine."
Dressed in a black print Hawaiian-style shirt at a dingy behemoth of a warehouse that houses
Vinovation
– his company, which some say is changing the way wine is being made – Smith is clearly in his element. He goes on and on, and on some more, comparing wine to music, in learned, philosophical soliloquies. It's also clear that he is very smart, very astute, perhaps even cunning. Above all, he's good-natured, ebullient, and extremely likeable.
But not all feel positive about the 56-year-old Smith, who uses fiendish-looking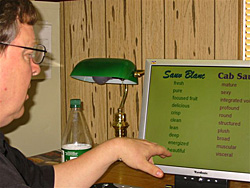 technologies that reduce alcohol in wine and adds oxygen while eschewing old-fashioned oak barrels. Some call him and his colleagues "bullying sycophants" and accuse him of "browbeating real lovers of wine." One wine enthusiast on Eric Asimov's
New York Times
wine blog
(The Pour, March 6, 2007)
recently wrote of Smith, "He is indeed making a product which resembles great wine in his laboratory the way Dr. Frankenstein created a resemblance of life in his."
Nonetheless, Clark Smith, one of the great progenitors of
de-alcoholization
and
micro-oxygenation (MOX)
, faces down the detractors without hesitation, seemingly with glee.
Having the Last Word, a New Jersey Tradition
In a recent interview in his Sonoma lair,
APPELLATION AMERICA
put it to him straight-away: I think you enjoy being in the center of this conflagration.
"It's an interesting challenge. Am I a drama queen? I guess I probably am," he responds unequivocally. "I'm from Jersey and we don't take this kind of shit lying down. I've been thinking about these issues for 35 years and I've taken it on as a challenge to try to alter the conversation in such a way that winemakers can get up in the morning knowing they can tell the truth about what they do.
You include yourself as one who is being vilified?
"Well, yeah but I asked for it. I asked for it," he says with a chuckle.
Why?
"I guess I have a Jesus complex … I'm very interested in my life making a difference.
So, you don't mind being called a blowhard and a technocrat?
"I do. I think it's unfair but that's what I signed up for," he continues. "I'm visible, so that's what I'm going to get. And I am a kind of blowhard … I try and boil it down, but they're complex issues."
He begins explaining those issues, by putting it into historical perspective: "Winemaking is a place – not science itself. It's a lot of the stuff that got laid down in the time of Galileo and Newton. … (It) was an early indicator of certain bankruptcies that come up around linear thinking."
As an attempt to set the record straight – according to Clark Smith – he's writing a book, "
The Myth of Science: The Failure of Scientific Enology in the Vineyards of Southern California
."
"… (With) the 1970 vintage, the French figured out that 'something went wrong here' and they'd better press sweeter and gentler and be very careful to avoid getting tannin into the wine in the first place," he begins. "(As a result) they began making wines that were much more shallow.
"But we still had this problem with reductive strength … Then the flying winemakers came from Australia in '86 and said, 'Hell, we can solve this whole thing – just let 'em (grapes) hang longer. The tannins will be resolved and you can drink 'em right away.' The Italians picked it up in the '90s, and then we picked it up.
Is Manipulating Wine Not Part of the Process?
"I'm partly to blame, offering the ability to adjust the alcohol," he acknowledges. He's pushed to explain further: Some people think you're more than partly to blame. There are people who think that you're manipulating wine, that you're changing wine. That what you're doing is not natural. You use another word, "conventional."
He's quick to respond: "You think people want wine to be conventional? People think that an off-dry German Spätlese is a traditional German wine. That wine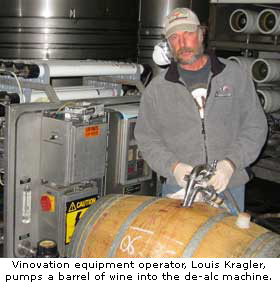 didn't exist before WW II. It's not traditional. It's conventional. It's a good word for the latter half of the 20th century where we broke with every tradition there is in the wine industry, took everybody that had any skill out in the woods and shot them in the head."
Metaphorically speaking, some people may want to do the same with you.
"Look at what's happening to me. I'm getting nasty e-mails now," he says. "Most people are quite ignorant about all the details and why shouldn't they be? Who on earth would want to know all this shit? It's not an insult. It's a very obscure area. It's very complex.
"I don't have to call it micro-oxygenation. I don't think we should be calling it 'reverse osmosis.' What we're really talking about is the same filters that we use for sterile (sterile filtration at bottling), except they're much tighter, so it's just a flavor-proof membrane. That would be a more reasonable way to talk about it. But the press refuses to do so because R.O. sounds weirder. So, they're amping up the weirdness."
When he's reminded that he continues to use the acronym "R.O." on his website, he responds: "I gave up. I gave up," a confession that he gave in to a writer, after days of discussion, who he accuses of "picking up incendiary quotes to support her hypothesis. But it's not her job to report the facts because she's not a journalist. She's a paparazzi."
You say you're sticking your neck out by talking about these issues, but you don't have much to lose. Look at all the attention you're garnering.
"Yeah, I guess so, but it's not really resulting in much in the way of wine sales. But that's OK," he says, while laughing.
If De-alc and Mox are So Bad, Why Are Wineries Lining Up to Do It?
Are his de-alc and MOX customers staying away?
"Oh no!" he's quick to respond. "The people we would like to understand all this are their bosses – owners, CFOs, CEOs, marketers – and I think we're getting through to them."
Why shouldn't we be afraid of technology?
"I didn't say we shouldn't be afraid of it," he snaps. "Convenience technology is much of the enemy. Of my two main enemies I think we should all be beatin' the shit out of convenience technology."
He cites a procedure such as pum