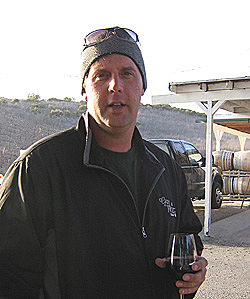 Grey Wolf: Head Of The Pack
Not yet 30, Joe Barton has been seeking out the best of the Paso Robles terroir at his Grey Wolf Cellars. His aim is to take his winemaking skills even higher. Looks like he will, too, as this profile of the young winemaker reveals.
by Laura Ness
April 18, 2007
---
Joe Barton is not afraid of using every trick in the book. And a few more that have not made it to the book. He's trying to make the best wine he can from the locally available fruit, expressing the essence of
Grey Wolf Cellar's
area of Paso Robles on the west side of CA Highway 46.