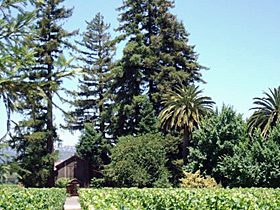 Rutherford ~ Napa Valley (AVA)
Once a bright star,
Sequoia Grove gets its shine back.
by Alan Goldfarb
May 3, 2007
---
ALAN GOLDFARB (AG):
I spoke with Jim Allen a couple of years ago as he was transitioning out of the company. What were the circumstances under which you stayed?
MICHAEL TRUJILLO (MT):
I love Jim Allen, like a dad … but he always "sheltered" me out of the bubble of Sequoia Grove. I was his assistant winemaker and he wouldn't make me winemaker until the end.
I was going to exit right behind him because I didn't know who the Kopfs were. But I went to meet them in New York and they gave me everything I needed to get this winery rockin' and back to the way it was in the '80s. I never thought in a million years I would be made president.
AG:
How do you know they're 100 percent behind you, as you say?
MT:
They saw with the '02 (Cabernet Reserve) (that) it was a dramatic improvement. … So, we've been notching it up. But they know you can't turn it around in one year. I never had control of the clay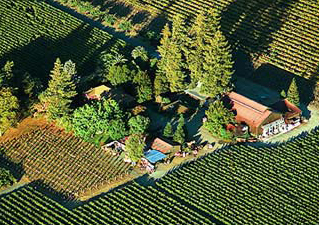 to make the mould with Sequoia Grove (before). Now I do. Under Jim Allen, it was like cooking for an army with a Coleman stove. Now I have 15 fermentors to better handle the grapes.
With grape sources I don't want to taste the equipment. I want to taste the dirt. We've moved back to Rutherford (with grapes sources). Before, we were going to Sonoma and Monterey. To move to the Morisoli Vineyard (in Rutherford, and one of his sources of grapes) from Monterey is about $4,000 a ton difference. That's the support I'm talking about.
AG:
So, that's what the Kopfs gave you to right this winery? How much money is involved?
MT:
They know they have this little gem in Sequoia Grove, on Highway 29, and in Rutherford. I know they want this to be the jewel in their crown. So, there was an influx of capital – over a million dollars each year for the last five years -- to revamp the "kitchen" – the tanks, better crushers, and more equipment to handle the grapes slower and gentler. And then to go back into the better vineyards where I can tell them (the growers) I'm playing the "A-game" now, and I want the A grapes."
AG:
It's those vineyards that you're relying on to put Sequoia Grove back on the map. Which are they?
MT:
We now have a 34-year lease on Ray Tonelli's vineyard, which is near Beckstoffer (Georges III) and Rudd on Skellinger Lane and the (Silverado) Trail. It's in Rutherford and we're replanting 60 percent of it (with the aid of vineyard manager Steve Allen, Jim's brother).
We're also sourcing Cabernet grapes from six Rutherford vineyards from which we source 60 percent of our fruit; two from Oakville and one from Oak Knoll and Atlas Peak. The Rutherford vineyards are Beckstoffer's George III, the Chaix Ranch, Garvey Family (Flora Springs), Harris Ranch, Kathy One, and Morisoli. From Oakville, we have Beckstoffer's To Kalon and Triana. From Oak Knoll, we have the Lamoreaux Vineyard; and from Atlas Peak, there's Stagecoach.
AG:
You'll then blend the fruit to make a Napa Valley Cabernet ($32) and a Rutherford reserve ($55). Why blend them? Won't that negate the terroir aspects of all those great vineyards? You did say you want to taste the dirt.
MT:
We're not trying to capture that with our Napa Valley Cabernet. It's our workhorse. But when we go to the reserve, you'll see me shift gears and go to Rutherford.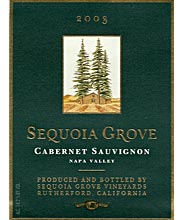 AG:
Why not make some vineyard-designated wines?
MT:
We are, but they aren't in the marketplace. They're available only in our tasting room. I'm not a big believer in that (vineyard-designates). It's tough to make year-to-year because not every year every vineyard (warrants that). We only take out the cream and we're getting a lot of consistency from Morisoli. That's rocket juice. So, we'll experiment with making vineyard-designated wine.
AG:
Do you think Sequoia Grove has an image problem?
MT:
It's something that one has to overcome. It's not that we were making bad wines, but our competition has passed us. So, we're going to have to get back in the race. At the transition, we were buying "A," "B," and "C" grapes, and we're now buying "A" grapes. Overnight, we changed our grape palette. But a winery is like a big ship. You can't turn it around on a dime. There's two ways to get to the top: there's that glory score that elevates you to the top overnight; and then there's quality and value.
AG:
You'd love that score, though.
MT:
Yeah, but I don't chase it. I wouldn't bitch if I got a good score. The marketing company (Kobrand) wants it, but I have confidence that I'm not putting out crappy wine.
When I got out of school, I chased the pack. I wanted to be a rock star. But in '97, with that vintage, a light bulb went off and I said, "I'm going to make wine the way
I
like it. I like wine that will go with food and will age. I make wine that is varietal expressive. They taste like the grape.
AG:
So, do you believe you're turning it around at Sequoia Grove?
MT:
We're back on the varsity team.
---
Get a taste of Sequoia Grove. Read Michael Lasky's review of the
2005 Carneros Napa Valley Chardonnay.
---