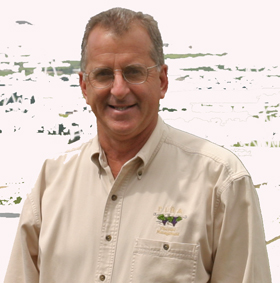 Napa Valley Grower of the Year:
Davie Piña Explains the Art of the Vineyard
'You grow good grapes, and you work with others in the industry, fairly'
by Alan Goldfarb
May 22, 2007
---
Alan Goldfarb(AG):
What does it mean to be cited as a good grape grower or an outstanding vineyardist?
Davie Piña (DP):
What it means is all the people that I work with – my competitors and associates in my industry – say that I'm a pretty good person. I didn't expect this at all. It came out of the blue.
AG:
I'm sure it means more than you being a "good person." What does it mean to be a good grower?
DP:
I hope it means more than that. You grow good grapes, and you work with others in the industry, fairly. It's also that we got the county to approve us and I had to organize them (his colleagues).
AG:
What did the county approve?
DP:
A farm manager's ordinance that was passed last year.
AG:
What is a farm manager's ordinance?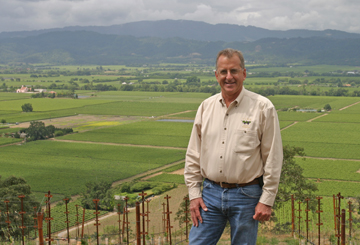 DP:
As long as the work is of an agricultural nature. Before that, vineyard management companies were not legal. You couldn't have a vineyard management company in the county.
AG:
With all the vineyard management companies in Napa County, you mean to tell me that they weren't legal?
DP:
That's right. The county got involved when one vineyard management company was doing things other than farm management; and they were doing other things and annoying the neighbors. They were contracting for others so that they were considered not to be farmers anymore.
AG:
Why is a farm manager's ordinance important?
DP:
At the time, there were 58 different vineyard managers in the county. Even wineries, if they farm away from where their use permit is, that's not legal.
Now I'm legal, I can get building permits, I can have signs up.
AG:
What are your agricultural "best practices" and/or "innovation," which are some of the criteria of the award?
DP:
We're trying to be on the cutting edge of technology. We have weather stations, and a NDVI (Normalized Visual Digital Indexing) system which uses infrared and separates out growth patterns in the vineyards that compares (activity) year-to-year at the beginning and the end of the growing cycle, so you can change your practices. We also have hand-held devices that will localize every single block in all our vineyards exactly as to soil, canopy, rootstock, roots, clone, and irrigation, in order to deal with any problem. All variables are in a computer so that we're able to see what goes into the bottle; and our clients will have access to all the data.
We were one of the first to use a winged shank that lifts the ground, drops it and fractures the ground so the roots get through. (Other methods) pulverize the ground, and then when the rains come, the ground is like concrete, and doesn't allow the roots to penetrate.
We use a hybrid cane (trellising system), which is halfway between a cordon system (in which arms of the vine are spread on a horizontal wire) and a cane system (where the shoots grow above and below the wire). It takes best features of both. The cordon spreads the growing points along the wire. But with a hybrid, now you have a wire that's filled with growing points and makes for a perfect growing zone. With the cane system, you have growing points that are varied.
AG:
You were also cited as being instrumental in enhancing and restoring the Napa River along the 4 ½ miles in Rutherford. Why is it important to maintain the river?
DP:
From the environmental aspect, I'd love to throw a fly rod into the river and catch trout. But on the vineyard side, we're battling Pierce's disease all the time, so we need to plant native vegetation. [Note:The disease, a bacterium from sharpshooter insects, first attacks non-native plants along river banks and then spreads and eventually kills grape leaves.]
We're convincing wineries to take out (portions of their) vineyards and rebuild with setbacks (from the river) to give the river volume so it doesn't overflow the banks. We're also rebuilding berms that are failing in big storms. When they get washed out, they take vineyards with them.
AG:
Is the river as integral to growing grapes in the Napa Valley as is the Rhône River to southern France or the Gironde to Bordeaux?
DP:
That's almost over my head. (But) it's changed some of the soils around the river. Some say dry farming is the only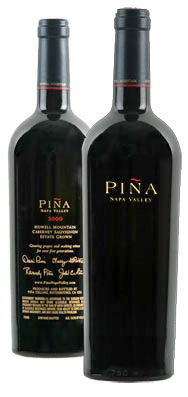 way to go with deep, loamy soils. It has had an influence. The rivers in France are always flowing, but ours gets down to a mere trickle (in the summer). (So) I don't think there's an environmental influence with vineyards next to the river.
AG:
Did you read Howard McGee and Daniel Patterson's recent article, "Talk Dirt to Me," in The New York Times supplement ("T-Style," Spring 2007) in which they deduce that the flavors possibly imparted by the soil and rocks do not translate to the wine?
DP:
I haven't seen it, but I heard about it. I don't agree with that at all. A lot of my business is developing vineyards and going up in the hills. Just by looking at the soils you can tell what (varieties) will go best in those places. Some sites you say, "This is going to be killer." Soil is a huge influence.
AG:
Yes, but the authors contend that the site doesn't impart flavors.
DP:
If I had to say it, I think you can taste it in the glass. If you taste wine from the same types of soils, they have the same kinds of characteristics. You know you'll have that extra mountain mineral-ness in that glass. I do think it has a big influence. You can taste it.
AG:
What about the comment from Mark Matthews, a plant physiologist at UC Davis who was quoted in the same piece, "Plants don't really interact with rocks. They interact with the soil … they don't absorb whatever there is in the soil and send it to the fruit. If they did, fruits would taste like dirt"?
DP:
All I know is when you do analysis of plants, plants pick up different elements. I don't know if they translate to your taste buds, but they translate to the quality of the grapes.
AG:
Do wines pick up flavors from rocks?
DP:
They don't but they probably pick up the soil. What we've seen in rocky soils though is that they trap moisture longer. I could probably argue against that (that they don't pick up flavors).

READER FEEDBACK: To post your comments on this story, click here
Print this article  |  Email this article  |  More about Napa Valley  |  More from Alan Goldfarb