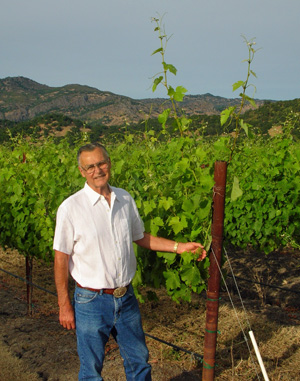 Oak Knoll District of Napa Valley (AVA)
Napa Valley Pioneers
Tony Baldini, Vineyard Genius
'The kind of a guy who the vines can tell their hopes and fears to', Tony Baldini Sr. masterminded many vineyard practices that produced award winning wines. His son, Tony Baldini Jr fills us in on his father's many accomplishments.
by Alan Goldfarb
June 12, 2007
---
ALAN GOLDFARB (AG):
How did your dad come to the Napa Valley from Contra Costa County?
TONY BALDINI (TB):
Gene (Trefethen) brought my father to Napa to convert prunes and apples to grapes on what would become Trefethen Vineyards.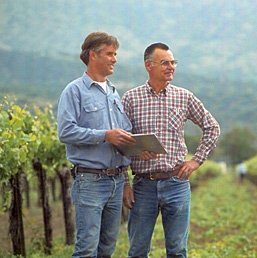 My father pieced together this amalgam of all these crops and converted them into grapes. He transformed an old-school winery into a modern farm and vineyard.
AG:
Your dad developed the mechanical grape harvester, which I think also led to some well-publicized labor strife in the Napa Valley?
TB:
That's right. It was a modified upright harvester. It was the first mechanical harvester. It was so successful that they called it the Baldini Original harvester.
He was selling most of the fruit to
Domaine Chandon
. My dad worked with them to make sure the mechanical harvester was employed. They needed cold temperatures for their whites and they didn't want to harvest during the day. It was too warm.
From Dom. Chandon we supplied grapes to
Schramsberg Vineyards
. Another client was
Cakebread Cellars
. Jack (Cakebread) worked on a field crusher. Crushing was done in the field at night.
We had a lot of things going on in vineyards in terms of mechanization.
AG:
The mechanization resulted in reduced labor costs. And that led to the labor problems?
TB:
The UFW picked on Trefethen because it was one of the largest contiguous vineyards in Napa Valley. My dad met with César Chavez a few times and he will say, "César and I were good buddies," (even though) the UFW picketed outside our house and carried banners that said, "Baldini Unfair."
But when my dad was growing up in Contra Costa, a lot of his friends were Japanese and they were taken away to the internment camps, and I think it defined my dad. He's sympathetic toward the ethnic diversity in the vineyards.
AG:
What about his work in those days with early temperature and soil studies that identified micro-climates on the property, which eventually led to the sanctioning of the Oak Knoll District?
TB:
The studies established the first identification of micro-climates. He took aerial photos of the vineyard and you can see where the plants are healthy and where they're not; and you can see the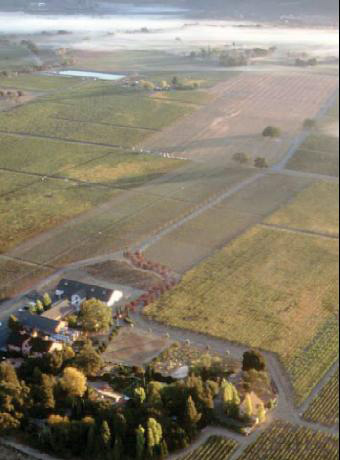 differences at Dry Creek (north of the city of Napa) and the Napa River, which helps define the border of Oak Knoll. That information was in the petition that went to the government (which eventually ruled in favor of the AVA).
AG:
And his vine studies and rootstock propagation on behalf of UC Davis?
TB:
The rows were identified in the vineyard. He would evaluate the vines. He's not a scientific guy, but he (comes at it) from a qualitative approach, rather than a quantitative approach. … He went to Davis, left and got drafted during the Korean War, and never went back to school.
He's the kind of guy who would look at a vine and say, "Yep, that's healthy." He worked on the back of the envelope. A long time ago when Janet met John (Trefethen) – my father helped introduce those two, by the way – Janet wrote a comment on the literature for Trefethen Vineyards. She said my dad is the kind of guy that the vines can tell their hopes and fears to. I remember him scooping up a bit of soil in his hand, breaking up the clods and saying, "Do you smell that?" He would pick up another and ask, "What's the difference?" And he'd answer, "That piece of ground has nematodes (worms which harm vines) and there are a lot of things molding in there."
AG:
Tell me about those early steel grape stakes your father instituted at Trefethen.
TB:
The stakes were destined for Vietnam for use in holding up concertina wire. We've always been very proud of them because they were Army surplus and Trefethen saved a lot of money. They are made of thick, heavy-gauge steel, they're olive-drab in color, and you still see them around the vineyard.
AG:
What else did your father accomplish?
TB:
In the late '70s, he was president of the
Napa Valley Farm Bureau
, which predated the
Napa Valley Grapegrowers
and
Napa Valley Vintners
. He pushed for identification and separation of growers. There was a need for a specialized political and technical grape grower organization.
He saw the future in grapes when farms were being ripped out and replaced with houses. He pushed for a slow-growth initiative for grapes in the Napa Valley, which set rural limit boundaries. He was active in the Napa Valley Preserve.
AG:
It's a good thing because developers would love to get their hands on vineyard land and convert it to housing. Do you remember any anecdotes about how your dad convinced some people to plant grapes rather than build a house?
TB:
I was with my father once when this guy came to him asking what he should do with his land. He was a typical city slicker. My dad said, "You should plant this," and "you should plant that." The guy looks at my dad and says, "You just saved me 10,000 bucks." I thought, "Yeah, my dad really does know."