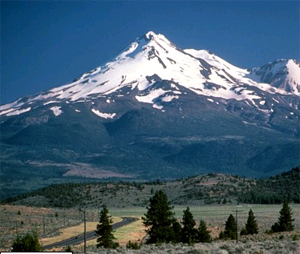 California (State Appellation)
In pursuit of a new category:
High Altitude Wines
Is the world ready for elevated wines? That is, wines grown in elevations of at least 1,500 feet, or 2,000 feet or 5,000 feet that would show what the climate at such high altitudes does for a wine?
by Alan Goldfarb
June 18, 2007
---
L
OWER LAKE, Lake County, Calif. – Under a big white tent at about a half-mile above sea level on June 14, a 95-degree late spring California day, both the air and the discussion were rarified. At what was perhaps a bit grandiosely billed as the first international High Altitude Symposium, about 100 people contemplated and dissected the vicissitudes and the possibilities of creating a new wine category.
Has the time arrived for high altitude wines or "High Alt" with high attitude and high-tone?
Representatives from four continents and winemakers and growers from
Lake County
, the latter of which are looking for a unique way to better market their up-and-coming hillside grapes, hope they've hit on something that could help them compete in the worldwide market.
Ah, but how to grab the attention of critics and consumers and break through the ever-clouded gauze of commercialism? After an all-day session numerous questions came to the fore: Are high-altitude wines even viable as a category? Do they have enough uniqueness? How to market them to consumers, many of whom are already confused by topics of the day such as high alcohol? Or, what to even name such wines?
Further muddying the landscape is how to tame this type of wine, which traditionally has exhibited gripping tannins that have fallen out of favor of same said writers and drinkers.
When Wilfred Wong, the respected cellarmaster for superstore Beverages & More! was asked, 'Is there such a thing as high altitude wines?', those under the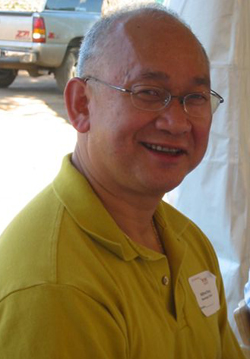 tent were stunned when he answered unequivocally, "No. It's a niche wine … and there is no market for high altitude wines and there will never be one."
For good measure he concluded, "If you're marketing high-elevation wines, you'd better know what you're talking about because the consumer will be even more confused."
Which began a debate as to what even defined a wine made from grapes at high altitude. Was it 1,000 feet above sea level? Was it 2,000? What exactly should the limits be in order to call it a high altitude wine? Furthermore, it was pointed out by this writer that unless a certification is granted clearly defining the category, something called high elevation wines would fall under the rubric of "old vine" wines or "reserve" wines. The latter categories have no officially sanctioned meaning or definitive certification.
2,000 Feet or Bust?
George Myers, who owns the 800-acre Snows Lake Vineyard on whose property the symposium was held, believes that a 2,000-foot minimum should be imposed because "that's where the weather changes."
Climate seems to be the single-most influence on the wines in question. Cool temperatures at higher elevations manifest in wines that can be beautifully balanced with intense fruit but with somewhat harsh tannins.
Peter Molnar, who is the chair of Obsidian Wines and who organized this symposium, is not certain what the height limitations should be. But he already

began talking to his group about convening again soon to further discuss this issue, which could keep high alt wines on the shelf or move them forward.
Has he considered the question of definition and certification?
"The answer is in two parts," began Molnar, whose family also owns a vineyard in the
Carneros
region of the
Napa Valley
. "Do you know what the USGS (U.S. Geological Survey) says defines a mountain? They say its 1,200 feet.
"The other part of the answer is political. There are some hillside AVAs (American Viticultural Areas) that are as low as 600 feet. We're not going to get into a pissing contest on that. We'll study it and consider all the variables. But 1,500 to 2,000 feet seems to be reasonable."
Or as Molnar stated in his opening remarks under the sweltering tent, "We're here out of curiosity … There hasn't been much research done (on high altitude wines)."
In any case, in his keynote address, Randle Johnson, who is the consulting winemaker at
Hess
in the Napa Valley's
Mount Veeder
AVA and the director of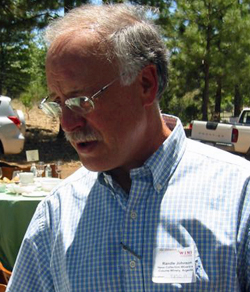 winemaking at the company's Bodega Colomé in Argentina, warned growers who wish to plant in high elevations.
"It's amped up in the mountains. You can't take your opinions to the mountains … You have to use your resources fully. … Check your checkbook at the door (because) I can't think of one mountain vineyard that has ever come in on budget."
That seems to be a formula for making expensive wines. But as Johnson further acknowledged, "It's tough, it is expensive, but it's great."
The better news is that as one goes higher to plant, the vines seem to work harder because of the additional light; and the grapes seem to reach maturity with lower potential alcohols. Which led us to Ronn Wiegand, who is a master of wine and a master sommelier, and who publishes the highly regarded
Restaurant Wine
newsletter: He sat on the same panel as Wilfred Wong and disagreed with his colleague apropos the possibility of the proliferation of a high alt category.
"There is a market and it will expand and grow as much as we can educate the consumer," he believes. "(And) many high altitude wines lead right into food … They go perfectly with food."
Jeff Prather, who is heading up the new Ferry Plaza Wine Merchant at the Oxbow Plaza in the city of Napa, doesn't think a high alt category exists at the moment because there isn't a definition.
"One of the reasons I came here (today) was because I was hoping that (I'd) learn that high altitude wines would bring down the high intensity … but it hasn't solved the high-alcohol problem," said Pather, who also was on that aforementioned panel. "There's room for intensity in those wines but we don't need to be hit over the head with a sledgehammer. Maybe it could be a small sledgehammer.
"People ask me everyday if I have an under-14 percent wine. I know then that they're looking for something not so big and a wine that is more delicate.
"That's when I'll tell them about high-elevation wines."
Prather left the audience with a word that he coined to perhaps define the category. He suggested, "Verticulture."
It has a certain high tone to it, don't you think?