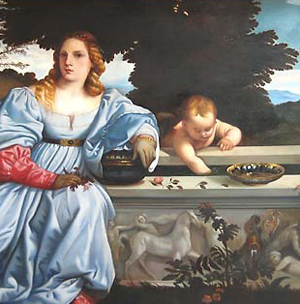 The "Renaissance" of the
Sierra Foothills' North Yuba AVA
Renaissance Winery and Newer Labels Thrive in a Micro Appellation.
by Jean Deitz Sexton
July 20, 2007
---
I
t's illustrative of the quirkiness of American appellations that when
Renaissance Winery
winemaker Gideon Beinstock wanted to use the
North Yuba
AVA designation for his own
Pinot Noir
vineyard just across the road from Renaissance, he discovered that his vineyard was outside the appellation boundaries. Renaissance and Beinstock's Clos Saron vineyards are only several minutes apart on either side of Rice's Crossing Road in Oregon House, CA but that was enough to change the allowable appellation.
However, Beinstock isn't particularly concerned. He dismisses the North Yuba AVA as a "meaningless" designation. "No one has heard of North Yuba," he says. He labeled his Pinot Noir with a California appellation when he released the first vintage in 1999 but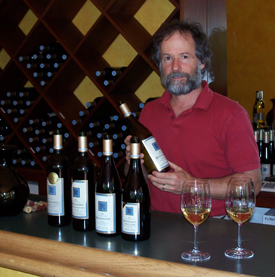 later switched to the
Sierra Foothills
appellation. "I would visit restaurant accounts and they were astonished that Pinot Noir that good was coming from the Foothills," recalls Beinstock. He decided to leverage that varietal curiosity. A recent early barrel tasting of his 2006 Pinot Noir showed great promise. It's another oddity of the Sierra Foothills that, although the Clos Saron vineyard is only a blink away, it is a much cooler site and Beinstock picks the grapes two to three weeks later than Renaissance.
According to the Wine Institute, the North Yuba AVA (American Viticultural Area) consists of 22,400 acres and was officially designated on August 30, 1985. Renaissance Vineyard & Winery is the heart of the North Yuba AVA, tucked away in a remote, rural area of Yuba County, 70 miles north of Sacramento. The general boundaries are Rice's Crossing Road on the west; the Yuba River to the east; the southern boundary is the Renaissance Vineyards, and to the north, roughly the area between Oregon House and Dobbins.
The North Yuba AVA is part of the enormous Sierra Foothills appellation which is 2.6 million acres and basically the default appellation for many wineries. However, there is a growing trend among Foothills wineries to brand by county whenever possible, and in the case of Amador County, that focus on county identity has been very successful.
The impetus for the North Yuba AVA came from Renaissance Vineyard & Winery, founded in 1978 by the Fellowship of Friends community. Its first winemaker was Karl Werner, who died in 1988. His wife, Diana Stefanini, was instrumental in getting the North Yuba AVA approved.
Renaissance Winery uses both the North Yuba and Sierra Foothills appellations on its labels, says Beinstock. "We put North Yuba on the label because the AVA exists as a result of Renaissance's specific request. It is an honorary mention," says Beinstock.
Too Many Micro-Climates, Not Enough Time
Renaissance Winery is part of The Fellowship of Friends 1,100-acre land holding in Oregon House, and it is the primary commercial venture within the North Yuba AVA. According to Beinstock, Renaissance was farming 300 acres of grapes in the early 1990s. "We were managing too many micro climates," he says. With his encouragement, Renaissance has scaled vineyards back to about 60 acres, of which Renaissance actively farms 45 acres and leases the remainder. Renaissance is now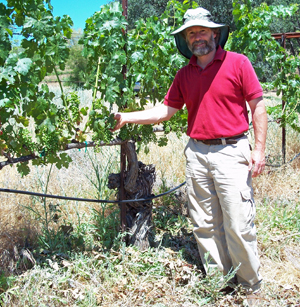 producing about 3,500 cases. The winery leases vines to Clos Saron, and Fellowship land manager Grant Ramey has a vineyard leasing agreement for his own label, Ramey-Schulten. Ironically, Ramey is also busy, pulling out the same vines he planted circa 1976 to 1982, as Renaissance scales back its vineyards.
Under Beinstock's direction, Renaissance has also shifted its varietal focus, from up to 200 acres of
Cabernet Sauvignon
vines to a mixture of Cab and Rhone varietals, including Syrah, Viognier, Grenache, Roussanne and Mourvedre. The newer plantings have enabled Beinstock to produce interesting new varietal expressions for Renaissance and made Rhone varietals available for the Clos Saron and Ramey-Schulten labels.
That being said, Beinstock emphasizes that Cabernet Sauvignon remains the flagship wine identified with the Renaissance brand. The 1999 Estate Cabernet Sauvignon, the last of the 200-acre plantings of Cab before Renaissance began cutting back, is a great buy for $27. It is blended from 12 different slopes and is an elegant, complex wine with classic black cherry notes and that earthiness and minerality that defines the area's good reds.
Renaissance land manager Grant Ramey has lived and breathed the 'terroir' of the North Yuba AVA for 31 years and had an interesting observation that consumers will like. He says there are "no headache wines" being produced from Renaissance grapes since sulfites can be kept to a minimum. The pH levels in the wines are modified by the appellation's cool evenings, Ramey explains, so that the total acidity and pH is in balance.
The vineyards at Renaissance range from 1,700 to 2,300 feet elevation. Besides the cooler evenings, there is a summer breeze off the Sierra range that occurs most days and often at night as well, says Ramey. The breezes mitigate the summer temperatures that range from the low 90s to the low 100s at the summer's peak. In the appellation, the subsoil is Garbo/Diorite, a cousin to decomposed granite. Its origin is volcanic material from the ocean floor, 'pillow' lava that became submerged. Various types of clay, volcanic ash and quartz are contained in the soil and many of the wines tend to have an undercurrent of minerality to them.
Rhone Loving Wineries
Clos Saron
and
Ramey-Schulten
, in a way both spinoffs of Renaissance, have the luxury of high-end grapes shepherded by two men, Beinstock and Ramey, who know the terroir inside and out. Clos Saron, named after Beinstock's wife Saron, is a 1,000-case winery, doing a strong on-premise business, selling its Cabernet Sauvignon, Pinot Noir


Renaissance Winery's wines are now conveniently available in the Appellation America online wine store.
and
Syrah
to fine restaurants and via its Website.
Beinstock's passion is his Pinot Noir and his Rhone-influenced style of blending Syrah with Vio