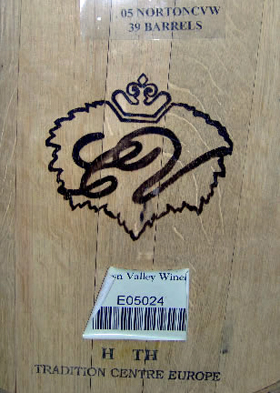 Crown Valley Winery on the Way Up with a Down Under Winemaker
Some people have told me, 'You can't make good wine in Missouri.' Well, we can. We are.
~Daniel Alcorso, winemaker, Crown Valley Winery
by Tim Pingelton
July 23, 2007
---
I
arrived an hour early at
Crown Valley Winery
, located in the Missouri section of the Ozark Mountain appellation, so I could have some time to explore the property. My host was to be Daniel Alcorso, Crown Valley's relatively new winemaker. Mr. Alcorso was raised in Australia and worked at his grandfather's winery in Tasmania. He also worked at respected wineries in Australia, New Zealand, Virginia, and California. As I discovered, he was a man who really knew winemaking.
What I was seeking, however, was someone who knew what made this particular appellation distinct and how this winery was working with those distinctions. Mr. Alcorso is so new to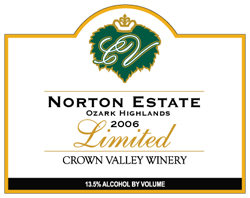 this region, what information could he relate about appellation specifics other than what is generally known? Missouri is so different from the places he worked Down Under, how much specific knowledge could really be portable to the Ozark Mountain appellation?
Jerry, the tour guide, gave me a van tour of the grounds. Actually, Jerry showed me only a tiny part of the 10,000 acre grounds ("Crown Country"), but that was enough to give me the idea that growth at Crown Valley was carefully planned with an emphasis on quality and permanence. Crown Valley has about 186 acres planted, and their plantings are soon to be twice that size (including experimental plots of Shiraz and Viognier). No
vinifera
is planted, and every acre is drip irrigated.
Jerry pointed out snoozing elk, llamas, bison, and a lone English Muted Swan. Elsewhere in Crown Country is the Crown Ridge Tiger Sanctuary, with 4 tigers and a lion. New greenhouses at Crown Valley foster all the plants and flowers arranged in the winery and most of the vegetables and herbs used at their restaurant.
The winery itself looks like a fine Napa Valley winery was plucked from Northern California and set down in the rolling hills of eastern Missouri. A gazebo and a covered dance floor are near the winery, and the large main building is wrapped with a porch/deck—the front offering a view of woods, and the back offering a really excellent view of vineyard and pasture.
The Australian Way: Bringing Out The Character of the Appellation
Daniel Alcorso soon appeared, and we each had a glass of Crown Valley 2005
Riesling
Dry as we chatted. He is a thoughtful, knowledgeable man who offered a wave to just about everybody in the winery. He has a ready sense of humor, but he is precise and specific when discussing his profession. He had been at Crown Valley only 18 months, and, as he told me later, he could not point out Missouri on a map 2 years ago.
"How does your wine speak to the unique aspects of this appellation?" I asked, expecting a one-sentence
answer. After all, vines take up to four years to reach maturity, and he had been in Missouri only 18 months. The oldest vines at Crown Valley date to 1998. "They are just now settling down," he explained. "We are only now getting a good read on these vines. It takes a while for the vines to settle into their soil and microclimate."
His goal is always to provide varietal character. He noted that this is one area where his philosophy on winemaking differs from that of many winemakers in California and Australia. Those areas sometimes use high-Brix grapes and produce high alcohol wine that mutes the varietal character. "It is important not to lose that individuality," he said. Daniel admits that appellation uniqueness is still being developed, but he strives to clear the way for his wines to reveal appellation-specific characteristics.
One of his first orders as winemaker was to change all "
Syrah
" labels on their barrels to read "
Shiraz
." He encourages French and Australian styles, and he finds his experiences in Australia and New Zealand to be easily portable to winemaking in Missouri. There is a lot of history here, as there is in his homeland, but both places have relatively new winemaking programs.
"In Tasmania, for example, there is not the wine experience that time tells in other areas with older winemaking traditions. It is a new industry there, as it is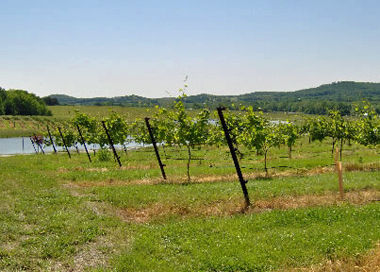 here in Missouri. Wine really does take history, and it is very interesting to be part of what is happening here. We are at the beginning of that hockey stick where people are starting to get more educated about drinking wine. Once people start consuming, they start learning. If you look upstairs at our fermentation area, you could transplant this winery anywhere in the world. This is a great place for grape growing. Some people have told me, 'You can't make good wine in Missouri.' Well, we can. We are," Alcorso declares.
We went into the large barrel room and tasted from different barrels (mostly French) of three years of Norton: 2004, 2005, and 2006. Two barrels of the 2004 had quite different characteristics; one was smooth and deep, one was woody and sharp. "That's why we generally try to keep each picking separate. That way, at the end you get all the blending options," he explained.
"But how can you get reasonably consistent vintages year after year?" I asked, our voices echoing throughout the expansive cellar. "Well," he began, "If you always get good fruit, it helps. The more you can do in the vineyard, the less you have to do in here. When I worked at Jacob's Creek , I would spend half the day in the vineyards just tasting. We based things on flavor and not minimum

How Convenient! Crown Valley Winery's wines are now available in

APPELLATION AMERICA

's Online Wine Store.
requirements. So tasting fruit is a much better way to determine when to harvest than saying, 'Oh, it's reached 22 Brix.' Some Missouri wineries can't wait to harvest, and Norton can't be harvested too early."
The 2005
Norton
had a stronger herbaceous twang, but that will mellow with time. It will be bottled early in 2008. Predictably, the 2006 was yet sharper, but it tasted clean and had a brilliant ruby hue. Daniel explained the dry summer of 2006 made for smaller berries, but the concentration was good. "Every year and every picking of every year has different characteristics," he said. "The key to winemaking i