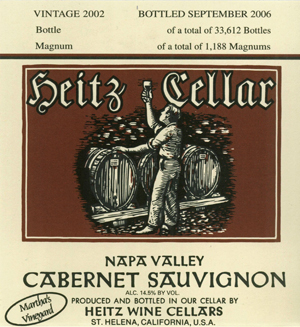 Heitz and Seek
Former Cult Favorite
Heitz Wine Cellars
Hasn't Changed A Thing
So why isn't it a favorite anymore?
by Alan Goldfarb
September 3, 2007
---
J
oe Heitz once sent Robert Parker a box of linen handkerchiefs, after the critic wrote that the
Heitz Wine Cellars
Martha's Vineyard lacked aroma. The gesture was apparently intended to clear out Parker's nose.
Heitz was also the first California vintner to have the audacity to raise the price of his wine so high – to $35 when his
Napa Valley
colleagues were selling their
Cabernet Sauvignon
s for $9 - because he said it was equal to or better than the more prestigious wines from Bordeaux.
The gesture caused quite a stir and brought attention and notoriety to Heitz, who some had taken to calling Joe Heist. For years, Heitz' Martha's Vineyard was considered a superstar among superstars; a cult wine before the term would become a cliché.
It's been nearly seven years since Joe Heitz died and it's been nearly as long since the winery has garnered much attention. Such is the way with yesterday's stars, as critics and consumers forget about you, constantly prowling the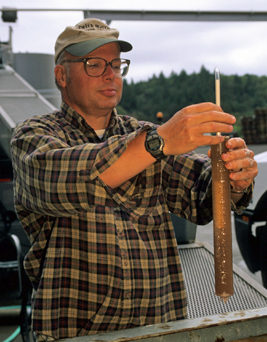 landscape for the next best thing. But what some don't realize is that while Joe Heitz might have been the driving force and inspiration behind the winery's three great single-vineyard wines – Martha's, Bella Oaks and Trailside – he hadn't been making the wines since 1973.
That job was left to Heitz' son David, who has been the winemaker the last 33 years. Yes, it was David Heitz who made the 1974 Martha's, probably one of the most pivotal in California wine history.
"It was my first solo vintage. Dad was out with a back injury during harvest and I gradually grew into it more and more," the 57-year-old Heitz related recently. But by the way he told the story, one is hard-pressed to imagine that this is the winemaker for one of the most prestigious and important wineries in America. That's because Joe Heitz' son has difficulty standing under public scrutiny; most likely one of the reasons Heitz Cellars has seemingly fallen from wine's pop cultural stage.
Does he recognize that his dad's once highly visible winery has been overlooked of late? Of course not. Does he care? Heck no. Does it bother him? He doesn't think so. And so it goes for a winemaker in a high-profile position, who couldn't give a fig about what others say or more recently, don't say about his wines.
Climbing to New Heitz
"I'm not very good at talking," said Heitz, as if he were having a molar extracted. "I'm just a matter of fact guy. I'm not a bullshit artist."
While others might shout it from the highest mountaintops that Heitz Cellars, with its winery in the eastern hills above St. Helena, is still kicking and still making Martha's and Bella Oaks and Trailside, David Heitz doesn't. "The wine speaks for itself," he responded in his low-key way. "It would be phony. Putting on airs is not what we do here."
But low-key is not what his dad was about. When Parker wrote something disparagingly about one of his wines, Heitz let him know he was displeased; ergo, the handkerchief gambit. Does David Heitz care what Parker thinks of his wine now?
"We have not gotten particularly good ratings from Parker, so there's nothing new there," he said. "Many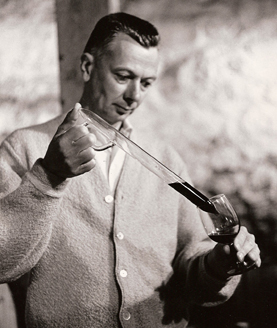 years ago, my father got into a big argument with him. It goes way back. It had something to do with Parker's comments and dad took exception to it. He said that Martha's didn't have a smell. Dad sent him a box of handkerchiefs because he said, 'you must have been coming down with a cold.'"
What was Parker's reaction? "Of course, he said he didn't have a cold," said Joe Heitz' son. But Heitz is well aware that his winery isn't on everyone's lips these days. Does he mind that Heitz Cellars might be taken for granted?
"I don't know how to answer that question. I understand that phenomenon, but you just keep making good wine. I understand people are looking for something new and newsworthy. We understand what's going on, and some of it's laughable, some of it's not.
"We're just trying to make wines in a classical manner. We're trying to have balance, and we try to capture the fruit. … We're not trying to make wines that are fat and soft and may not last long in the bottle."
What is in the bottle? Three different wines from a trio of distinct vineyards. The Martha has, in Heitz' own words, "minute subtleties which I think are important. It has more delicacy, earthy flavors, more intense flavors (than the other two wines)."
What about that famous mint quality that has set Martha's apart from most any other wine? "It's a variety of factors," he said obtusely. "Occasionally I find it in other vineyards. Some people say its eucalyptus, but I've had it from vineyards that don't have eucalyptus, so I don't know."
The Best Kept Secret of Heitz Wine Cellars
Adding to the mystery is that not many outside of the Napa Valley actually know precisely where this legendary vineyard is located. We know its 34 acres of Cabernet (replanted in 1996), is situated close to the western hills between Oakville and Yountville, in the
Oakville
appellation. Heitz said he's not being evasive about its exact location, but merely protecting Tom and Martha May's wishes to keep the vineyard physically anonymous. The quest for anonymity is such that the Mays aren't listed in the phone book and Heitz refuses to reveal the types of rootstocks on which the Martha's vines are planted.
When pressed that this obsession with lack of information only adds to the mystery and legend of the vineyard, Heitz, in his inimitable manner answered, "I never thought of it that way."
Currently, the 2002 is in the marketplace and it sells for $138 upon release, although the winemaker had to reach for a price list because he insisted that he didn't know the cost. In a down year, there are typically 3,000 cases of Martha's released. In an abundant harvest, that number will reach 5,000.
Next is the Bella Oaks, also near the western hills, but more up-valley in
Rutherford
. The vineyard is still owned by Barney and Belle Rhodes, although Belle, who planted the first 12 acres of Martha's Vineyard when the Rhodes owned it, passed away recently; and Barney is in poor health. The Rhodes were also early investors in Heitz Cellars.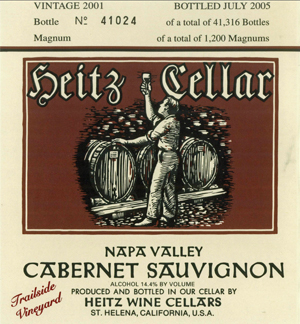 Its 17 acres of Cabernet make a wine that's more delicate than the Martha's or the Trailside. It tends to have more upfront acid and doesn't have the body of the other two, but is more elegant. The current release, the 2002, of which there were 3,000 cases produced, sells for $70.
Finally, there's the Trailside, which is owned by Heitz. It' s a 100-acre estate plant