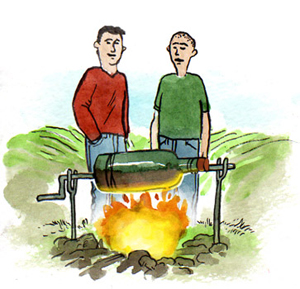 Some Like It Hot
Technology Columnist Clark Smith weighs in on the evolution of high alcohol -'hot' - wines and why they are the rule, not the exception in the U.S.
by Clark Smith
September 10, 2007
---
W
ine alcohol levels certainly are climbing. Elin McCoy reported in her
Bloomberg column
, "High-Octane Wine Fashion Craze Provokes Dumping, Rebellion," that her survey of California wine labels indicates a rise from 12.5 percent in 1971 to a 14.8 percent average in 2001. Mind you, back then, common practice was to print multiple vintages of labels (with the vintage on a neck label) and to show the alcohol as 12.5 percent, taking advantage of the 1.5 percent federal leeway below 14 percent. But Australian Wine Research Institute figures show the same trend for their wines based on actual analysis: from 12.8 in 1975 to 14.5 percent today.