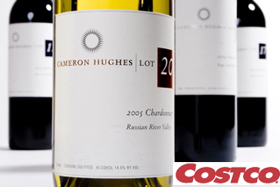 California (State Appellation)
Cameron Hughes: The resurrection
of the American négociant
An interview with Cameron Hughes reveals the success of the négociant method of wine sales: great wine lots at attractive prices.
by Alan Goldfarb
September 11, 2007
---
ALAN GOLDFARB (AG):
So, your focus, as you say on your Web site, is to "rescue" high-end, small-availability lots. In other words, you deal in the spot market. How do you do this?
CAMERON HUGHES (CH):
The idea of rescuing them is that they are often back blended into cuvees of lesser quality stuff. We only blend like-quality with like-quality. And buying (already) made wines, we're a pure négociant company.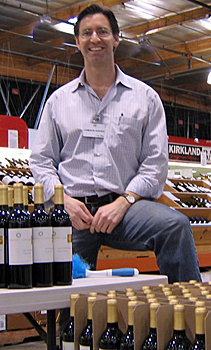 AG:
Where and by whom are the wines put together?
CH:
We bottle in Mendocino, Geyserville (Sonoma County), Lockford (Lodi) and in the future, we will be at the Napa Wine Co. (Oakville). We have four California "winemakers" and two from Australia. What separates these guys from the pack is that they have a long history of sourcing vineyards and cobbling blends together.
AG:
Then you do "stylistic blending," as you describe it.
CH:
We try and take a wine and make it better, elevate it through blending. (But) some wines are complete by themselves.
AG:
What about appellation or terroir? You do some blending; doesn't that mitigate terroir?
CH:
You won't get a wine with the same clones, rootstocks, or barrels. We take each component and we will blend them separately. Through blending, a lot of the magic happens. That said, we're not blending wines from Lodi with wines from Napa. I don't think you get distinctive product that way.
AG:
But what about the terroir, the distinctiveness of Napa, for instance? What is the terroir of some of the vineyards from which your wines come?
CH:
I have not dug around in those vineyards and explored them. I can't tell you what those soil structures are. (But) I think it's more about climate.
AG:
Why not dig around in those vineyards?
CH:
We're going 110 miles an hour here. I've got a good sense of what a lot of these wines taste like. But I haven't dug into the terroir issue.
AG:
What about Napa. Some of us have known that there is plenty of fruit out there going unclaimed, but to what extent?
CH:
Napa
Cabernet Sauvignon
is our best seller in Costco.
AG:
Tell me about those Napa Valley vineyards and who are some of the growers?

CH:
I can't tell you, but our Yountville Cab is very different from our Rutherford Cab. Yountville is more Bordeaux, it's coffee, mocha, dark, more tannic, but it has good structure and acidity to age better than the Rutherford does. When it gets ripe, instead of being fruit-driven like Rutherford, it's more color driven and is like crème de cassis. Rutherford has brighter fruit, softer tannins, is broader in the mouth. Fruit-wise, it's bigger (than Yountville), but structure-wise, it's not as big as Yountville.
AG:
Is the key for you to sell direct? None of your wines are more than $21, yet they comprise some apparent high-end growers.
CH:
It's not the key. We'll soon begin to branch out and we'll continue to work the traditional retail channels and through our mailing list.
AG:
How can you not charge more than $21 for a Napa wine when the average price of a Napa Cab is $50? What are some of the prices you pay for that wine?
CH:
(Our) Napa Cab is $7-8 gallon [Note: There's 2.4 gallons in a case]. We pay about $60 to $70 a case from Rutherford and Yountville.
AG:
How many cases do you produce?
CH:
We sell about 70-80,000 a year to Costco. We'll more than double that next year to the 140-150,000-case range, assuming we can source all the wines we need. '06 is not a particularly long harvest.
AG:
How competitive is this business?
CH:
For Napa Cabernets, it's moderately competitive. There is a lot of '05, and I've lost several wines I would have really, really liked to have under my labels.
AG:
What about your deal with Costco?
CH:
I own the brand but we work very closely with them. At some point soon, the project will move outside of Costco. I can't reveal too much, but we'll take it to other stores and develop other brands with other challenges. Costco doesn't want to represent more than 40 percent of any one brand. We work on a wine-by-wine contract basis and I don't do anything without their OK.
AG:
Most Americans don't know the word, "négociant." To those that do, the concept has a negative connotation. You know, you don't make the wines, you don't own your own vineyards, and you don't have a winery. In fact, you're based in San Francisco. How do you spin that?
CH:
We know the wine business is very inefficient … our model is that many people have their hands in it along the way. We're proud of it (being a négociant). We feel it gives us a better business model, it's a better way to make wine.
AG:
Why did you get into the spot market and didn't become a winery owner? Do you have plans to?
CH:
We're running up against the point where it may make sense for us to invest in a small bottling and storage facility,

but right now there's quite a few resources coming online and there's plenty of bottling space. Do we want to get into the winemaking business? Down the road, we probably have to, making small lots of high-end stuff. As we look at '07 though, the fruit set looks huge. I'm not in hurry to get into the winemaking business. For the next couple of years there should be plenty of wine. I do see some potential though on the horizon.
AG:
How did you get into this business? Wasn't your father in the business?
CH:
Yes, my dad suckered me into the wine business. I was at
Corbett Canyon
. After working at the winery, I said, "Forget it, this is not for me." It wasn't interesting. I saw the winemaker who sat behind a desk and tracked charts all day. There was none of the romance.
The defining moment was when I was working at an import co