New Hampshire (State Appellation)
The Wineries of New Hampshire
by Hudson Cattell
February 10, 2004
---
      Grape growing and winemaking were unknown in New Hampshire until John and Lucille Canepa moved to Laconia where John had been offered a job as a pharmacist at a local clinic. They bought land on Governor's Island in Lake Winnipesaukee where they found wild grapevines climbing up trees. John's family had a history of winemaking in Italy for more than 300 years, and the idea of growing grapes seemed possible in a place where wild grapevines were growing. After studying viticulture for seven years, they planted 800 French hybrid vines in 1965 and 1,000 more the following year. The Canepas bought a farm near Belmont in 1968 and bonded their White Mountain Vineyards in time for the crush in 1969.
      In 1967 the Grape Growers Association of New Hampshire had been formed with John as chairman, and by the early 1970s approximately 200 acres of French hybrids were being grown in New Hampshire. The Canepas never grew more than four acres of grapes, but they eventually contracted for 150 acres of grapes from 26 growers.
      The winery's first sales were made in 1970. New Hampshire never passed farm winery legislation and White Mountain Vineyards was licensed as a liquor manufacturer at $750 a year. Until 1973 sales could only be made to the New Hampshire Liquor Commission. At that time legislation was passed permitting liquor manufacturers to make on-premise sales to the public upon payment of an additional $250 license fee. Wine production at White Mountain Vineyards never exceeded 18,500 gallons, and marketing was a continuing problem because of the necessity of dealing with New Hampshire's highly restrictive marketing system. It was not until 1981, just before the Canepas sold their winery, that legislation was passed permitting direct sales to grocery stores, restaurants and private wine stores.
      After an abortive attempt to sell White Mountain Vineyards in 1982, the winery was finally sold in late 1984 to three brothers, Roger, Pete and Alde Howard, who the following year hired wine broker Bill Damour to handle sales and marketing. Bill bought the winery, now called the New Hampshire Winery, and moved it to Henniker in the summer of 1990. Problems with the state of New Hampshire continued. The legislature, however, created the first separate winery license in 1990 but set the annual fee at $1,140. It was not until 1992 that a two-tier winery license fee was established with small wineries making fewer than 1,000 cases a year being charged $100 while keeping the fee at $1,140 for wineries making over 1,000 cases. Other direct sales provisions were also included in the 1990 legislation.
      When Bill bought the winery in 1990 he made 30,000 gallons of wine, 23,500 of which was for 11 private label customers he had developed while in the wine brokerage business. These accounts primarily involved finishing wine for a California winery and only two of his wines were 100% New Hampshire wines. The winery reportedly had financial problems and by early 1995 was out of business.
Jewell Towne Vineyards
      In 1994 Jewell Towne Vineyards in South Hampton became the first of today's two existing wineries to open in New Hampshire. Peter D. Oldak, an emergency room physician, and his wife Brenda bought a 12-acre farm along the Powow River in 1977. The state line dividing New Hampshire and Massachusetts runs through their property, which means that some of their wine labels read "New Hampshire 50% & Massachusetts 50%."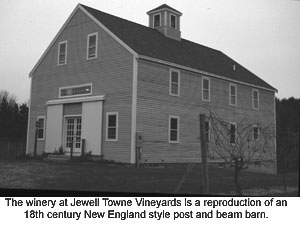 The original reason for buying the farm was to have some land where they could be home gardeners growing flowers, vegetables and perhaps some fruit. In 1982 Peter planted six grape vines and four years later started making wine. By 1990 there were 60 grape varieties in the ground. As Brenda puts it, a hobby had begun to run amok. From the beginning, Peter ran variety trials to see which would do best in their soil, climate and location, and which would make good wine. At the same time he studied grape growing and winemaking extensively, taking advantage of the professional help available through short courses and visits to vineyards and wineries throughout the East. One result was to utilize a cane pruned VSP trellising system for all varieties in the vineyard.
      South Hampton has four historic districts, one of them being Jewell Towne, and in 1990 the vineyard was formally named after the district in which the vineyard was located. By this time Peter was convinced that the climate within ten miles of the Atlantic Coast was similar to that of the Finger Lakes and that this coupled with his location along the Powow River provided an ideal micro-climate for growing grapes. He narrowed his plantings to approximately 20 promising varieties. The hybrids planted in his vineyard today include Aurore, Seyval, Vidal, Vignoles, Maréchal Foch, Léon Millot, Landot Noir, Chancellor, Baco Noir, and Rougeon. Vinifera varieties include Chardonnay, Gewürztraminer and clones 777 and 115 of Pinot Noir. He also grows Alden, Canadice and, until recently, Suffolk Red, all of which were made into varietal wines.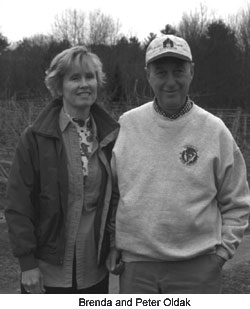 Honing his winemaking skills was a continuing project, and in the American Wine Society's 1992 Amateur Wine Competition his South Hampton White won a gold medal and the award for the best hybrid wine of the show. A second wine, Alden, was given a silver medal. The decision to open a commercial winery followed, and in 1994 the first 40 cases were released and sold out within a three-week period. Production is currently 2,500 cases.
      For the first three years Jewell Towne wines were made in the basement of the Oldaks' home. In 1997 construction started on an 18th century reproduction New England style post and beam barn in the middle of the vineyard. Completed in 1999, the winery contains a wine cellar, bottling room, a large tasting room and a balcony which is used as an art gallery showcasing the work of local artists. Brenda Oldak is an artist and her work is on display in the gallery as well as on the winery's labels. Two children, Tenley and Trevor, are also involved in the operation of the vineyard and winery although both are now in college. In addition to the family, Derek Brock is the vineyard manager and assistant winemaker. Colin Fox handles marketing. Approximately 60% of the winery's sales are made in the tasting room and the remainder in 60 stores in New Hampshire and Massachusetts including state stores and a grocery chain. The legislative climate in New Hampshire has changed and the winery can now distribute to anyone selling on or off premises. A recent development of importance to domestic wine producers was legislation permitting them to sell in farmers' markets.
      The winery currently markets 13 white wines, 11 reds, one rosé, two ice wines and a port. Most of the white and red wines are varietals. South Hampton White, a blend of NY 65.483.2 and Geisenheim 322-58, is an interesting exception with its rich grapefruit and Muscat flavors. A red wine that Peter believes has outstanding promise is Landot Noir. The port is a 50-50 blend of Baco and Rougeon. Using Lallemand Uvaferm 43 yeast, sugar and nutrients are added to ratchet the wine up to 19-20% alcohol. Jewell Towne wines have won more than 30 awards in competitions, one of the most recent