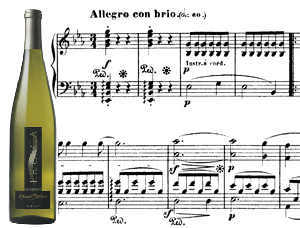 Welcome the Hero
Chateau Ste. Michelle's New World/Old World Riesling
by Dan Berger
October 12, 2007
---
T
he
Columbia Valley
in Washington's southeast corner is a relatively arid region where the scant rainfall is due to the high Cascade Range which blocks maritime influences and creates a more continental climate. Cooling in the evenings comes from the nearby Columbia River Basin.
Without a maritime influence, the area develops high daytime temperatures in the summer months, but very cold nights. Temperature swings of 50 degrees are not

uncommon. It was this factor, among others, that led German wine maker Dr. Ernst Loosen to observe a fascinating difference in the
Riesling
of Columbia Valley and Riesling from that produced by so many other areas of the United States. That is what prompted him to place a more or less impromptu phone call from Seattle-Tacoma Airport to
Chateau Ste. Michelle
.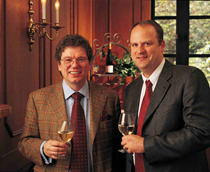 It was early 1999, and Loosen, an innovative and enthusiastic man, was headed back home to Germany when he decided it was an opportune time to bring up the subject which had gnawed at him for some time. He spoke with Ted Baseler, who was then Executive Vice president. According to Communications Vice President Keith Love, Loosen said, "I really like your Riesling, and I would like to talk to you about doing a New World wine project."
Before long, a meeting was set up and winemaker Erik Olsen was brought in to discuss options. Eventually the agreement was signed, and months later the partners made the first wine. And they settled on the name for it: Eroica, the name also used in reference to Beethoven's Third Symphony. The word means "hero."
The first few years the wine was made, it was about the same, with about 14 grams per liter of residual sugar (1.4% R.S.). After Olsen left for California (to become wine maker at
Clos du Bois
), Bob Bertheau took charge of the project and began to search for vineyards that gave the wine a more definitive character.
"I think what we're trying to shoot for is some Germanic tones," said Bertheau, noting that the high daytime temperatures in the Columbia Valley ripen the sugar for Riesling grapes as early as early September, and he wanted to lengthen the time on the vine. "Our temperatures are not as low as theirs, so we can't make a 'German' style of wine, but we did find that some of the best blocks, the ones which have that slate-mineral character we love so much in German wines, were older vines. There is something about the older vines…"
Then he found a small vineyard at nearly 1,200 feet in altitude that was only recently planted (1999) called Evergreen. "It was colder than normal, and the site is perfect. I think you can overcome that lack of age when you have a perfect site." He said the grapes at Evergreen develop sugars slowly, allowing the fruit to stay on the vine, gaining mature but never over-ripe flavors.

Of the 25,000 cases of Eroica that are made every year, about a third of it comes from the Evergreen Vineyard, the largest single vineyard source in the line. The 2006 Eroica has 12.3 percent alcohol, a residual sugar of 15.8 grams per liter (1.58%), and a low pH of 3.08.
"It tastes drier than 1 percent because of the harmony between the fruit, sugar, and acid," said Bertheau. He added that since it is not a single-vineyard wine, he can (and does) harvest some lots very early to get certain minerally flavors. Other blocks are picked later, as sweet as 4 percent sugar after fermentation. "We like to have an array of different colors to paint with," he said. What was Loosen's contribution to the project? "Ernst's concept is to have maximum hang time with minimum sugar, and here it's not as easy to do as it sounds." He said Loosen asked that trellising systems be altered to create a bit more of a canopy with a little less direct sun on the fruit.
"The secret is that you can get some of that lime aromatics inside the canopy, but the outside fruit is like a Gala apple. What we want is a canopy shaped like a baseball cap, where the fruit is shaded from direct sunlight, so we want the canes to flop back down over the fruit." All strategies aim to prevent Botrytis cinerea from forming, he said.
"When Ernie first came up, we were treating the vines like all the others," said Bertheau, "and we'd be getting 24° Brix by Sept. 5. So we had to teach most of our growers how to shade the fruit."
In some areas, such as low-lying sections of the cooler
Yakima Valley
, such tactics didn't work. No matter what they did, some growers still got botrytis. Bertheau noted that vineyards at higher elevations were key to better-quality Riesling.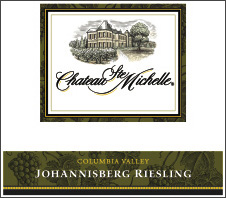 I asked if a bone dry Eroica has ever been discussed. "Yes, we've talked about it, but we think it might detract from the main mission."
In addition to Eroica, Chateau Ste. Michelle also makes about 35,000 cases of a dry Riesling, and 12,000 cases of a vineyard-designated sweeter Riesling from its Indian Wells vineyard. Also under the Eroica label is a tiny amount of a trockenbeerenauslese-style single berry select Riesling which sells for $200 a half bottle.
Chateau Ste. Michelle's main Riesling, a stunning success at $9 a bottle, is made in the hundreds of thousands of cases, by far the largest producer of the variety in North America. The Chateau, as locals call it, will exceed 800,000 cases of Riesling across various brands this year.
A Short But Not Sweet Tasting note
2006 Eroica (Chateau Ste. Michelle) Riesling, Columbia Valley ($25):
Superb aroma of pear and spice (like juniper), with delicate notes of jasmine, slate and perfect balance. Though the sweetness level is above 1 percent, the wine is effectively dry.