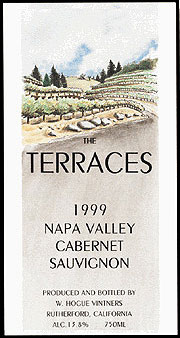 Rutherford ~ Napa Valley (AVA)
Timm Crull and The Terraces winery: No ego being mined at this quarry
If Timm and Sharon Crull needed their egos stroked, they would have called their winery 'Crull Family Vineyards'
by Alan Goldfarb
August 26, 2005
---
As a reporter tries to snap a photo of Timm Crull in a moment of relaxation while the vintner stretches his long legs out on a table in the shade of a porch, he immediately lowers his appendages. Heaven forbid, anyone catches him falling down on the job.
Apparently, working hard is what drives Crull as he farms his Quarry Vineyard on the Silverado Trail in the Rutherford district, and makes wine for his little-known
The Terraces winery
. Making a name for himself, or his winery, is not in Crull's ken. It would be nice to get some recognition he says, but at what price?
"I'm not concerned about becoming a celebrity," the 46-year-old Crull insists, while his wife Sharon, his 8-year-old twins Madeline and Tucker, and his dog listen nearby. "I'm far less concerned what Robert Parker or Jim Laube think. We no longer participate in sending wines out to get reviewed."
Nonetheless, a sliver of vanity slips through when he says, "I don't say we don't want publicity."
When the writer suggests that because he was invited to visit last week it must be some sort of indication that the Crulls might be seeking recognition, Sharon Crull reminds him that he was originally invited to a party there without the intent of his writing about the winery. The reporter had subsequently turned down the invitation, but it was
he
who suggested he come to The Terraces on this beautiful summer day with the intent of writing a story.
After all, he asked sensing a good storyline, "Why haven't we heard of you?" and "Who wouldn't want a higher profile?"
"Maybe a little higher," Timm Crull acquiesces. But he quickly fends off the notion that there might even exist the possibility of a publicity-grab. "I don't want to become a slave or to be tied to a brand."
"To be lauded is probably a nice thing (but) I've never really experienced it."
However, Sharon Crull lets it be known that she's attempting to at least let the tourists who speed by on the Trail just past the entrance to Auberge du Soleil, know that The Terraces even exists. She's trying to get a blue and white roadside directional sign erected -- at the cost of $900 and after an arduous six-month permit process.
The Crulls, who run the operation by themselves, purchased the 90-acre Quarry Vineyard parcel for $1.8 million in 1993 – 30 acres of which are planted to Cabernet and Zinfandel. They sell the preponderance of the fruit on a long-term contract to Beringer Blass. Some of the grapes go to Etude, a property it now owns; and to the Beringer vineyard-designated Quarry cab.
With the remainder, Timm Crull -- whose father was the CEO of Nestlé USA when that Swiss corporation owned Beringer -- makes about 300 cases a year of Cabernet and less than 700 of Zinfandel. Interestingly, the vineyards' terraces -- at 400-to-500 feet elevation -- are divided into two rows each with the cab on the inside (where the soil is thinner) and the zin on the outside.
Crull, who used to be in the printing business in San Francisco, was influenced by Bob Steinhauer, Beringer's recently retired, longtime vineyard director. "I'm in this business because of Bob Steinhauer," he says, explaining that it was Steinhauer and the late Charlie Wagner who convinced him to buy the property after they visited.
Wagner, Crull contends, loved the Zinfandel from the Quarry Vineyard (from which, incidentally, a lot of stone was mined that went to construct buildings in St. Helena that exist today). "He said the Zinfandel from here was the best in the Napa Valley. He was using it for Caymus."
Despite that accolade, Crull is sticking to his contention that he wants to keep a low profile. He says he can quite easily go from making 1,000 cases to 2,500, which "might be a little more attractive (to a distributor) but "do you want to chase (down the business), and then have to hire an employee? It's a closed loop."
Crull believes that, "business is different for a small winery than it was five years ago. They (the distributors) take your wine and they don't sell through it very well. Earlier plans were to increase production, but it's more difficult to sell. How much time do I have to be on the road? Will it be economically better than where we are now (if we make more wine)?"
So then, you don't need your ego stroked?
Sharon Crull, 42, who calls herself a "cellar rat," and who was an attorney whose niche was commercial litigation surmises if that were the case, "we would have called it Crull Family Vineyards."
One thinks The Terraces will fit better on that little blue and white highway sign.