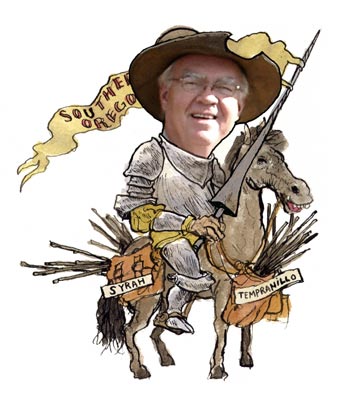 Earl Jones, the 'Don Quixote' of Southern Oregon viticulture, has visions of life beyond Pinot
'Oregon's climate is not homogenous, ...south of the Willamette Valley lies a climatically distinct warm climate region known as Southern Oregon that produces a 'World of Wines''
by Mark DeWolf
January 20, 2004
---
AA:
David Lett, planted the first Pinot Noir vines in northern Oregon's Willamette Valley in the late 1960s, however vitis Vinifera plantings in the state can be traced to the late 19th century on vineyard lands near Medford and Roseburg in Southern Oregon. Why do you believe Southern Oregon's Rogue and Umpqua Valleys have never enjoyed the same spotlight Willamette Valley producers have?
EJ: Remoteness to the market. Up to 1972 most of the wine grapes grown in Oregon where produced in what became the Umpqua AVA. However in 1975 when David Lett's Eyrie Vineyards produced a "Pinot Noir as good as fine Burgundy" the epicenter of the state's modern wine industry began to shift and most new developments located around David's vineyard in Yamhill County near Portland. This location, near a major airport and metropolitan cultural amenities as well as a potential customer base, became a magnet that attracted numerous vineyard developers and winemakers. Many of these newcomers had deep pockets and some were corporate players at the national level. The epicenter of Oregon's wine industry quickly shifted to Northern Oregon's Yamhill County and the focus became "cool climate" viticulture. The Burgundian exclusivity left no room for warm climate viticulture.
AA:
This remoteness to a major market must make changes to interstate direct shipping laws an even more important issue for you than wineries closer to major markets such as Portland or San Francisco?
EJ: Absolutely!
AA:
In proposing the 'Southern Oregon AVA' you are, in a sense, reversing the current trend of Willamette Valley producers, by creating an all encompassing AVA rather than delineating your region into smaller sub-AVAs. As the co-author of the AVA petition, what is the objective of the pending regional AVA?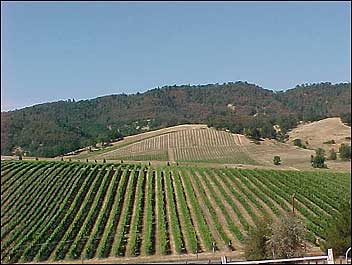 EJ: To inform wine consumers everywhere that Oregon's climate is not homogenous, but that south of northern Oregon's Willamette Valley lies a climatically distinct warm climate region known as Southern Oregon that produces a "World of Wines".
AA:
Are your northern neighbors lending support to your petition?
EJ: Yes, in fact several of the traditional 'Pinot Only' producers have discovered the lush ripeness of Southern Oregon fruit and more than a handful are now producing the likes of Syrah, Malbec, Cabernet Franc, Bordeaux blends, Grenache and, of all things, Nebbiolo!
AA:
Even in the context of Southern Oregon's "warm climate" as you described above, are you finding climatic diversity within the region? If so, can you describe some of these potential appellations and the conditions that exist in each?
EJ: Yes. In addition to the three existing AVAs, we have other distinct subdivisions scoped out and viticultural trials are in progress to delineate the borders. For example, there are two sub-zones that are distinctly warmer than average and they are the Agate Desert area near Medford and the Galice area west of Grants Pass. In addition, another two areas, the Illinois Valley in Josephine County and Elkton in the northern Umpqua, are clearly cooler zones in which sites only slightly warmer than the Willamette can be found.
AA:
Some would argue that Oregon is synonymous with Pinot. It takes passion and persistence to choose, grow and produce varietals that are ecologically sound, but perhaps lack easy marketability. How is Abacela Vineyards and Winery overcoming the perception that the best Oregon wines equate to the Pinot family?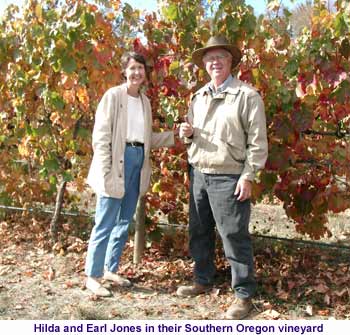 EJ: We have no Pinot envy. We probably could not produce an estate Pinot Noir at Abacela that would be much better than the "Hearty Burgundy" produced in the heat of the San Joaquin valley. I relocated my family from back east 2700 miles for the sole purpose of growing world class Tempranillo in America. No one was doing such and that was my dream. I have been referred to as the Don Quixote of Oregon. We based our selection of where to live and work, not on the cultural life available nearby, nor on the soils, but rather on the climatic requirements for growing fine Tempranillo. The two best Tempranillo producing regions in Spain, La Rioja and Ribera Del Duero, have little in common, e.g. soils, elevation, etc other than they share a very similar climate. We did not think this was a coincidence! After 3 + years and thousands of hours searching and studying NOAA (The National Oceanic and Atmospheric Administration) weather and climate data it was clear that the best climate match in America was in Southern Oregon.
AA:
Are there any distinctive features of Southern Oregon Tempranillo relative to the best wines of La Rioja and Ribera del Duero?
EJ: Yes, it is becoming clear that Tempranillo from Southern Oregon is, although different, most similar to wines from the Ribera del Duero.
AA:
Are there varietals other than Tempranillo you consider suitable to Southern Oregon?
EJ: We didn't restrict our bet to Tempranillo, but also didn't plant what the neighbors were growing. We based everything on varietal-climate match and started out with 19 vitis vinifera. Some flopped...most didn't, and we have now grafted over those failures and have reduced the number to 13 varietals. We have only marketed as a varietal what does well here. We were the first producers of 100% varietal Oregon Tempranillo, Malbec, Grenache, Cabernet Franc and Albarino wines. We were also among the first in Oregon to produce 100% pure Oregon Syrah and Viognier. We produce limited quantities of the only Northwest "Port", a product based on the Douro varietals Tinta Roriz and Bastardo. Some of its aficionados would kill for it. The public loves what we are doing. Some Abacela wines actually have groupies and our production is sold out quickly each vintage. Climate/terroir is the determinate of quality and, if a variety doesn't consistently produce quality fruit and wine, we graft it over or pull it out. We are thus refining and expanding the estate vineyards so that we can crop down and enhance quality, but there are no plans to expand production.
AA:
Would you like to see the new Southern Oregon AVA's reputation becoming linked with specific varietals? If so, what would they be?
EJ: What grows best here. I believe that to be Tempranillo, Syrah, Grenache, Malbec, Cabernet Franc, Viognier, and Albarino.
AA:
Southern Oregon is a series of interconnecting small mountain ranges and valleys. Do Southern Oregon's natural topography and rocky soils contribute to the region's suitability to quality wine production?