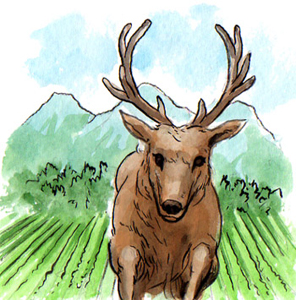 Stags Leap District ~ Napa Valley (AVA)
Stags Leap District:
Where Cabernet is King
The Stags Leap District would have been more confined than it is and may have carried a different name, if it weren't for one man who knew the subtleties between a "district" and an "area", as Alan Goldfarb learned for this profile of the AVA in this seventh part of The Napa Valley Series.
by Alan Goldfarb
November 2, 2007
---

s
it was originally proposed, the
Stags Leap District
in the Napa Valley would have been much smaller. The area, south of Yountville and north of the city of Napa might have had only 400-to-600 acres instead of the 1,300 it has now.
Clos du Val Winery
, one of the region's iconic wineries would have been a mugwamp with half of one of its vineyards in the district, and the other in limbo. And the western boundary wouldn't have reached across the Silverado Trail to the Napa River, thus eliminating some wineries and growers.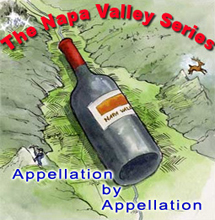 But according to Dick Steltzner, who helped formulate the SLD American Viticultural Area (AVA), powerful forces such as Robert Mondavi and the Disney family (
Silverado Vineyards
), helped to propel the debate, resulting in the region expanding and becoming more inclusive.
The boundary eventually ended up at the Yountville Crossroad to the north and to the river on the west, to seven miles north of Napa, which allowed Clos du Val to fold in its entire vineyard parcel.
Today, the mile-wide district, which is only three miles long, includes nearly 20 wineries and about 14 growers, and due to such stalwart wineries as
Stag's Leap Wine Cellars
,
Chimney Rock
,
Shafer
, and the aforementioned Clos du Val, the Stags Leap District has become quite the neighborhood. It is considered to be one of the most important AVAs in the country.
How Do You Spell Stags Leap?
One would be remiss, when addressing the Stags Leap District, to not discuss the lowly - but in this case, no less important – apostrophe. This mark, no bigger in the world at large than the bed bug, nonetheless indicates possessiveness.

And in the SLD, possession is two-thirds the law, or so we were schooled to believe. However, when two egos the likes of Carl Doumani and Warren Winiarski are concerned, the apostrophe only proves to be confusing.

Doumani and Winiarski were the owners of two of the earliest and perhaps most important wineries in what became known as the Stags Leap District. Both opened their wineries in the same year – 1972. Doumani's was at an old winery that had been named Stag's Leap after the rock formations or palisades that overlook the region, and whose heat-holding properties impact the vineyards in the district. Winiarski's property sat on the Silverado Trail just to the south. Both chose to assign their wineries the same Stags Leap name.

Several court battles ensued, with the case going all the way to, but not heard by, the California Supreme Court. The litigations lasted over a dozen years, costing each man more than $100,000. In the end, the outsized Doumani and the academic Winiarski settled their differences - with an apostrophe.

Doumani's wine became known as Stags' Leap Winery, while Stag's Leap Wine Cellars became Winiarski's. Note the subtle difference. Dick Steltzner likes to say that the two men "fought a war over an apostrophe." But to Warren Winiarski especially, the distinctions are important. Further, any chance he gets, the erudite and very likeable Winiarski will go out of his way to delineate the differences for you.

Incidentally, Doumani eventually sold the Stags' Leap Winery in 1997 to Beringer-Blass and opened the Hundertwasser-designed Quixote Winery, specializing in Petite Syrah (his spelling) next door. Winiarski meanwhile, sold his winery to Chateau Ste. Michelle Estates and Piero Antinori a few months ago for $185 million.
There are at least four entities with the words "Stags Leap" in the title. Herein are the proper usages:
Stag's Leap Wine Cellars
Stags' Leap Winery
Stags Leap District (AVA)
Stags Leap Palisades or Promontory
Steltzner, a fun-loving crusty sort, who owns
Steltzner Vineyards
, was one of the first to plant a vineyard in the area, three years after Nathan Fay put in the vineyard in 1961 that would help catapult Stag's Leap Wine Cellars to international fame.
In 1977, a year after Warren Winiarksi's
Cabernet Sauvignon
took top honors in the
single most important tasting
in American wine history, Steltzner says he was the first to put the words, "Stags Leap District" on his labels, before there even was a SLD. In '80, the feds finally caught on to his ploy and ordered him to cease and desist.
A dozen years later, however, SLD finally received its official sanction as an AVA.
Steltzner says he was not so much influenced by Fay, as he learned from him. "It was another new vineyard," is the way he describes Fay's vineyard, which was then more than a decade away from gaining the fame it achieved after Winiarski's Cab took the Paris Tasting in '76. "But I recognized Nate's knowledge in that he was sophisticated and understood French wines.
"When I was putting my vineyard in, I would often have lunch with Nate and his wife. I was working hard and was single and when someone was going to offer you lunch, why not? We talked about wine and grapes. I sucked up all the information I could from him. But he was not an influence. I was already on that path with my own ideas."
Steltzner, who claims that early in his career he put in the vineyards for the aforementioned Clos du Val, Spring Mountain, and what would become the iconic Diamond Creek, reveals the reason why he so vigorously insisted that the word "district" be attached to Stags Leap's official AVA name: "It was for a practical reason," he begins to explain. "I was also growing rice (at the time), and I learned a lot of codes in California that covered (agricultural) districts. When you're a certified district, you're given from the county, all agenda items that would be rule changes. Today the county doesn't want to do that. … But it makes for an orderly thing."
Steltzer characterizes his decision in '64 to plant 28 acres on what was then a hay field [he now has 80 acres] as "dumb luck". He notes that his serendipity has paid off both for himself and his colleagues in an area that is predominated by world-class
Cabernet Sauvignon
.
"At that time (in the early '60s) you could buy anything in the Napa Valley for $2,000 an acre, which was an astronomical price," he explains when asked why he settled in that specific area. "Grapes were selling for $175 a ton (they are now upwards of $6,000). It was affordable for me and I thought there was a future, although there was no money in it.

READER FEEDBACK: To post your comments on this story, click here
Print this article  |  Email this article  |  More about Stags Leap District ~ Napa Valley  |  More from Alan Goldfarb