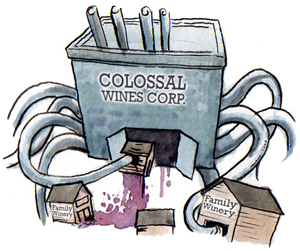 The Berger Merger Report
How Corporate Consolidation of the Wine Business Is Affecting What's in the Bottle.
by Dan Berger
November 12, 2007
---

ewspaper
reports of winery buyouts, mergers, consolidations, and initial public offerings that we have seen reported over the years have appeared mainly on the business pages. They rarely appear on the news pages, because of the journalistic theory that such news does not affect wine consumers.
This was certainly the case more than a dozen years ago when the
Robert Mondavi Winery
went public in what I considered pretty big news. I was the wine editor at the
Los Angeles Times
at the time and the editors declined to run my exclusive story on this development in the news section. My story ran (days late) in the business section.
Wine consumers may not realize it, but such business dealings in wine may actually have a dramatic impact on the wines they have come to know. Most cynics would suggest that corporations only ruin wine, but that's not always the case. There are examples where corporate ownership has saved a wine company and improved the caliber of the wines.
But in any case, mergers almost always have huge consequences for wine lovers - even those who don't care that a winery is no longer owned by the founders.
As a starter, look at those wine industry acquisitions that have nothing to do with wine quality since quality was never the primary name of the game in the first place. We are talking here about wine brands that don't stir wine collectors' hearts.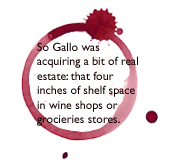 When
E&J Gallo
bought the Barefoot name not long ago, it acquired no vineyards, no wine making facility, and no particularly unique character in the line of wines. It was merely getting a name that it could use for yet another shelf facing.
At the time, the Barefoot wines already had strong placements in many retail outlets. So Gallo was acquiring a bit of real estate - that four inches of shelf space in wine shops or grocery stores. The same goes for such acquisitions as Heublein's 1993 acquisition of Glen Ellen and Wine Group's recent buyout of two Bonny Doon brands, Big House and Cardinal Zin.
Industry old-timers say this tactic is linked to the decades-old Jack Daniels Strategy of putting out multiple products that can use up precious shelf space and thus keep out competing brands.
There are other kinds of wine brands worth acquiring. One represents the unique, terroir-driven brand that offers wine of a distinctive message. Such brands include Chateau St. Jean (now with Foster's), Matanzas Creek (now with Jess Jackson's Artisans and Estates), and Gary Farrell (now with Beam Wine Estates). Private parties once owned these three Sonoma County wineries.
George Rose, a vice president for Kendall-Jackson, has been in the wine business for decades and has seen many of the major acquisitions that have shaped the current image of the wine game in California. Included are Constellation's billion-dollar buyout of Robert Mondavi; the Chateau Ste. Michelle/Antinori recent acquisition of
Stag's Leap Wine Cellars
, Gallo's buyout of
William Hill Estate
and the sale of the Davis Bynum brand to Rodney Strong owner Tom Klein.
Acquire and Conquer
A key question in all of these buyouts, as well as many others from the past, is: will the acquiring winery do the right thing for the brand image that was acquired?
It's one thing to take over a vineyard-based operation such as Stag's Leap, and to continue to make the same sort of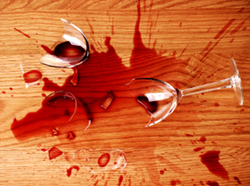 wine that made the project famous at the start. It's quite another if a new parent company comes in and uses the same fruit, but farms it in a manner inconsistent with the legacy of the former wine maker.
We at
APPELLATION AMERICA
would be saddened if not temporarily made insane (that is, angered to the point of short-term insanity) were such a thing to happen to a truly classic, terroir-sensitive property; if the new owners chose to make wines that ignored the very regionality that had made the winery's reputation.
Indeed, one could make a pretty good case for a loss of identity with some of the Robert Mondavi line of wines over the last two years – though a careful reading of that sad scenario could also lead to an equally good case that the Mondavi wines had already lost their soul in the late 1990s after some unfair (and, in my view, inaccurate) criticism of the former Mondavi style of wines.
There are so many case examples in this area where a winery's quality was compromised or improved after an acquisition. A book probably could be written about this, though the subject is somewhat esoteric; I doubt it would sell more than a few copies. Let's take a look at just a few examples:
[ ] Matanzas Creek:
Bill and Sandra MacIver did brilliant work with this Bennett Valley property, notably with Chardonnay and Merlot. After its sale to Artisans and Estates (A&E), the new company appointed French-trained Francois Cordesse and the improvement in the wines has been notable. Much of the success of Matanzas Creek is due to Jess Jackson's commitment to making each of his A&E projects regionally distinctive.
[ ] Davis Bynum:
The longtime Russian River Valley producer had been on the market for some time (albeit quietly), and when the Kleins of Rodney Strong decided to buy the brand, it got none of the actual vineyard land that the Bynum family had owned. But Robert Larsen of Rodney Strong said, "We have maintained a share of the contracts that they had, and our people will assess the quality of what's come in [this harvest] and determine if we want to maintain those contracts." He said wine maker Gary Patzwald will assess the style of wines put out over the years by the Davis Bynum brand. He assured me that Bynum will continue to use only Russian River Valley Chardonnay and Pinot Noir for the project.
[ ] Chateau St. Jean:
The founders, raisin growers from the central San Joaquin Valley, sold out to a Japanese company, which then sold the Sonoma Valley winery to Foster's. Over the last few years, aided by a benign corporate owner, wine maker Margo Van Staaveren has made some superb wines, bringing the winery back to its glory days when Dick Arrowood helped launch the winery as a superstar in the 1970s.
[ ] Gary Farrell:
With the recent departure of the founder, Beam gave the position of chief wine maker to Susan Reed, once at Simi and later at Matanzas Creek. Reed worked with Gary himself for three years and knows the style of wine he pioneered. [ED. NOTE: Of course all bets are off with the recent announ