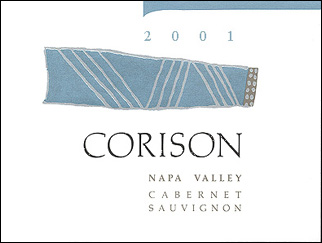 St. Helena ~ Napa Valley (AVA)
Corison's Cabernets of Consistency
Cathy Corison still makes Napa Valley Cabernets that are built for the long haul, balancing power and elegance in a fashion rarely seen in this era of high alcohol critic pleasing fruit bombs.
by Alan Goldfarb
August 28, 2005
---
Cathy Corison used to be the darling of the wine critics back in the '80s when she was making Cabernet for Chappellet Winery. Coupled with the fact that she was -- and still is -- a woman, they couldn't get enough of this 5-foot-2 winemaking dervish.
In those days, women were just beginning to spread their wings and Corison had garnered a lot of attention. Although it seems, her nature is to be left alone to make her Cabs and to tend to her organic vineyard with the zeal of a scientist and the dry wit of a British comedy writer.
Corison's wines might now be construed as somewhat of an anomaly. If one considers that they are intended for the long haul, are relatively low (for the Napa Valley) in alcohol, and are decidedly not fruit forward. Thus, she readily admits that she's no longer in the spotlight as once she was.
Although she still gets fabulous reviews -- despite not being in the habit of sending her wines unsolicited to be critiqued -- like others, who have been on the scene for more than a couple of minutes, she is not in the forefront of what's happening now.
She has no problem with that, whatsoever.
"I'm not the new kid on the block," she acknowledges while conducting a vertical tasting of her wine on a hot summer morning last week. "I knew it wouldn't last long."
"(So), you settle down and now you see what you're made of."
What Cathy Corison, now 52 is made of, is a person who has deviated nary a wit from the day she went out on her own 17 years ago, producing Cabernets that are both powerful and elegant all at once; and which are wines that are long-lived.
As evidence, she pours her Corison Cab (she also makes a "reserve" from her estate vineyard she calls
Kronos
) from the 1992 vintage through the '97. The wines, sourced "on handshakes" from the same vineyards she's always used, are sturdy, youthful, in perfect balance, hover in the 13- to 14-percent alcohol range; and will keep on giving for upwards of another 25 years. Save for the '92, which is showing just the slightest bit of browning and taken on a patina of age, these wines -- if tasted blind -- would fool most into believing they are from subsequent vintages.
So, she says, she doesn't care if the reviewers have tossed her name in the "used to be" file.
"If you make wines with integrity, that's all that we have to sell," she says while taking a slice of aged Gouda that she believes pairs well with the wines in front of her. "But I haven't been the sweetheart of late of the buy-and-drink-it-now press."
Don't get her wrong. She loves it when she gets good reviews admitting all the while, "I use them shamelessly," and adding, "Fashion comes and goes … (but) it has something to do with establishing a reputation that isn't fickle."
"Press (reviews) is fine, but press is gravy. It's never been the way I wanted to establish my reputation with my wine."
Her standing is rock-solid in spite of losing her "sweetheart" sobriquet, because of the consistency of her wines. Since she's established her own place since '99 in a new, gray Victorian-style barn on Highway 29 south of St. Helena on the old Nachbaur property, she has kept production at her
Corison Winery
to a little more than 3,500 cases a year. Corison insists that she has no intentions of growing larger.
She makes two Cabernets. The first is the aforementioned 3,000-case "Corison" that sells for $60 and is sourced from the Morisoli, Zuntz, Hayne, and Pat Garvey Home Ranch vineyards from the western bench of Rutherford and St. Helena. The other is the $90 Kronos reserve, using the 30-year-old, eight-acre vineyard that surrounds the winery, and from which she produces about 400 cases a year.
She's been using the same vineyards for years.
"There's no question that I make wines better and better, but the more I make wines from the same vineyards, the better I get," she admits without the slightest hint of braggadocio.
There are no contracts for the purchased fruit. "We write things down, (but) a lawyer has never blessed it or -- or cursed it," she explains with a smile.
She calls the gravelly, Kronos parcel that was planted on St. George rootstock by the late Leo Nachbaur, "that beautiful, ugly old Kronos," that is "God's gift to Cabernet." She named it after the Greek mythological story of the "sons of heaven and earth." Besides, she says, "I like the alliteration."

Corison also "fools around" with Gewurztraminer from the Anderson Valley that she bottles under the
Corazón
label.
But for the most part these days, Corison's wines turn up somewhere off the front covers – unlike in the days when, if you were a woman and happened to make good wine, your pretty visage would be plastered all over the place.
Interestingly, an Internet search of Cathy Corison -- through 15 pages -- mostly turned up stories that started with "woman winemaker."
Aren't you tired of being lumped into the genre category?
"It's worked both ways for me. It was revolutionary. There've been wonderful opportunities for women because there was a void coming out of Prohibition," she begins to respond, "but gender has cut both ways …
"I'm still a little astonished the change has been so rapid and it's so surprising that so many women are considered great winemakers in California."
But she concludes, "I've always been grateful that the word 'winemaker' is not gender-specific."