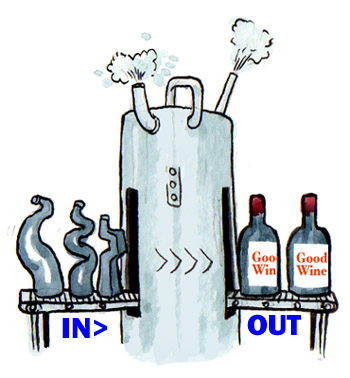 Spoofulated or Artisanal?
"Whatever people in general do not understand, they are always prepared to dislike; the incomprehensible is always the obnoxious."
~Letitia E. Landon, author (1802-1838)
by Clark Smith
November 28, 2007
---

here
are plenty of heroes in this story. One is Randy Dunn, who is quite open in his
praise of RO
(Reverse Osmosis) and his
condemnation of overripe fruit
. Another is Michael Havens, who agreed in 2001, in the interest of openness and consumer education, to have his face plastered all over the
The New York Times
as an "outed" micro-ox practitioner. There are some journalist heroes out there, too. Some have supported the politically incorrect view that good wine is good wine, and those who can enhance distinctive terroir expression are welcome to their tools:
Jamie Goode
,
Patrick Matthews
,
Derrick Schneider
. Others lean to the conservative, but are tireless, rigorous and open:
Eric Asimov
,
Alice Feiring
.