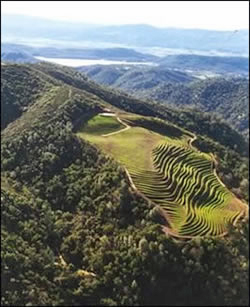 Chiles Valley ~ Napa Valley (AVA)
Chiles Valley Isn't Hot, But It's So "Cool"
by Alan Goldfarb
November 30, 2007
---

he
tourists don't often get to
Chiles Valley
, one of the more remote grape growing regions of the
Napa Valley
. But if one were to travel east for about five miles on the two-lane Highway 128 that starts its climb at Conn Creek on the Silverado Trail, there are untold rewards. As you drive past the allures of Lake Hennessy or some of the famous wineries on Pritchard Hill, such as
Chappellet Winery
. and
Bryant Family Vineyard
, Chiles Valley (pronounced CHYels) doesn't so much open up, but reveals its hidden self through the trees and the fog.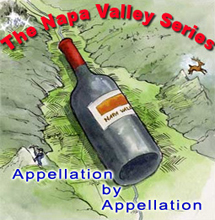 Jay Heminway, a self-described "contrarian", likes that remoteness and isolation. "If you look at the Napa Valley in last 35 years, it has changed dramatically from really rural to a destination. But Chiles Valley has remained the same somehow, hardly changed at all," he says from his perch at his
Green & Red Vineyard
. "Large ranches have remained in one piece and there's not much subdivision. But the traffic's increased because there are more vineyards."
Heminway, who has been up in the area in the eastern hills above the valley floor since 1970, is one of the first to grow grapes in the modern era. Of course, there are the
Nichelinis
, who first started their winery in 1890, when the area was known as Higher Valley; and Louis Martini, who planted a vineyard in the 1930s for his winery down on Highway 29 south of St. Helena.
But it was Heminway, followed a few years later by Volker Eisele, who was responsible for pushing for an American Viticultural Area (AVA), finally securing a sanction in 1999.
Since then, however, there have been scant few wineries in Chiles Valley. In addition to Nichelini, Green & Red and
Volker Eisele Family Estate
, there's
RustRidge Ranch & Winery
,
Brown Estate Winery
, among a handful (see a fuller list at
APPELLATION AMERICA
).
But it's the vineyard land that has proliferated in the narrow (eight miles long by less than three-quarters of a mile wide) valley. Of the 4,000 acres in the Chiles Valley – which is the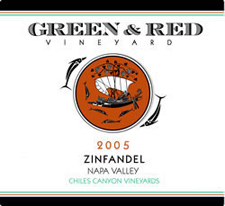 Napa Valley's eastern-most AVA – only 750 acres of its total mass is planted to grapes. E&J Gallo owns about 330 acres there, which includes the Martini Ghost Pines Ranch and its most recent purchase of vineyards from Paul Croft (Stonegate). There's also the Dalraddy Vineyard, Muhlnar, and a vineyard owned by Burdell Properties.
Zinfandel
and
Sauvignon Blanc
do extremely well here in a region that is cooler than most of the rest of Napa, but it is
Cabernet Sauvignon
, especially those made by Eisele and Brown Estate, that has taken a real toehold.
Still, it's the Zinfandel and Sauvignon Blanc, in addition to Cabernet Sauvignon that distinguishes Chiles Valley. According to Heminway, who said he once saw a flock of as many as 40 wild turkeys in one of his three vineyards, all three varieties define Chiles Valley.
"I'm not much of an advocate-type but the Zinfandel here tastes different," he says. "It has a spice character and is very forward, and the acidity is maintained more readily, even at fairly high sugars. They tend to have a real balance. They don't tend to be murky or muddled; they're more angular; they have an edge to 'em; and they're firm but not overbearing."
Heminway's soils at his trio of vineyards, that were first planted in 1972 at 1,000 to 1,700-foot elevations, are made of decomposed chert (a rocky red volcanic soil) and green serpentine (ergo the name of his winery, Green & Red). These are similar to those soils on Pritchard Hill below but are very different from the rest of Chiles Valley in the lower elevations.
While the aforementioned Chappellet and Bryant on Pritchard Hill and the Eisele estate made their bones with some very highly regarded Cabernet, Heminway has been steadfast in eschewing that variety. So why then doesn't he make a Cabernet?
"Just because I'm a contrarian," he says with a laugh. "The farm advisor at the time told me this is where Zin got started … I'm sure Cab would do well here, but I'm glad I'm not in the Cab (game). It's just too crowded," he explains. "Cab does very well here (in Chiles), and it has that spice that you don't see in other areas."
He acknowledges, however, that Volker Eisele (pronounced FOLK er EY sa la - and not to be confused with Araujo's Eisele Vineyard south of Calistoga) is leading the way in Chiles Valley when it comes to Cabernet (Volker Eisele's current Cabernet release is their 2004 –
now available for purchase direct from the winery.
)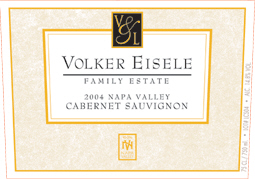 "Volker fights to make it distinct and he's up against the other (more famous Cab-growing areas of the Napa Valley)," he says. "Over the last 30 years, he's been trying to convince me to plant Cabernet."
But it's with Sauvignon Blanc and a little bit of
Petite Sirah
,
Syrah
and, of course, Zinfandel, that Heminway endeavors to make his mark.
What is it about the Chiles Valley that makes it conducive to growing Zinfandel? Heminway says it's the climate. He says that Chiles, especially in the lower regions at 800 to 1,000 foot elevation of the AVA, is engulfed in fog, while the upper reaches, where his 32 ½ acres of vineyard reside, seem similar to Howell Mountain.
"The elevation makes a big difference, as well as the coastal influence through Chiles Canyon, because the hills to the west are lower there are no obstructions," he explains. "It gets very cold at night and the heat is moderated on both ends of the valley, which seems to create a draft.
Zinfandel, he says, "tends to be more distinctive in the cooler climates. This area, while not extremely cool, is a good area to grow Zin."

READER FEEDBACK: To post your comments on this story, click here
Print this article  |  Email this article  |  More about Chiles Valley ~ Napa Valley  |  More from Alan Goldfarb