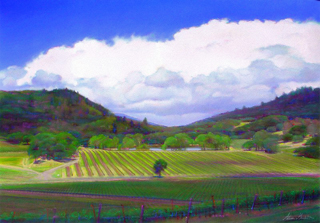 St. Helena ~ Napa Valley (AVA)
Kicking the 'Dust' off Cabernet
It's simply a 'St. Helena Thing'.
by Alan Goldfarb
December 7, 2007
---

here's
a lot of wine history in and around the small town of St. Helena, which many consider to be the fulcrum of the Napa Valley. Two of the Big Four –
Beringer Vineyards
and
Charles Krug Winery
– were among the earliest and most important wineries (along with Rutherford properties Beaulieu and Inglenook) to be founded on the northern outskirts of town. While later, in the early to mid-20th century, there was
Louis M. Martini Winery
and
Sutter Home Winery
.
It was in the mid-to-late 1800s when Krug and Beringer brought great recognition to the Valley and to St. Helena. In the modern era of winemaking in the region,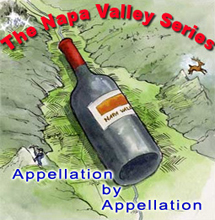 there has been an observer, much less well-known, who has a firm grasp on why St. Helena still flourishes as the epicenter of American wine - an area that can boast of such stalwarts as Colgin, Corison, Duckhorn, Flora Springs, Freemark Abbey, Heitz, Joseph Phelps, and Raymond.
"You had good, well-drained soils so that the vineyards wouldn't be frozen in April, and it's closer to the (San Pablo) bay than Calistoga and more hospitable … and it has a central location, which made it well-positioned," says Allen Price, who makes wine and farms vineyards in the east, central and western portions of St. Helena.
Price, who is the winemaker for Casa Nuestra and David Fulton wineries - two tiny and some would say, obscure properties - knows just about every nook and cranny of St. Helena.
After all, Mrs. Albert Spotts was his mother's great-grandma's sister. Yes,
that
Mrs. Spotts - the Spotts in what has become one of California's most revered estates,
Spottswoode Estate Vineyard & Winery
, located less than a mile west of downtown St. Helena. The 63-year-old Price was raised and still lives in the corner of the estate that his distant relative owned from 1910 until 1972. And he farms a contiguous two-acre parcel that he calls 1275 Vineyard, producing
Cabernet Sauvignon
which he sells to little
Bacio Divino
.
His effusiveness is unbridled for the area, which has about 100 wineries and about 1,500 acres of planted vineyard. Some of his remarks could be construed as provincial, but there's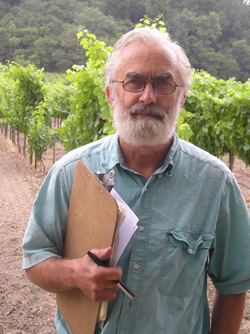 nothing smug about Allen Price. He's simply, well, enthusiastic about St. Helena.
"Today, you have a better base and a nice little town that always had a little better schools, compared to neighboring towns," he goes on. "Tying into that, there's a cultural and lifestyle underpinning to grape growing, which is why I bring it up. Forty and fifty years ago, Rutherford and other places, they were still shooting beer cans, and it does matters. Wine has a connection into a kind of an elevated lifestyle.
"Why did the Napa Valley rise to the top and St. Helena was at the top of that? It was because of the social surroundings. I'm not trying to be a snob, it was taken seriously. Rutherford was still in deep prune orchard. It (St. Helena) grew earlier from this base and only recently – in the last 20-30 years - has it taken strength from the other competitive appellations within the valley; and I've lived through all that."
Indeed, Price started his St. Helena wine career at Charles Krug in the 1970s, before going to Beringer in 1980. Along the way, he helped start
Casa Nuestra
on the Silverado Trail, before becoming its winemaker and GM in '02. In 2001, he began making
Petite Sirah
from an old vineyard in the central part of the AVA for the Fulton winery.
St. Helena
, which became an American Viticultural Area (AVA) in 1995, has boundaries that are defined by the 400-foot elevation at the base of the Mayacamas Range to the west, spanning Zinfandel Lane to the south and Bale Lane to the north on Highway 29 (the locals call this stretch the St. Helena Highway); and the intersection of Howell Mountain and Conn Valley roads to the east.
So, how does all that, considering Allen Price's words, manifest in the bottle? What makes St. Helena different from the other 14 sub-regions of the Napa Valley?
"That's a tough question," he begins, just as many do when this question is put to them. "St. Helena's terrestrial aspect is on an alluvial fan (fine-grained soils) that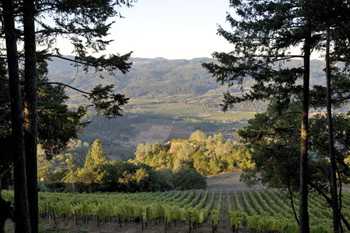 comes underneath the town. Notice the slope of Main Street. All those well-drained soils, with a minimum of effort, make better red wines (because) it has enough heat to properly ripen red grapes."
In addition to Cabernet Sauvignon, Price works with other red grapes such as Petite Sirah, Alicante Boschet and Refosco, the latter of which is a variety grown in the Friuli region of northeastern Italy, and which is grown on the Casa Nuestra vineyard. Further, Price makes a Chenin Blanc and a dry Riesling, from that same Silverado Trail vineyard.
It's the Cabernets, of course, that drive St. Helena's wineries. According to the trade group
Appellation St. Helena
, its member wineries produce 56,000 cases of wine, of which about 53 percent is Cabernet, produced by 48 percent of its members' acreage. (
Zinfandel
is the second largest variety produced in St. Helena.)
Regarding St. Helena's Cabernets, at a
blind tasting
conducted by
APPELLATION AMERICA
in June, 2006, of more than a dozen wines from the 2003 vintage, four of the five panel members, among which was renowned winemaker Philippe Melka, used the word "dust" to describe six of the 13 wines.
Heretofore, "dust" was the exclusive perceived provenance of the Cabernets from Rutherford. But here it was, being uttered to characterize the Cabs from St. Helena.
Mark Beringer, the winemaker at
Duckhorn Vineyards
, who was on the
APPELLATION AMERICA
panel that day, defined "dust" as being "less li