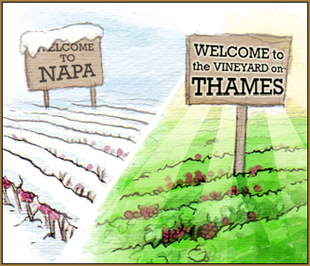 As the Climate Changes
So Does Our Wine
The topic of global warming, which has become a hot political football in the last year, was also one of the most-discussed subjects at the recent 13th annual Wine Industry Technical Conference in Adelaide, Australia.
by Dan Berger
December 17, 2007
---

ased
on various scientific surveys, we know that temperatures will continue to become warmer on average between now and 2100, and that will have a direct impact on the growing of grapes and the resulting types of wines that the various established wine regions can produce. It could also change the typical characteristics that we associate with various wine-growing regions.
At the moment, we have more questions than answers. Among them are, "Will
Napa Valley
soon be too warm to grow classically structured (age-worthy)
Cabernet Sauvignon
? Will Bordeaux soon be warm enough to grow California-style Cabernet? Will
Pinot Noir
be all but impossible to grow in California and Oregon in just a few years? How far north must we go to plant grapes that will emulate the best wines we once made with regularity in California? What grape varieties will we have to plant and which varieties will be removed by this change in climate? And what will become of the typical regional character we have come to associate with various regions of the wine world?
The topic of global warming was on the lips of everyone at the Adelaide technical conference, in part because Australia's wine industry has already seen the impact of global warming. The drought it has been suffering through for the last several years is not only a reality for the Aussie wine industry, but it figures to get worse. And high temperatures during the 2007 harvest caused a drastic drop in production.
The phrase "global warming," although it is generally accurate, might best be changed to "global climate change," since not every scenario projects increased temperature for all wine-growing regions.
It is certainly true that a hotter planet is projected over time. From the July 2006 Proceedings of the National Academy of Sciences, co-author James Hansen concluded that, because of rapid warming in the past 30 years, the earth is approaching and will soon surpass the warmest temperatures in the past 12,000 years - since the end of the last ice age.
Recent warming "has brought global temperature to a level within about one degree Celsius of the maximum temperature of the past million years," said the report, which also added that the higher latitudes are warming faster, as are the Indian and western Pacific Oceans.
Many experts also predict that drought conditions could well affect many of the more prestigious wine-growing regions of the world.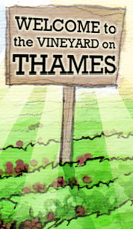 So well recognized is this subject that, in 2004, for an April Fool's issue of my weekly newsletter, I did a global warming "story" in which I reported on a Swedish farmer who was growing Cabernet Sauvignon. And not one reader realized the story was a spoof.
However, at least one Champagne house has already planted grapes in England and another, the house of Roederer, has admitted the idea is intriguing. Until recently, England was too cold to make drinkable table wines on a consistent basis. And of the approximately 350 wineries in Great Britain, most produce sparkling wine. Recently, many have reported making the best bubbly they've ever made.
When news stories about global warming first made headlines, some of them indicated that the Napa Valley was destined to collapse as a fine wine region. Stories implied that the area would soon be a desert that would make only simple, hot-climate wines.
Soon after the stories hit, growers began to see what they could do to slow the impact. One strategy: the Napa Valley Vintners set up a Climate Change Task Force that would team with geophysicists from Scripps Institute of Oceanography to investigate what was occurring in their vineyards.
At least one Champagne house has already planted grapes in England and another, the house of Roederer, has admitted the idea is intriguing.
The Proceedings of the National Academy of Sciences has said that unless wine makers intervene with plant-protection systems, the total area suitable for wine growing in this country could shrink by up to 80 percent by the end of the century.
Even so, most studies on climate change have not been very specific about how a projected 1 to 3-degree Celsius increase in the average temperature by the end of the century will affect grape growing. The assumption is that increased solar radiation and the possible reduction in available water could be disastrous.
How About Some Good News
Curiously, over the short term, there may well be some good news. Early studies show that Napa,
Sonoma
, and to a lesser degree
Mendocino
and
Lake
counties, may actually be cooler for a number of years as the interior valleys grow warmer. This effect may also be seen for other coastal regions, such as the Salinas Valley of
Monterey County
(which gets cooling breezes off Monterey Bay), as well as
San Luis Obispo County
;
Santa Maria Valley
and
Santa Barbara
, and Ventura County.
This is due to a sort of suction effect that occurs, say the studies. As the vast San Joaquin Valley gets hotter, it creates a vacuum that draws in cooler marine air.
Fog from the Pacific Ocean can cause slower morning warming during daylight hours - one of the key factors in why
Russian River Valley
is one of the coolest of California's growing regions. Such cooler mornings may give way to high daytime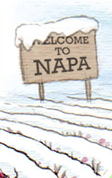 temperatures during the summer, but the total duration of excessive heat may well be less than in the past, and nights cooled by marine air can keep acid levels high.
Dr. Andy Walker of UC Davis says that the average temperature drop in Napa and Sonoma could well be so significant over the next few years that it could radically change the character of many wines over the next decade.
The cooling trend is evident from the last three vintages, 2005, 2006 and 2007, all of which were considered about as cool as any in the last two decades. Nationally, 2005 was one of the warmest years on record, but in California's two most famous wine-growing counties, Napa and Sonoma, it was rated as a very cool year.
Moreover, the practice of farming by greener methods (sustainability, organic or biodynamic) has grown significantly in the last decade as farmers realize the need to become proactive in protecting the vine from the ravages of global climate change.
Dealing with the Inevitable Lack of Water

READER FEEDBACK: To post your comments on this story, click here
Print this article  |  Email this article  |  More about America  |  More from Dan Berger