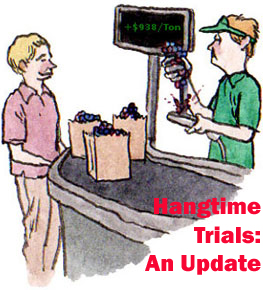 The longer grapes stay on the vine,
the less they cost.*
*But for how long?
by Alan Goldfarb
January 7, 2008
---

rape
growers and wine producers on long-term contracts have an implied agreement that neither party will suffer monetary hardship because of the loss of grape weight due to hang time. However, as growers and vintners enter into new contracts, consumers may begin to pay more for their wine because growers will insist on being compensated from producers. The consequent rising cost would be passed along to you know who.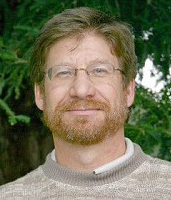 In November of 2006, Ed Weber, the viticulture farm advisor in Napa County, presented
the results
of a two-year study to determine the amount of weight loss in grapes that had experienced extended ripening or "hang time". Among his findings was that indeed there was dehydration due to maturation on the vine, as producers looked to coax more flavor from the fruit. Thus growers, Weber implied, might want to renegotiate contracts in order to be compensated for that loss in tonnage.
At the time, Weber concluded that, in terms of add-on fees, "five percent appears to be a reasonable estimate for cluster and weight reductions per degrees Brix (a measure of sugar percentage) above 26 percent."
California producers have developed a regimen in the last 10 years of picking in the 26-29 range, which can dehydrate grapes but makes them intensely sweet and high in alcohol. So, according to Weber's findings, vintners would pay from $250 to $375 a ton more for their hang time grapes.
A year and a week to the day that Weber revealed his findings, he sat down with a group of producers and growers at
Honig Vineyard and Winery
in Rutherford, Ca. to informally taste through some of those wines from the 2005 and '06 vintages that he had used for his study.
What emerged tangentially to the tasting was a small sampling of how Weber's suggestions for re-worked contracts has been greeted by some growers and wine producers.
Garrett Buckland, who is the vice president of viticulture for Premiere Viticulture in Napa, was one of the growers in the Honig conference room one recent morning in November. He doesn't believe that many contracts will contain additional wording to suggest that growers be compensated for loss of weight due to extended maturation on the vine.
"Whether it's written in a specific contract, the end-goal is to make the best wines possible. But you see much less verbiage i.e. Brix, et cetera," said Buckland, whose company works with about 60 clients, which include Stag's Leap Wine Cellars, Araujo, and Chappellet.
"With the 2005 vintage, we'll make more money because of higher yields, so it all evens out. Right now, we want to bring the vineyard and winery together and not keep them separate."
Years ago, there was a huge gap between the grower and producer. Today, however, that chasm has been greatly narrowed as producers realize the importance of vineyards and their fruit; while growers begin to understand wine better. However, the issue about loss of weight in the field due to the ever-increasing practice of hang time may prove to drive a wedge between that fragile relationship.
But Buckland believes the growers have a more vested interest in working with the clients who purchase their fruit. "If we know a winery wants to pick at 28, 29 Brix, we change accordingly," he acknowledged, adding, "but it could make for so much conflict. (But) most progressive growers know it's about the end product (the wine). Wineries are paying (us) a lot, so if we have weight loss, we should be flexible and growers should understand. … We and the wineries are making good money."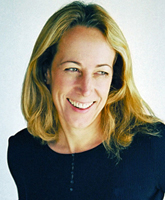 Kristin Belair, the winemaker for Honig, is on the other end of the spectrum, buying, rather than growing grapes. She said Honig buys grapes that average about 24.5 Brix. "In our Cabernet contracts, we have minimum Brix (requirements)," she explained. "We dictate picking dates (on fruit we're buying).The logistics of writing a contract with a weight loss (provision), I don't know how you write a contract like that."
Added Jason Benz, who manages two 20-acre parcels for the University of California at Davis experimental station in Oakville, "The question is, is that a sustainable practice (of including weight-loss clauses)?"
But Buckland takes a more sanguine approach: "If we're dialed into the vineyard, we should get wines (with less alcohol)."
Honig's Belair concluded: "Twenty-five years ago, we thought we wanted to makes wines like the French. But with California conditions (climate), maybe this is what California grows.