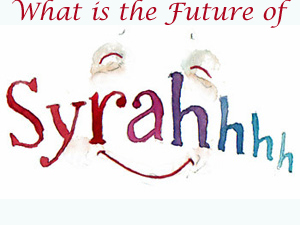 The Syrah Conundrum:
When Will it Get Respect?
Will Syrah be the next popular varietal the way Merlot and Pinot Noir have been? The crush of Australian Shiraz imports in the U.S. has not only confused American wine consumers by the grape's name but also undercut the value of California Syrah with low pricing.
by Dennis Schaefer
January 22, 2008
---

t
was back in 1974 that Christian Brothers Winery sold
Joseph Phelps Vineyards
in Napa a paltry ten tons of Syrah (which the Brothers had always buried in their blends) plus budwood to plant their own Syrah. When that Syrah was finally released in 1977, it was probably the first time since Prohibition that a California Syrah was commercially available and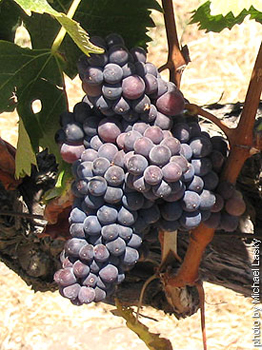 released under its varietal name. Meanwhile, on the Central Coast, Gary Eberle had planted Syrah at what was then called Estrella River Winery (now
Meridian Vineyards
).
Later
Zaca Mesa Winery
would start making Syrah (the first in Santa Barbara County) and Estrella would often sell their Syrah grapes to upstarts like Bob Lindquist of
Qupe' Wine Cellars
or Randall Grahm of
Bonny Doon Vineyard
. And the thing snowballed from there into more vineyard plantings and then a loose-knit group of like-minded winemakers dubbed
The Rhone Rangers
.
At this point,
Syrah
is planted up and down the California coast and there are a multitude of producers. In fact, Syrah's growth has been nearly exponential: only around 500 tons of grapes were crushed back in 1990, while in the early part of this decade, it had hovered around 100,000 tons per year. Then in 2005, the tonnage jumped to 147,312 tons and more is planted and on its way in the pipeline.
But since Syrah "is now blossoming in American vineyards" and beginning to "muscle its way into the American mainstream," (from USA Today in 2001), I scratched my head in quizzical disbelief because I have been beating the drum for Rhone varietals for the last two decades. I boldly confess that I'd rather drink Syrah over Cabernet Sauvignon any day.
The Syrah Symposium
So I was quite curious to attend a "Syrah Symposium," designed for the press and trade, recently in
Santa Ynez Valley
, to either confirm or deny my hypothesis. The Syrah Symposium was hosted by four Santa Ynez Valley wineries: Bridlewood, Beckmen, Fess Parker, and Zaca Mesa, although there was a ringer from Napa in Palmeri.
"Syrah is becoming a superstar in elite growing regions around the world; different styles are emerging, along with new learnings from the vineyard and the cellar," explained
Bridlewood
winemaker, David Hopkins. "We though it would be a good idea to get some folks together and share what we've learned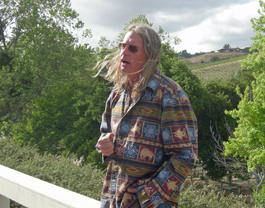 and compare our results." That set the tone for the day and a half event as educational and instructive, with Syrah tastings mixed in as well. In a sense, it was a kind of "train the trainers" event. Those of us in attendance - wholesalers, retailers, restaurateurs and writers - could take the knowledge with us back to our respective venues and share it with our customers. A sort of guerrilla marketing thrust to further get the word out about Syrah.
There were quite a number of informative, and sometimes technical, seminars that focused on what was unique about Syrah. Peter Neptune MS, Vice President of Wine Education for The Henry Wine Group, moderated the seminar discussions, and gave the first presentation on the history of Syrah. It's interesting to note, Neptune said, that Syrah did not originate in the city of Shiraz in Iran, as many stories have it, but most likely originated from the vineyards of the Northern Rhone. More recent DNA studies by UC Davis have concluded that Syrah is the result of a cross of the "Dureza" and "Mondeuse Blanche" grape varieties, probably emanating from the slopes of Hermitage.
Perhaps the most interesting seminar was the first field trip of the symposium to
Beckmen Vineyards
' 365 acre, biodynamically farmed Purisima Mountain Vineyard. The vineyard was planted in 1996, but only went the totally biodynamic route in 2006. After doing quality control and consistency trials on a small portion of the vineyard, vintner Steve Beckmen committed the entire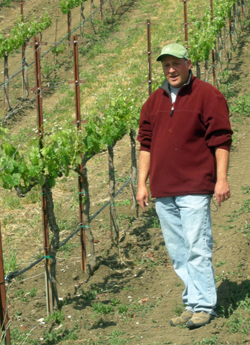 property to that still controversial methodology. According to Beckman, the impressive results included healthier vines, manifested in more balance in flavor and sugar development as well as improved tannin quality. The resulting wines, in comparison to traditional farming practices, are more powerful, yet still elegant and balanced. "I want to express the character of this particular area, this particular vineyard," Beckman says, "And the best way for me to do that is to pursue biodynamics." The bottom line may be that Beckmen just pays a lot more attention to the natural rhythms of his vineyard than industrial, chemical, corporate farmers do.
The Napa interloper,
Palmeri
's Kerry Damskey, extolled the virtues of mountain grown Syrah, as exemplified in his bottlings from Stagecoach Vineyard in Napa and Van Ness Vineyard in Sonoma's Alexander Valley. The benefits for Syrah are obvious, he said. Mountain soils are limiting; mountain vineyards are cooler; mountain vineyard get more sunlight and more hang time. He might have said, mountain grown wines are more tightly wound, are seemingly deeper and richer than valley floor grown wines, but do take longer to develop in the bottle.
In another field trip, Clay Brock of Zaca Mesa showed off what is now the oldest Syrah vineyard on the Central Coast: the Black Bear Block, planted in 1979. Gary Eberle had planted Syrah in Paso Robles in 1977, but those vines have since been ripped out. The Black Bear Block, however, is planted from cuttings provided by Eberle, now commonly called the Estrella River clone, from suitcase cuttings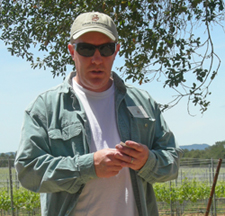 Eberle supposedly brought in from Chapoutier (Hermitage). Zaca Mesa, it was revealed, is one of the leaders in Syrah clonal research, having planted 28 more acres in 2004 to the newer French clones, like 877, 174, 470, and 383. So far, it's too early to tell whether and if these clones will be significant to Syrah production in California, in the same way Pinot