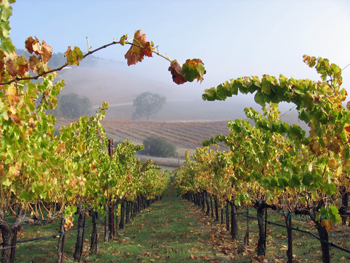 Tablas Creek Terroir:
A Sense of Place
Wines that express their appellation's distinctiveness and show off the unique influences of their terroir are the mission of Tablas Creek Vineyard. A remarkably successful mission at that.
by Harry Haff
February 26, 2008
---

obert Haas
founded
Tablas Creek Vineyard
in
Paso Robles
, California to create Rhone varietals. But how he ended up in Paso Robles was circuitous at best since he started in New York City as a successful wine merchant and then moved his family in the 1970s to Vermont.
He made his move to find a more rural and peaceful life and chose central Vermont as his new place of business as well. His Vineyard Brands became one of the leading importers of French wines into the United States, concentrating especially on those of the Rhone Valley.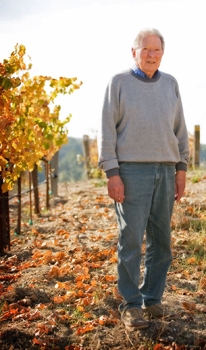 Over the years a friendship developed between the Haas family and the Perrin family, who own Chateau Beaucastel. Eventually, a partnership was created, aimed at searching California for an ideal location for the Rhone Valley grapes, a location that would match as closely as possible the terroir of the Southern Rhone Valley.
After several years of searching in California - Napa, Mendocino, Contra Costa, Ventura County - Paso Robles was chosen for the new vineyard. Mr. Haas said the soil, primarily calcium-clay over limestone sub-soil, was close to the terroir of Chateau Beaucastel in the Rhone Valley. But there was something else: the land "felt Mediterranean" with lots of rosemary, olive trees, lavender and a close proximity to the ocean.
The land chosen in 1989 was a former cattle ranch. This was ideal as the land was cleared but not planted with vines. The cleared land made it easier to create an organically farmed vineyard, one of the goals of the partnership. There are several factors that make this particular location special:
1. Elevation:
at around three thousand feet, the diurnal temperature changes are pronounced, as much as forty to fifty degrees daily. This is a plus in the winter when freezing temperatures may occur, but the soil and sub soil are sufficiently warmed during the day to prevent root die off. In the warmer months, the cool-down at night aids acid retention.
2. Ocean influence:
The property is far enough away to block out the cold Pacific air but close enough to benefit from some of its moderating effects on temperature.
3. Central Coast location:
The sometimes-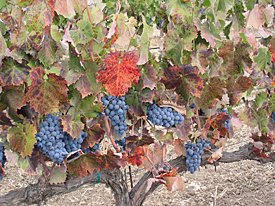 harsh winter storms of the Pacific Northwest and Northern California arrive in Paso Robles about two weeks later than up north. In harvest time, this delay allows ample time for later ripening varietals, such as Mourvèdre , to ripen fully. In winter, wind and ice damage is less likely, as the biggest factor in these storms is lots of rainfall.
4. Soil:
The chalky sub-soil is porous enough to have excess water drain while at the same time retaining enough water to nourish the vines. Robert's son, Jason Haas, the general manager of the winery, notes that the sub-soil acts just like a sponge with the benefit that the vines also need to root deeply (more than ten feet) to secure the retained moisture.
French Varietals Need French Rootstock
The Rhone varietals originally planted from stock available in California did not live up to expectations in quality, so cuttings were brought directly from the vineyards at Beaucastel. After a three-year quarantine and two years of propagating vines, plantings got underway in 1994. In 1997, the first harvest was brought in.
As a side benefit, the vine propagation was so successful that Robert Haas contracted with a grower to relocate and take over the vine propagation. After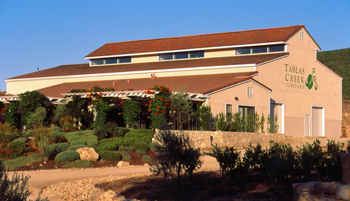 selling more than three million clones, the nursery was becoming a demanding second business with the possibility of taking too much time and energy away from the vineyard.
With the planting of the vines and a dedication to organic cultivation and dry farmed lands, Tablas Creek needed to make some decisions on exactly how and where to plant the vines as well as how to manage the vineyards. California is noted for big, ripe fruit forward wines, which are sometimes accompanied by high alcohol. This can lead to out-of-balance wines. Site selection for each varietal as well as canopy management became integral parts of the expression of terroir.
For example,
Syrah
, an early ripener, is brought in at about 3 1/2 tons per acres. Jason Haas explains that the bigger yield delays ripening, which adds complexity to the juice and creates a lower alcohol wine that allows that complexity to come through. Most of the other grapes are harvested at 2 1/2 to 3 tons per acre.
Aspect for each varietal was chosen based on the demands of the grape and how best to produce quality grapes in this location. Syrah was given east-facing locations, which are a touch on the cool side to allow for slower ripening and thus, the opportunity for more complex flavors to develop.
Viognier
and
Marsanne
face north to aid acid retention.
Grenache
faces west for later and longer hours of sun.
Mourvèdre
and Cunoise both get south facing slopes to ensure that these late ripeners get maximum phenolic development with full ripening.
The French vintner sees Mourvèdre mostly as a blending grape because it does not have the opportunity to ripen fully. The same may be said about
Picpoul
, which means "lip stinger" in French. Such a traditionally high acid, low sugar and fruit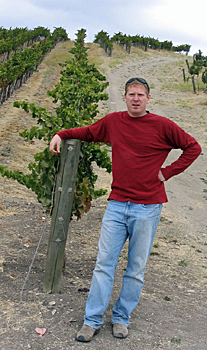 wine reaches a level of ripeness at Tables Creek in Paso Robles that transforms the grape's possibilities. In Paso Robles, both these grapes can be stand-alone, single varietals due to the unique climate and soil of the area.
Paso Robles is a dry area with about thirty inches of rainfall per year. This makes fungal diseases rare. With no spraying needed, organic methods are feasible and Tablas Creek followed the lead of Beaucastel where chemical spraying was eliminated in the 1960s and 1970s. Jason Haas says that with organic and dry farming methods the "grapes taste more like where they are grown."
Hilltops have not been planted with vines. This assists in having a more balanced eco system. Cover crops , such as sweet peas, vetch, and oats are used, so that they can can be tilled into the