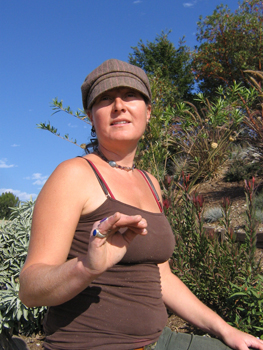 Meet Rachel Ormes
Earth Mother of the Vines
What's a transplanted British woman doing in the vineyards of the Santa Cruz Mountains? Taking care of business.
Vine business.
by Laura Ness
March 3, 2008
---

he's
not your typical Earth Mother, but she's taken on the Santa Cruz aura in a big way. Except for the English accent, you'd think Rachel Ormes was born and raised right here in the Santa Cruz Mountains. Born in Bedfordshire, England, northeast of London, Rachel describes her homeland as lush and incredibly green, and says with a laugh, "I was always playing in the mud!"
When she later came to America, Rachel didn't have a specific path of travel in mind, just a desire to expand her knowledge and opportunities. She crossed paths with Nick Guerrero, proprietor of then Vine Hill Winery (now known as
Wines of Vine Hill
), who helped her rack her first wine. It was a
Grenache
, made from organically farmed grapes that Rachel had planted for a client in Saratoga. This was a very exciting way to get back into chemistry: taking fruit and making something out of it. She says the fruit was under ripe, with grapefruit flavors but she was hooked.
When Rachel expressed her interest in studying viticulture at UC Davis, Nick asked her to come take a look at the vineyard site, and she did so in the Spring of 2005, immediately noting all the erosion problems and other things she was very familiar with, due to all her previous experience with gardening in the mountains. Rachel calls them "land issues." So she went to work to stabilize the soil, creating erosion channels and digging catch basins, and laying lots of jute. As Rachel says, "This is extreme landscaping on a different scale. I got a little bored with home gardens, so this was a real challenge!"
Planting Pinot — New Vines, Historic Soil at Vine Hill

Initially, the owners of the Vine Hill property engaged the services of local vineyard consultant Rick Anzelone. He began putting in the first Pinot vineyard on the site in 2005. Rachel knew she would soon be planting the vineyard at the very top of the hill, so she paid close attention to everything Rick was doing, learning about irrigation systems, trellising systems, vine spacing and basic vineyard practice.
During her first year at the vineyard, she educated herself about varieties and clones, and learned firsthand what a special niche this area is for
Pinot Noir
.
Choosing the proper rootstocks for the soil conditions was critical, coupled with the concern for disease tolerance. The soil at Vine Hill is, at best, sandy loam: at worst, it is sandstone. Thus a decision was made to use both rootstocks 110R and 3309C. The110R rootstock performs well in dry conditions, i.e., where the soil is well-drained, and is thus used in the sandiest areas of the vineyard. The 3309C is used in the areas with greater soil biomass and potential for moisture retention. Each block contains approximately 1,000 vines, and within each block, there are variations in the soil composition.
By selecting two rootstocks and three Dijon clones, 115, 777 and 667, winemaker Sal Godinez hopes to set the stage for the creation of excellent wine, year in and year out. With any luck, the resulting wines will represent the appellation's terroir appropriately and consistently from year to year.
Rachel was responsible for pruning those newly planted vines in the following March and April. She herself planted a 1.25-acre block of 667 and 777 on 3309 in 2007. Next year, they'll be experimenting with 828 on 3309. "We don't know a lot about Clone 828 yet, at least not in terms of our own experience at this site." Vine Hill also has 115 in the lower block. Currently they have no Pommard clones. They also planted Syrah in 2006, and are concentrating on root development.
Ridding Pests Organically
Early on, Vine Hill worked a bit with Prudy Foxx of Foxx Viticulture, a vineyard consultancy in the Santa Cruz Mountains. Prudy provided Rachel with some good basic knowledge of vineyard problems and how to diagnose and treat them. The vineyards at Vine Hill experienced a chinch bug problem early in 2007 - not usually a common issue here in the mountains. These damaging critters are more typical of hotter climates, but tell that to the bugs. Thriving in cover crops and grasses, they can quickly devastate a young vineyard in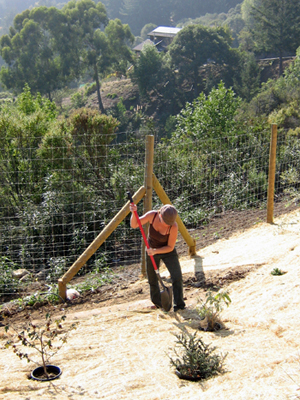 springtime when the grasses die or cover crops are plowed under, and the critters seek new habitat. Vines are so convenient.
Rachel controlled the problem this time with Ecotrol, a rosemary-thyme oil-based insecticide and a Pyrethrum-based insecticide, both organic materials, She alternated the two methods to keep the bugs under control using a backpack sprayer. Once they purchased a spray tank, things went much more smoothly. They had to apply the insecticides from June to late August to control the problem. Although they are a minor pest, chinch bugs in the nymph stage inject a toxin into the vine tissue that looks like a mold, and actually causes the plant to wilt.
Next year, she'll be looking to prevent their outbreak with cultural practices, by discing between rows about 3 weeks before budbreak to eliminate their breeding ground. "This is why I went to school - I get to use my IPM background!"
Then there's gopher control — a major undertaking in the mountains, especially when establishing a new vineyard. Rachel has gone away from using Phostoxin (a highly toxic, non-organic rodenticide), because you don't know whether you've actually got the gophers or not. So they've used traps with a great deal of success, at first spending 20 hours per week chasing the little root-eating monsters. Now they just spend a few hours every week, setting 20 traps per day, and have the population in check. They observed a significant number of yellow jackets this year, and they'll aggressively put out traps in the vineyards next year to control them - hopefully, before they become a problem for the ripening grapes.
The Distinctions of Vine Hill
Adapting to the unique characteristics of the vineyards at Vine Hill has been critical for Rachel. During this process, she's also learned a lot from people like Prudy Foxx about trellising, vertical shoot positioning, pruning and training the vines. "It's an interesting transition to go from horticulture to viticulture. But after all, a plant is a plant! There are just so many more of them to care for."
Rachel has also settled on using a cover crop of barley and crimson clover. They usually plant the seeds in November, but the barley had a phenomenal reseed rate this year. Next year, she will concentrate on a big weed control program. She didn't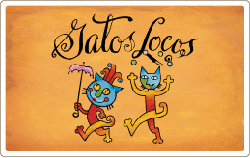 get to till the fields this year after the first rain. "This is a highly erosive site: we really have to be careful of where we push dirt," she says, in a tone that is both optimistic and resigned at the same time.
There are simply too many projects demanding attention here - vineyar