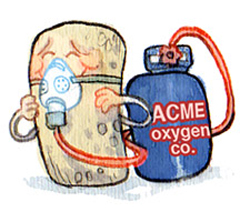 Please Stop Telling People
That Corks 'Breathe'
Who would have thought that wine corks would be so controversial. The voluminous reader response to our features on the pros and cons of corking wine continues long after the articles have appeared. Our learned guest columnist, Richard Grant Peterson offers some empirical evidence to prove that corks have been used for ages because...they work.
by Richard Grant Peterson, PhD
February 10, 2008
---

ad
to say, most articles about the pros and cons of using corks for closing wine bottles end up parroting at least one absolute untruth. Contrary to anything mystic that you may have heard, I can tell you categorically that sound corks do
not
breathe air.